8 Modern Twists to Christmas Classics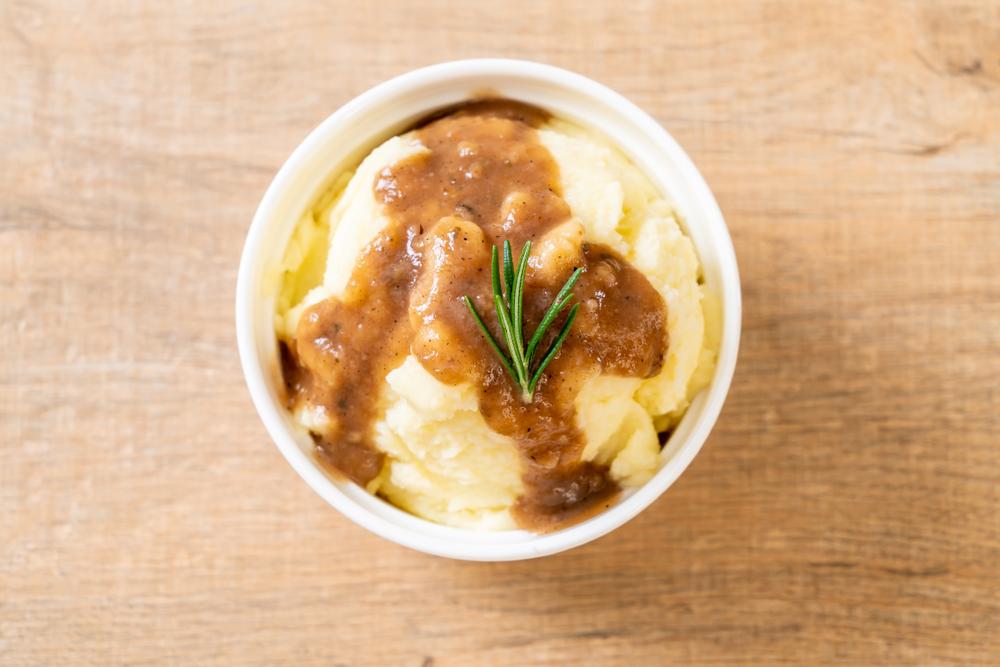 The holiday season brings with it classic holiday dishes that you may only get to enjoy once a year, but this year, why not give some classic dishes a modern twist. Here are some classic Christmas recipes with a
modern
(and delicious) twist.
---
#1 Homemade Gravy with Cumin
The holiday table would not be complete without a big boat of homemade gravy. Made with a pinch of our ground cumin, this spice lends a warm, earthy flavor that is nutty and slightly spicy. With an aroma that is both sweet and slightly bitter, our cumin spice can be used in a variety of dishes, but is particularly perfect for homemade holiday gravy.
In a large sauce pan, simmer 1 stick of butter, and 2 chopped onions on medium to low heat until onions are lightly browned. Sprinkle in 1/4 cup of flour into the sauce pan. Whisk in the flour, then add 1 tsp of salt, 1/2 tsp of black pepper, and 1/2 tsp of Rumi Black Cumin. Cook for 2 to 3 minutes. Add 2 cups of warmed chicken stock and 1 Tbsp of cognac. Cook uncovered for 5 minutes, until gravy has thickened. Add 1 Tbsp of heavy cream, if desired, and serve. Makes 3 cups of gravy.

Recipe adapted from Ina Garten's recipe for Homemade Gravy


#2 Mulled Wine with Rumi Mulling Spice Blend
Cheers! Ring in the holiday season with a mug of homemade Mulled Wine with Rumi Mulling Spice Blend. Made with a full-bodied red wine like Malbec or Merlot with a splash of rum and holiday garnishes like almonds and raisins, this beverage is a Christmas classic with a tasty modern twist.
Find the recipe here
#3 Crispy Cajun Smashed Potatoes
Upgrade your traditional holiday mashed potatoes with a batch of crispy, smoky cajun smashed potatoes. Savory and hearty, this batch of Crispy Potatoes made with our Cajun Spice Blend makes for a tasty dinner side dish AND can even double as a star component of your day-after-christmas breakfast.
Get the recipe here. 

#4 Saffron Eggnog
Nothing quite says the holidays than a mug of eggnog. Whether you make your eggnog from scratch or purchase your favorite brand from the local grocery store, add a small pinch of Rumi Saffron, let steep in your eggnog for at least 15 minutes, for a sweet floral flavor that will leave holiday guests coming back for seconds.

#5 Saffron Gingerbread
Get your holiday tablescape into the Christmas spirit with a homemade saffron gingerbread house. Not only does our saffron gingerbread function structurally, it is super tasty too! If you prefer not to design an entire gingerbread house, you can still bake the gingerbread and enjoy it all on its own.
Find the recipe here

#6 Saffron Pomegranate Glaze with Saffron and Cumin
Classic holiday dishes can range from beef tenderloin, goose, ham, lamb or pork tenderloin. Give your main course a sweet and savory taste with this recipe for Saffron Pomegranate Glaze. Made with saffron and ground cumin, this homemade glaze will give a modern twist to most traditional dishes.
In a bowl, combine 3 Tbsp. pomegranate molasses, 2 Tbsp. honey, 2 large garlic cloves (finely grated), juice of 1 tangerine, zest of 1 tangerine, 1/2 tsp Rumi Black Cumin, and 1 tsp of Rumi Saffron (ground in mortar and pestle). Using a pastry brush, apply glaze to your protein of choice before cooking. Makes enough glaze for 4-6 servings.

#7 Sautéed Green Beans with Your Choice of Cumin Blend
Swap classic green bean casserole for sautéed green beans with your favorite cumin spice blend. Choose from Southwest Chili, Ethiopian Berbere or Cajun Spice Blend. Not sure which spice blend to select? Take a look at the flavor profiles below:
Southwest Chili Cumin Spice Blend. Our Southwest Chili Cumin Spice Blend is comprised of an array of savory Southwest spices including: Ancho chile, black pepper, cayenne, garlic, Guajillo Chile, Mexican Oregano, onion, Rumi Black Cumin and smoked paprika.


Ethiopian Berbere Cumin Spice Blend. This cumin spice blend consists of varied flavors from local herbs and spices like cardamom, cassia, cayenne, coriander, fenugreek, ginger, mace, Rumi Black Cumin, smoked paprika and Urfa Chile.


Cajun Spice Blend. Our Cajun spice blend combines our signature black cumin and coriander with a complex array of smoky spices like paprika, black & white pepper and cayenne. This hot and smoky blend makes the perfect spicy rub on meat, fish or grilled vegetables. 

#8 St. Lucia Saffron Buns
In mid-December, we celebrate the Winter Solstice, which Sweden calls, "St. Lucia's Day." Part of this winter tradition includes the baking of buttery, light buns that are deliciously sweet. This holiday season, pass on the pies and instead, serve a batch of homemade St. Lucia Saffron Buns.
Find the recipe here
---
When making your menus this holiday season, add a modern twist to your traditional Christmas classics with these eight ideas.