Celebrating Eid-ul-fitr with Family, Friends and Food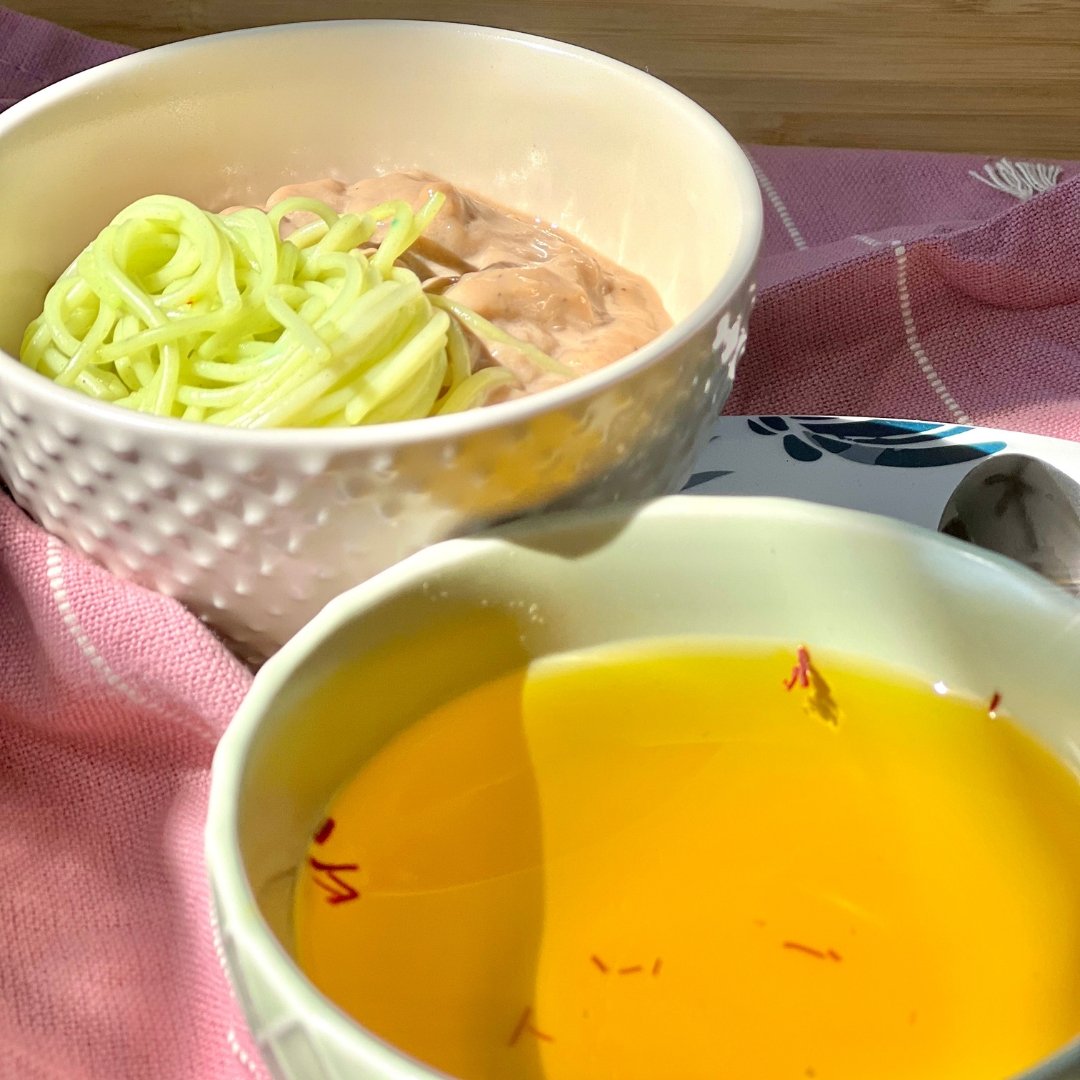 Eid-ul-fitr is one of the two major holidays that Muslims celebrate and marks the end of the month of Ramadan.
We were lucky enough to collaborate with Habiba Syed, a young Afghan woman, chef & friend of Rumi, currently living in New York, on this blog. Read on to learn more about her family's traditions around this festive day and learn how to make her family's signature Falooda - a delicious black tea custard topped with thin vermicelli and fragrant saffron syrup. 
Eid Mubarak, to everyone that's celebrating. 
_________________________
Growing up, Eid-ul-fitr was a very special day for me. After a whole month of fasting from sunrise to sunset, I was finally able to eat during the day. It was a standard tradition to get together with all my family. Everyone wore their best new clothes and accessories are a must! Colorful bangles, flowing scarves and dangling earrings were some of the essentials. My grandma, Bibi, painted my hands with vibrant organic henna the night before and I remember the excitement I felt first thing in the morning as I washed it off and saw the unique designs on my hands.
After the morning prayer, the kids in the family received money called Eidi. My cousins and I would line up and collect our Eidi from my uncles who'd tease us about being too old to be standing in line. In my opinion, you are never too old to receive Eidi! 
At the center of this celebration was an enormous feast. After an elaborate lunch, the sweets would take over dining rooms and living rooms sitting politely next to thermoses of piping hot milk and green teas.
Among the trays of fried kajoor, puffed creamrolls and an assortment of cookies, there was a dessert that demanded a little more attention than the rest; falooda. Falooda is a black tea custard that is topped with thin vermicelli and fragrant saffron syrup. As simple as this dessert is to make, it has much depth to it. The unsweetened milk custard strikes a delicate balance with the saffron-infused syrup while the vermicelli gives it texture and a fun consistency. The trick is to get a little bit of everything in one cool and refreshing bite!
Ingredients:
½ gallon (8 cups) milk
5 black tea bags or 5 Tbsp loose black tea
4 Tbsp cornstarch
1 pkg. vermicelli noodles (200g)
For the saffron syrup: 
2 cups water 
1/2 cup sugar 
4-5 saffron threads 
Steps:
In a large pot, bring the milk to a soft boil. Drop the tea bags in the milk and simmer on low for 20-25 minutes, stirring often and making sure the milk does not overflow. The color will gradually change from white to shades of brown depending on how long it boils.
Remove a couple ladles of milk to a small bowl and dissolve the cornstarch in the milk. Pour the slurry back into the pot and continue cooking on low until the milk thickens and soft bubbles form on the surface. Carefully transfer to a shallow dish and let it cool completely. Cover with saran wrap before refrigerating. 
For the vermicelli: Bring water to a boil and cook the noodles until they soften. Strain and rinse in cold water to stop the cooking process. Transfer to a bowl and add enough cold water to drown the vermicelli. Cover and refrigerate.
For the saffron syrup: Bring water to a boil and add sugar and saffron threads. Pinch the threads to slightly break them up. Mix well and boil for another 2-3 minutes and turn off the heat. Let cool at room temperature, then refrigerate for at least 2 hours allowing the saffron to bloom.
To assemble, scoop the cold custard into a bowl and top with vermicelli (extract as much water from the noodles as possible for this step). Pour the chilled saffron syrup over top and enjoy! 
_________________________
Thank you to Habiba for sharing this delicious recipe and a bit more about her family's traditions.
And thank you all for your continued support of Rumi Spice. Please keep sharing your delectable saffron dishes with us @rumispice. We love to see what you create!