Get Grilling with Rumi's Bold Middle Eastern Spices & Salts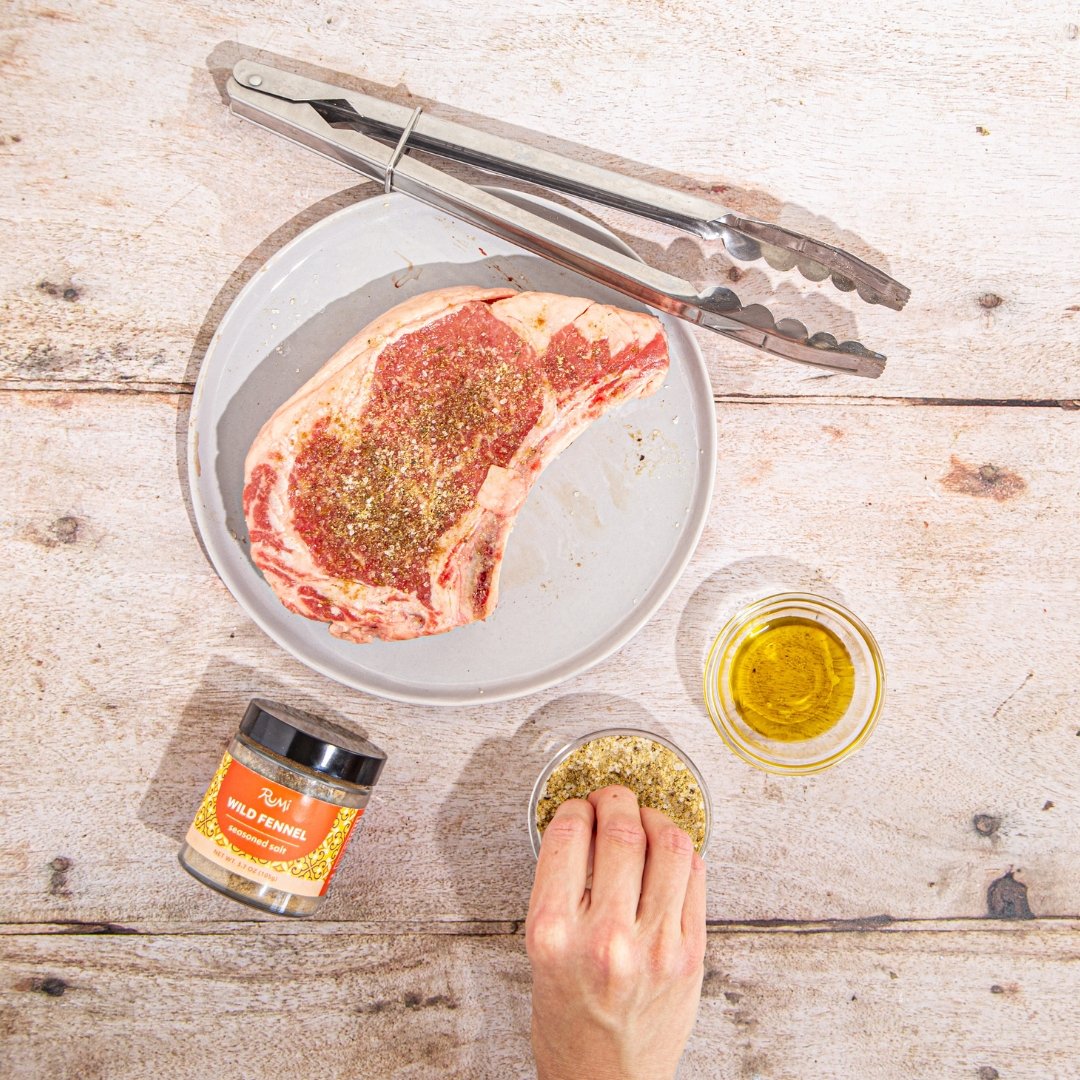 Summer is for refreshing drinks, fresh produce, and outdoor entertaining. Grab your friends, gather around the grill and whip up a simple, seasonal dinner. Thanks to the help of our versatile, flavor-packed spices and blends, your summer dinner routine will never go stale. From grilled meat to vegetables and even desserts, our spices are the perfect addition to your entire grilling lineup.
Read on for some simple tips on how to get grilling with our vibrant Middle Eastern spices and salts, and a few of our favorite dishes to celebrate the summer season. 
How to Grill with Our Spices 
Grind it up (but leave a little texture)
The best way to extract the full flavor of our whole spices is to grind them using a mortar and pestle, or even your fingers when working with our delicate saffron. For whole seed spices (like cumin, coriander, dill seed, and fennel), we recommended toasting the spices first to further bring out their deep flavor profiles. We love grinding our own spices when grilling, as it gives us more control over the texture. When dry rubbing meat or even in a marinade, a little added texture goes a long way. 
Don't feel like grinding your own? We've got you covered! Our new line of seasoned salts combines coarsely ground sea salt with our signature whole seed spices, ready to coat your favorite meats with a bold world of flavor and texture.  Or, our extensive line of Middle Eastern spice blends is a simple way to add a wide range of flavors to your favorite dishes. Coat your meat with a drizzle of olive oil and rub with your favorite seasoned salt or spice blends, or… 
Mix up a Marinade 
We love marinating our meat before grilling as this method allows the deep flavors to permeate the meat while also tenderizing it. The longer your meat sits in the marinade, the more tender and flavorful it will be. If you have the time, we recommend an overnight marinade. 
Our secret to the best marinade: Greek yogurt. Not only does it give your meat delicious flavor and an extra-crispy exterior, but yogurt also tenderizes meat much more gently and effectively than other oil or citrus-based marinades.
Simply combine a dollop of yogurt, a splash of citrus, and your favorite Rumi spice blend and you've got the most delicious marinade for any cut of meat, or even vegetables. We love this method when making Shish Tawouk (Middle Eastern Chicken Kebabs), using our whole seed cumin and coriander, or on fattier cuts of meat like lamb and pork. 
Don't Forget the Sauce 
One of our favorite things about our spice blends is their versatility. Not only do they make amazing rubs and marinades, but they also make the perfect addition to your favorite sauces or dips (because we all know every dish needs an assortment of condiments).
Fold a pinch of your favorite spice or blend into Greek yogurt or mayonnaise for an amped-up aioli, or whisk some into melted butter or olive oil and drizzle over your finished dishes. 
Some of our favorite combinations include:
A Few of Our Favorites
Favorite Grilled Dishes 
Dips and Sauces
Sensational Summer Sides