Give The Gift of Bold Flavor: The Rumi Spice 2022 Holiday Gift Guide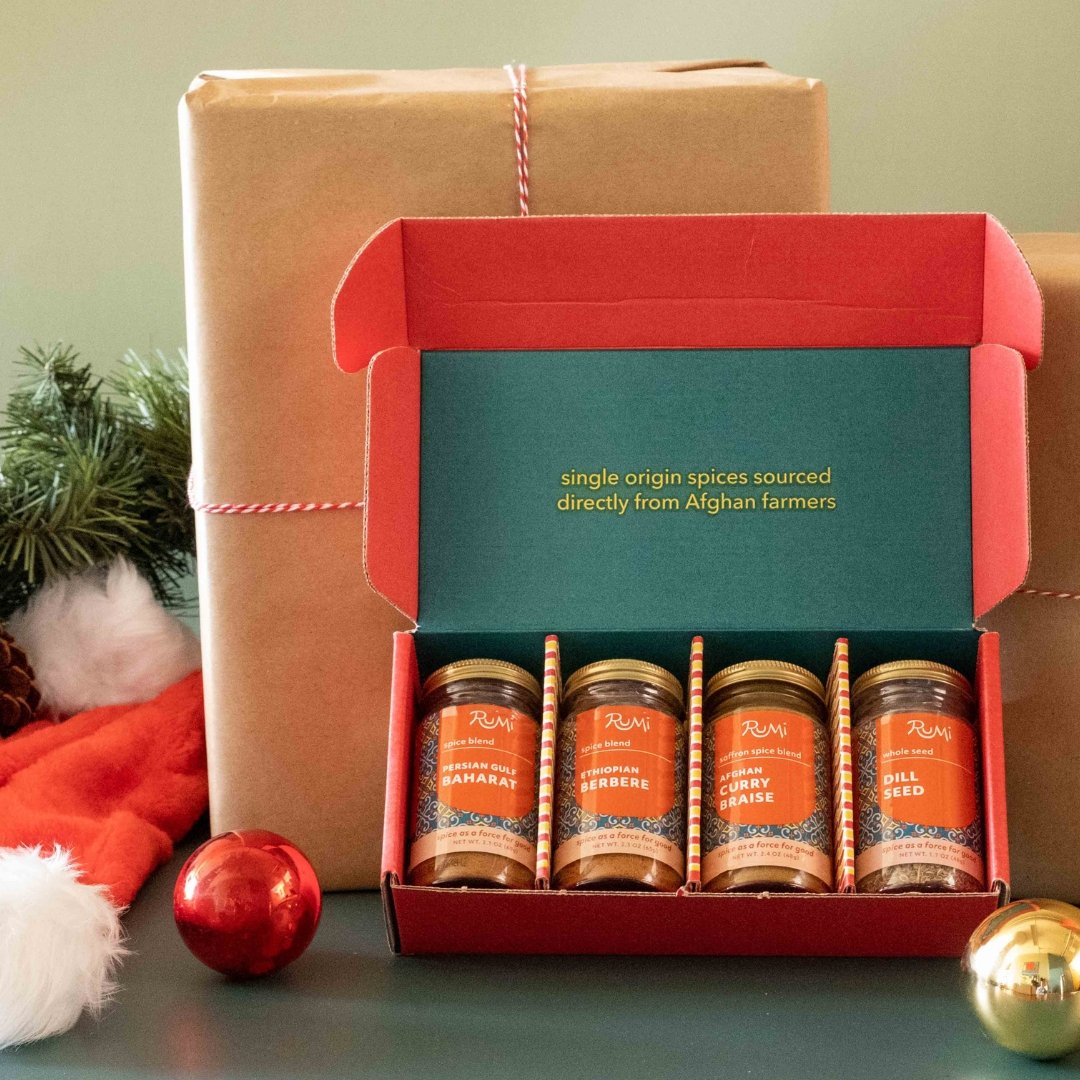 Give the gift of bold flavor, unrivaled aroma, and rich culinary traditions with Rumi Spice this holiday season. Flavorful spices and blends are a great gift that will inspire, spark joy, and bring you on a culinary journey across the globe. So whether you're shopping for an avid foodie, top-notch entertainer, busy mom, or someone who's just starting out in the kitchen, Rumi Spice has something to inspire and motivate everyone on your list. 
And, when you shop with Rumi Spice, every purchase helps economically empower the hand-working women and farmers that grow and harvest our beautiful spices (more about our mission here). Now that's the gift that keeps on giving. 
We know the holiday season is stressful for everyone. But we're here to make things easy for you this holiday season. All of our gift sets: 
📦 Come pre-packed in a beautiful, gift box
🎁 Complete with recipe cards providing fresh inspiration for the spices inside
💬 Include the option to add a gift message for your recipient

Keep reading for our 2022 holiday gift guide, our complete gifting recommendations for everyone on your list:
The 2022 Rumi Spice Holiday Gift Guide
For the Saffron Purist 
Give the world's most coveted spice to your loved ones this holiday season. With a deep golden hue, rich floral notes, and complex, layered flavor, the gift of saffron is the perfect way to show your love. Our 2-Gram Saffron Gift Set includes:
For the ultimate saffron lover in your life, don't look further than our bulk tin of golden red Saffron Threads. Complete with 1-ounce of our best-selling, hand-harvested Afghan saffron. This is a surefire way to ensure your favorite meals never go bare.
For your favorite Grillmaster
We all have that friend that prefers to cook outdoors all year round. And frankly, we don't blame them. Everything tastes better when grilled to perfection. Treat them to something special this holiday season with our Grilling Gift Set, complete with 4 best-selling spice blends made for the grill. The Grilling Gift Set includes:
For the Hostess with the Mostess
Our Ultimate Gift Set makes the perfect gift for anyone looking to amp up their routine in the kitchen. Complete with the best-selling products from each of our product lines, including:
Our seasoned salt gift set makes the perfect hostess gift. This bold and vibrant collection of Middle Eastern seasoned salts is the easiest way to bring your dinner game from good to great. Seasoned salt gift set includes:
For the one that's just starting out
Easily stock your new spice pantry with this loaded set of everything you need to quickly become a pro in the kitchen. Our Essentials Collection has everything from floral saffron threads, fragrant whole-seed spices, and a wide range of Middle Eastern spice blends. The ultimate gift for foodies who love fresh & flavorful spices or for the novice home cook looking to stock up their pantry and hone their skills.
New to cooking and not sure where to start? Our new line of Middle Eastern Meal Starters makes the perfect gift for the novice chef looking for easy and fun ways to explore with new flavors in the kitchen. Better yet, the recipes are right on the packet. Simply marinate, cook and serve. You'll be a pro in no time.
For the busy parent
What do you get the busy parent that seems to have everything? How about more time in their busy nights. Our new Dinner Party Pack, containing 2 each of our new Meal Starter Spice Packets, is just the thing they need. Keep the guesswork out of dinner time with these easy, delicious, and flavorful meals the whole family will love.
If you often find yourself in the kitchen wondering "what's for dinner," this is the collection for you. Complete with all 12 of our unique, flavor-packed spice blends, you'll never find yourself without fresh inspiration. Spice things up with our Harissa, Berbere, or Cajun blends, or keep it warm and cozy with our Garam Masala or Baharat. There's something in here for everyone.
For the one that spices things up 
Our Savory & Spicy gift set features a unique collection of slightly spiced and richly savory spice blends that will undoubtedly add a bold punch of flavor to any meal. This gift set includes: 
For the adventurous home cook looking for bold, exotic flavors, our Middle Eastern Gift Set is just the thing. Liven up your weeknight slow cooker meals with our rich and warming Garam Masala or Ras el Hanout blends, or discover the best seasoning for roasted chicken with our citrusy, zesty Kabul Piquant Chicken or Afghan Curry Braise. Travel the globe without ever leaving your home kitchen. Gift set also includes Four recipe cards containing two recipes for each spice included. 
For the one who wants to create their own adventure
Want to hand-select a collection of spices for that ultra-special person on your list? We've got you covered with our new Build a Bundle feature. Select 3-4 products to add to your bundle, and save 10% on each spice. Each customized bundle comes packaged gift-ready, making your holiday shopping a breeze.
Running a little behind on your holiday shopping this year? Not to worry. Our Rumi Spice Gift Cards are entirely digital, delivered the day you place your order. The perfect gift for everyone on your list. Give the gift of bold flavors, fresh inspiration and memorable meals shared together. 
Other Gift Ideas: