Madina Amin, @tundandtayz, Talks About her Mother's Signature Dish, Koobideh Kebabs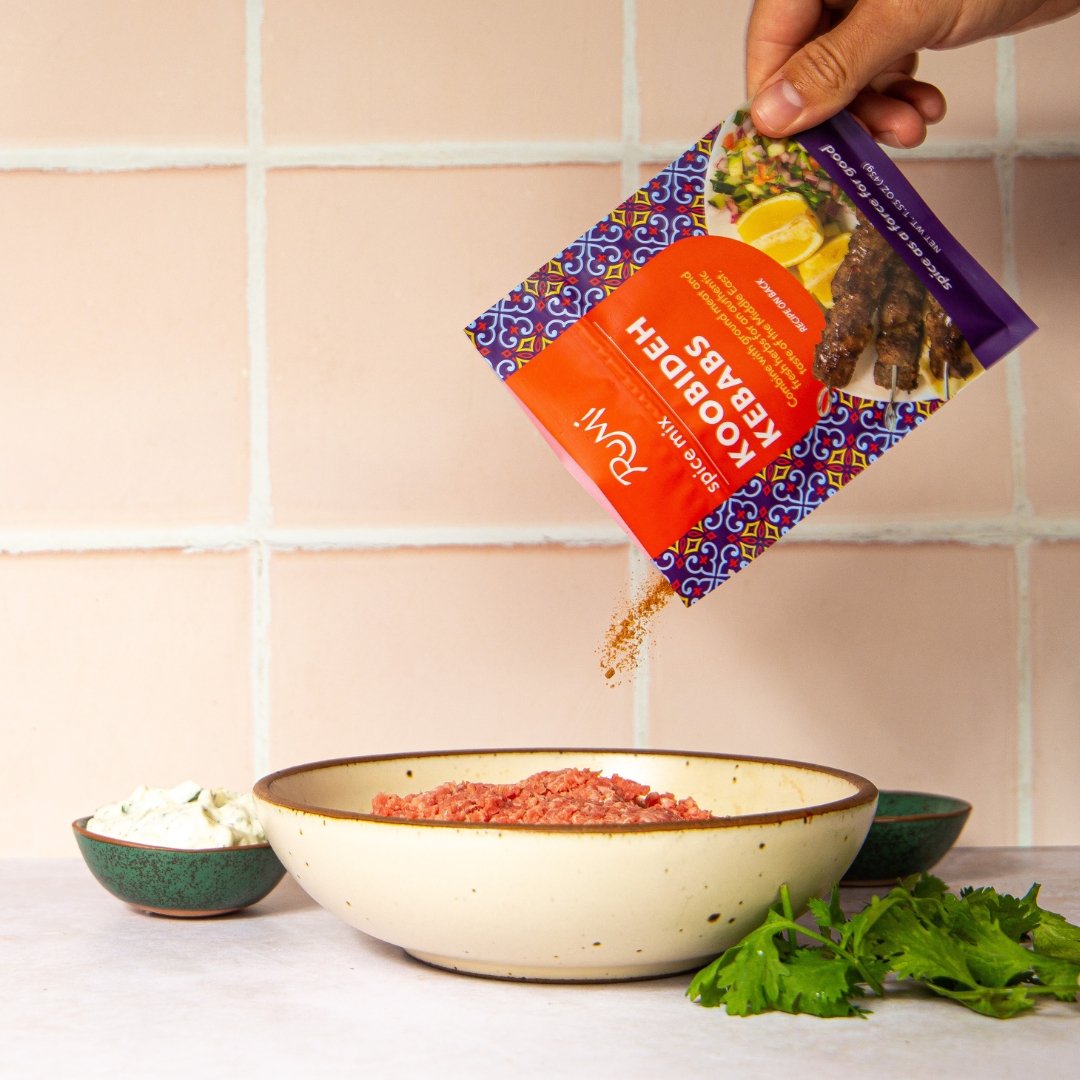 Koodideh Kebabs: Versatile, Flavorful, Delicious 
Madina Amin, @tundandtayz, grew up in California after her parents left Afghanistan in the late 80s. Although she was born in America, she uses food to remain connected to her deep Afghan roots. From an early age, Madina's mother taught her how to create the delicious Afghan dishes she grew up eating and she is now passing those traditions on to her family. 
We have loved getting to know Madina and collaborating with her on the recipe for our signature Koobideh Kebab spice blend. Koobideh is one of her family's favorite dishes, both eaten on special occasions and at weeknight dinners.
Read on to learn more about Madina's culinary inspiration and why Koobideh is so special to her:
Rumi: Can you tell us a bit more about yourself - Where did you grow up and where is your family from? 
Madina: My father's side is from Kabul, Afghanistan and my mother's side is from Parwan, Afghanistan. They left Afghanistan shortly after the Soviet invasion and eventually made their way to the US in the 80's. My parents met in America and got married in the 90's.  I grew up in Fremont, CA and around the age of 9 we moved to Sacramento, CA where I live today as well. Today my family is mainly in Tracy CA, the Bay Area, and Sacramento. My mother's side, besides her siblings, are still living in Afghanistan.
Rumi: Who did you learn to cook from?
Madina: My mother, may she Rest In Peace, was my culinary muse. I grew up watching her cook, host, and entertain, and have strived every day to make my dishes as delicious and memorable as hers.
From chopping an onion, to selecting the right cut of meat, to making the most complex of dishes, everything I know about cooking today is from growing up and watching her cook. I always asked questions, I always asked to help, and I always had the first taste. Cooking is the one way I feel most connected to her, even til this day."
Rumi: What does food mean to you and your family? What does a typical family dinner look like? Are you usually the one preparing the food?
Madina: I am blessed to come from a family that is known for their cooking and their hospitality even amongst the Afghan community. Both sides of my family are filled with amazing cooks, and our dining tables are always filled with different types of dishes and delicacies. 
A typical family dinner is never less than 20 people. There is always meat on the table, whether it's kabobs, roasted lamb, korma made with tender veal, or lamb shanks hidden beneath a fragrant pulao, meat is always present on our tables, especially if there are guests. The more the meat, the more you love your guest. 
Along with the meat dishes, there are also rice dishes, such as Qabuli pulao that's been adorned with fried carrots, raisins, and nuts. Zamarod pulao that's been made green with the fragrant herbs and spinach that we've stewed and cooked down, or even a simple yet perfect challow, which is long grain Basmati rice that's been cooked to perfection. 
Rumi: What does Koobideh mean to you and your family - Is this something you ate frequently growing up, or was this more of a special occasion meal? Who taught you how to make Koobideh?
Madina: Koobideh Kabob is a dish that is very simple to make, yet easy to mess up as well. The reason for this is that the secret lies in how well you've mixed your meat, how long you've mixed it for, and whether or not you give it time to rest before shaping and skewering. This varies throughout the year depending on how the temperature outside affects the meat as well. Even now, every once-in-a-blue-moon experienced kabob makers may find themselves struggling with shaping a batch of Koobideh. 
Koobideh is something we ate at parties, especially weddings. It was also served at our gatherings and dinner events, and whenever Koobideh kabob was cooked at home for the family, there was rarely ever anything else served with it. Just the piping hot Koobideh Kabob, fresh baked Afghan naan, and a nice spicy salata on the side. Good meat, good bread, and fresh veggies. It was a perfect meal. 
Koobideh kabob is really something that I've learned is unique to each family. There are similarities in the recipes, but everyone adds their own little twist. For example, I add ground turmeric to my meat mixture because I find the color to be more appealing, and it helps combat that "raw" smell that meat can have. My Koobideh recipe is a combination of seeing how both sides of my family make theirs. The addition of cumin is something I picked up from my mother-in-law. 
Rumi: What is your favorite way to prepare this dish? What do you like to eat it with?
Madina:  My favorite way of preparing Koobideh kabob is eating it as soon as it's off of the grill. Have your bread ready, this can be Afghan naan (HIGHLY recommend finding Afghan bread in your area if possible.) Lavash bread, pita bread, or naan bread also works. Lay your kabob on your bread, add your salata to it (finely sliced or chopped tomatoes, onions, cucumbers, cilantro, lemon juice, and salt. I add Serrano or jalapeño to mine as well and dried mint leaves). After you spoon the salata over your kabob, sprinkle on some sumac if you have any on hand, roll it up, and enjoy! I usually have a little yogurt on the side, or doogh (an Afghan yogurt drink that has chopped cucumbers and mint) this helps with the spice and is the perfect addition to your meal!
Rumi: How do you fuse your Afghan heritage with your upbringing in the United States? Do you struggle to find cuisine like you grew up eating, or do you feel like it is more readily available?
Madina: My Afghan heritage is something I have always been incredibly proud and unashamed of. Being Afghan is who I am and who I will always be. There have been times when it's come under attack, often by other Afghans themselves, who struggle with finding a balance between fusing their own Afghan heritage with their American way of life. Fortunately, for me personally, fusing the two has not been too much of a struggle, if a struggle at all.
"The reason for this might be because I was raised to never give up my Afghan heritage, no matter where I live or where I am in life. Growing up, in my home personally, we shaped and shifted American culture to compliment our Afghan culture, not the other way around."
With regards to finding Afghan cuisine growing up, my family actually owned a very well-known Afghan restaurant in the Bay Area, Maria's Pizza. I've been blessed to have been surrounded by delicious Afghan food since the day I was born. Growing up in Fremont, there were a few Afghan restaurants around, now living in Sacramento, and with the incredibly large Afghan population we have here now, there are many Afghan restaurants around here that serve our traditional kabobs, pulao, and bolani, and even restaurants that serve more homey and rural classics such as chainaki, shorwah, etc. 
Rumi: What is your favorite dish to cook at home? 
Madina:  Right now, since I am 6 months pregnant and raising an incredibly energetic toddler, I find myself gravitating toward making kabobs, karahi, and kabob daygi (kabobs prepared in a pot or in the oven). 
Karahi and baked kabobs are often one-pot meals, easy to make, and delicious, and for the kabobs, I just have to marinade the meat, and my husband takes care of the skewering and grilling! These are often served with Afghan bread and a salad on the side, plus some vegetable dish such as a meatless korma, daal, or borani. 
Rumi: Where is your favorite place to shop for ingredients?
Madina:  I honestly shop around at a lot of different and random grocery spots, but if I had to choose, I'd say my local halal market has almost everything I would need for a dinner party. Fresh vegetables, halal meats, whole chickens, beautiful legs of lamb, fresh Afghan herbs and spices, and also fresh baked bread and desserts!
Rumi: What is your favorite spice?
Madina: Eek! I feel like this is equivalent to asking a parent who their favorite child is, haha! There is a whole world and beyond when it comes to spices. Each one can be cooked, toasted, or prepared differently and result in a completely new flavor profile. 
Part of me wants to say coriander seeds, only because I use it religiously when preparing kofta, Koobideh kabob, chicken kormas, and any dish really. There is something incredibly earthy and floral about coriander seeds, and if added to a dish at the right time, it adds a whole new depth of flavor. But then, I remember my love for cardamom, cinnamon, and even the simple black peppercorn.