[Press Release] Rumi Spice Releases New Whole Seed Spices to Further Mission of Using Spice as a Force for Good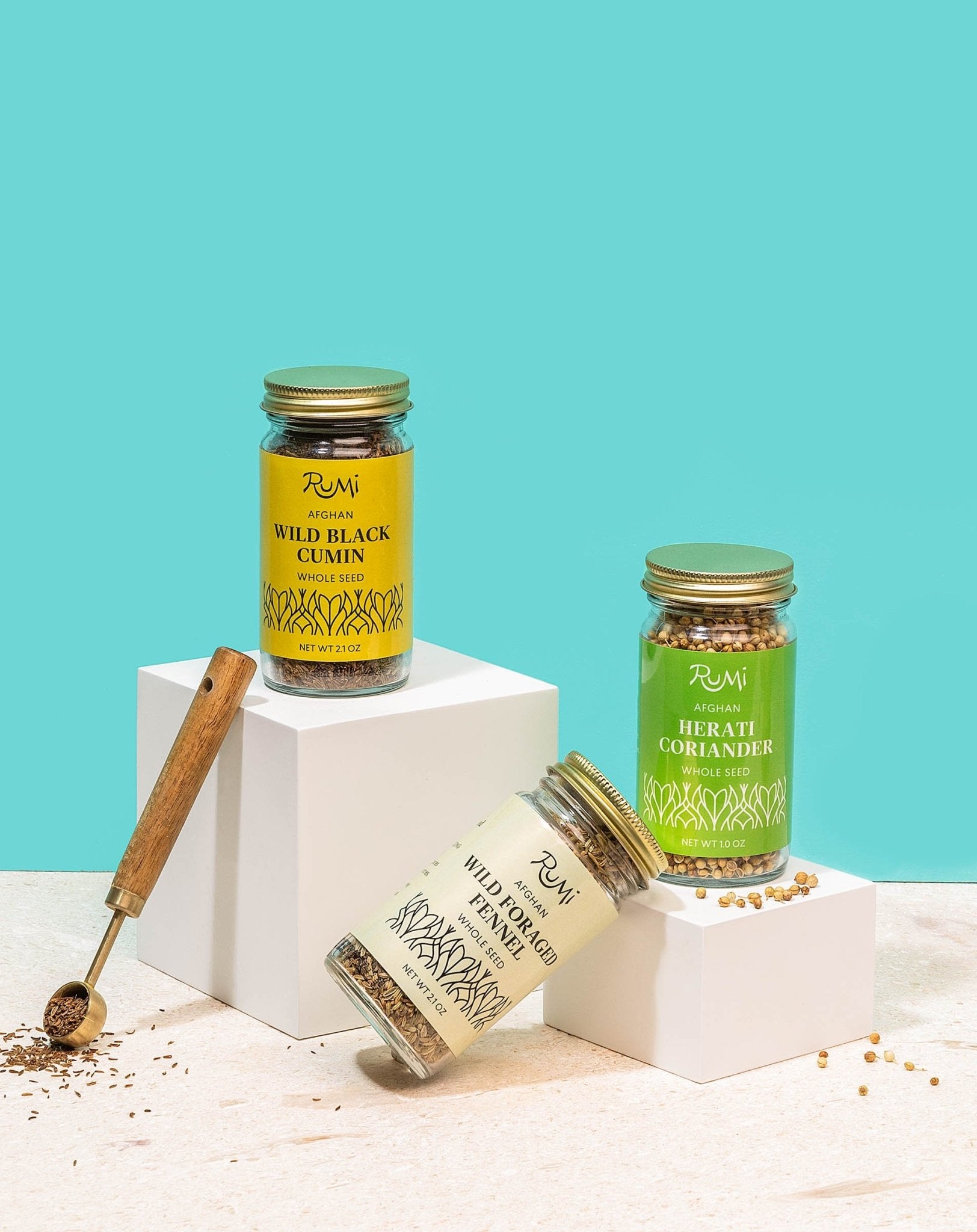 Whole Seed Wild Black Cumin, Herati Coriander, and Wild Foraged Fennel Expand Flavorful, High-Quality and Sustainably Sourced Product Line
CHICAGO, IL- Rumi Spice, a spice company ethically sourcing flavorful and socially responsible spices from Afghanistan, has expanded its product offerings with the addition of three new whole seed spices: Wild Black Cumin, Herati Coriander, and Wild Foraged Fennel. 
These three new whole seed spices provide both home cooks and professional chefs with bold flavors that inject history and culture into every dish and drink. By directly sourcing products from Afghan farmers and foragers, Rumi Spice creates a connection between the men and women involved in the harvesting process and consumers' pantries throughout the United States. 
Rumi Spice's hand-harvested Wild Black Cumin is grown along the foothills of the Hindu Kush mountains and boasts sharp earthy and piney aromas and flavors making it the perfect complement for roasted vegetables, soups, and chicken dishes. While cumin is a staple spice globally, this black cumin variety has a flavor profile unique to the Middle East. 
Farmed in the Herat region of Afghanistan, Rumi Spice's Herati Coriander yields a complex but delicately sweet flavor with hints of pepper and mint along with the classic touch of citrus. Due to its ability to pair with both sweet and savory dishes, Rumi Coriander can be used in everything from roasts to rices and soup to steak and is a popular spice globally. 
Grown in the rugged outskirts of Afghanistan's Herat region, local foragers carefully and meticulously gather Rumi Spice's Wild Foraged Fennel during the summer harvest. Originally native to the Mediterranean, Fennel is a staple in multiple global cuisines due to its slightly sweet profile and versatility. Rumi Spice's Fennel can be enjoyed in homemade sausage or the company's original Fen & Tonic cocktail, a spin on the classic gin & tonic. 
"We are excited to be bringing additional spices from Afghanistan to consumers across the United States," says Patti Doyle, CEO of Rumi Spice. "Further introducing consumers to the region's unique flavor profiles is one of the ways we can satisfy the growing demand for global cuisine while continuing to support the Afghan agricultural economy." 
Rumi Spice's new whole seed spices expand upon a product line founded in 2015 with the company's first spice, saffron. Since its inception, Rumi Spice has set out to further the agricultural and economic
development of Afghanistan by empowering Afghan farmers, supporting Afghan women through direct wages, and reinvesting in the country's agricultural and manufacturing infrastructure. These purpose-driven initiatives are at the core of Rumi Spice and the company is proud to hold a B Corporation certification as a testament to their work against their continued mission. 
"With additional innovation in the pipeline, Rumi Spice looks forward to growing demand for Afghan products and connecting our network of Afghan farmers and female harvesters and processors with the global market via sustainably and ethically sourced spices" says Doyle. 
Rumi Spice now offers twelve premium, flavorful spices and spice blends along with six gift sets that sell via retail, food service, wholesale and direct-to-consumer. Within the product collection, Rumi Spice is most known for their premier saffron that is picked, processed and cleaned by hand to ensure the highest quality. The company offers both saffron-based and black cumin-based blends as well, including: Afghan Curry Braise, Kabul Piquant Chicken, Paella Blend, Mulling Spice (seasonally), Ethiopian Berbere, Southwest Chili, and Persian Gulf Baharat. 
Rumi Spice is the only public benefit corporation to come out of Afghanistan and the company's spices are the first Afghan agricultural export to reach a U.S. nationwide retailer. Products are available for purchase nationwide via RumiSpice.com, Amazon.com, and at grocery and retail partners such as Whole Foods, The Fresh Market, Harris Teeter, and a number of independent and small retailers. Product availability differs depending on location. For more information, visit RumiSpice.com and follow @rumi_spice on Instagram and Facebook. 
About Rumi Spice 
Since 2015, Rumi Spice has been on a mission to use spice as a force for good. Rumi Spice was born out of its founders' desire to cultivate peace in Afghanistan by creating demand for the country's agricultural products. The company started by exporting and selling high-quality, sustainably sourced saffron to the US market in order to connect Afghan farmers with the global market and unlock economic potential for them. 
Additionally, the company has contracted with thousands of women in Herat, Afghanistan to support the hand-harvested production process. Committed to empowering Afghan women and bolstering the country's economy, Rumi Spice has reinvested back into the country's agricultural and manufacturing infrastructure. 
Today, Rumi Spice exports whole spices from Afghanistan that it sells via retail, food service, wholesale, and direct-to-consumer. What began as a single product, Rumi Spice has expanded to bring even more premium, flavorful spices to consumers. Today, the company sells twelve different spices and spice blends to add flavor to the dishes of both home and professional chefs. Rumi Spice is also proud to be a certified B Corporation.