Rumi Invited to Meet the Afghanistan President and Afghanistan Ambassador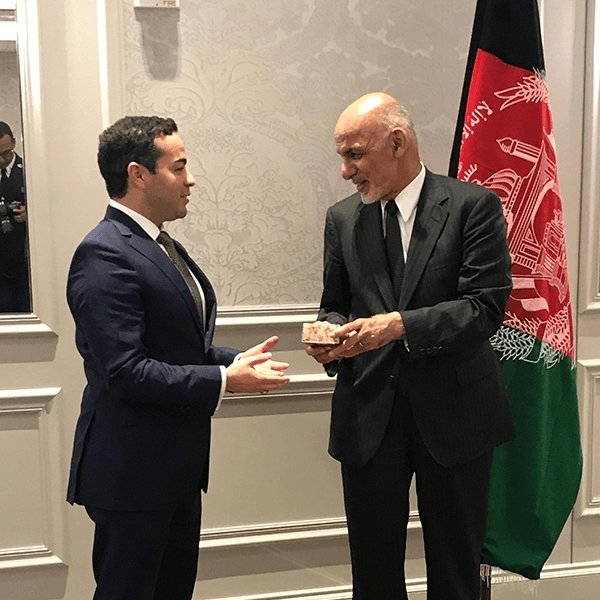 (September 25, 2017, New York) President Ashraf Ghani, during his visit to the UN General Assembly, invited a group of 22 military veterans and families of fallen service members to a reception in New York. Rumi Spice was honored to be included and to meet for a few moments with the President.
President Ghani spoke with the group and expressed his sincere gratitude for the service and sacrifice of American Soldiers, Airmen and Marines. Lauding the uniquely American qualities of optimism and perseverance, President Ghani thanked the group for their service, sacrifice, and commitment to Afghanistan.
"On behalf of a grateful nation and a grateful President, I want to say ... thank you."
- Afghanistan President Ashraf Ghani
Rumi Spice co-founder Keith Alaniz had a few moments to talk to the President. President Ashraf Ghani thanked Rumi for their work developing the saffron industry, employing Afghan women and farmers, and for our continual commitment to the success of Afghanistan. President Ghani is an exceptional leader and world renowned scholar with a clear vision for Afghanistan. His support for our mission means the world to us and strengthens our resolve to develop Afghanistan. said Keith Alaniz.
Later that week, at the Afghanistan Embassy in Washington DC, Emily Miller, co-founder of Rumi Spice, attended an Afghanistan Independence Day celebration. Held in the garden of the embassy adorned with a vibrant mural depicting roses rising out of the ground, an unassuming bench and painted in bright white letters the phrase: "In honor of our fallen heroes" – in both English and Dari. It ushered in memories of my first deployment to Afghanistan going on dangerous missions, with Afghan soldiers risking their lives at our side, as we apprehended the terrorist leaders who were robbing the country of peace. I was proud to see Afghan and American soldiers, as well as non-profit, business, and political leaders, standing side by side at this symbolic ceremony honoring Afghanistan's independence. said Emily.
The past few months have seen increasing amounts of violence in Afghanistan, that much is for sure. Over 20 international terrorist groups call Afghanistan home – threatening peace and stability in the country, but also abroad. But we at Rumi do not lose hope in the future of this nation. Every year as the saffron harvest approaches, we are reminded of the resilience and fierce determination of the Afghan people. When the all-girls robotics team traveled from Herat to the United States, Ambassador Hamdullah Mohib pointed out in his speech that it dawned upon him that the entire team was born after 2001. In fact, 75% of Afghans are under the age of 35. It is a new generation of Afghans who will lead us forward, and there is much to be proud of.
Lastly, Rumi is proud to announce that we will be hosting a panel at this year's SXSW Festival. We have some outstanding panelist scheduled including the distinguished Ambassador Mohib. Stay tuned for details.