'The Voice Note Chef' Shares His Mother's Recipe for Shish Taouk and a Nostalgic Taste of His Homeland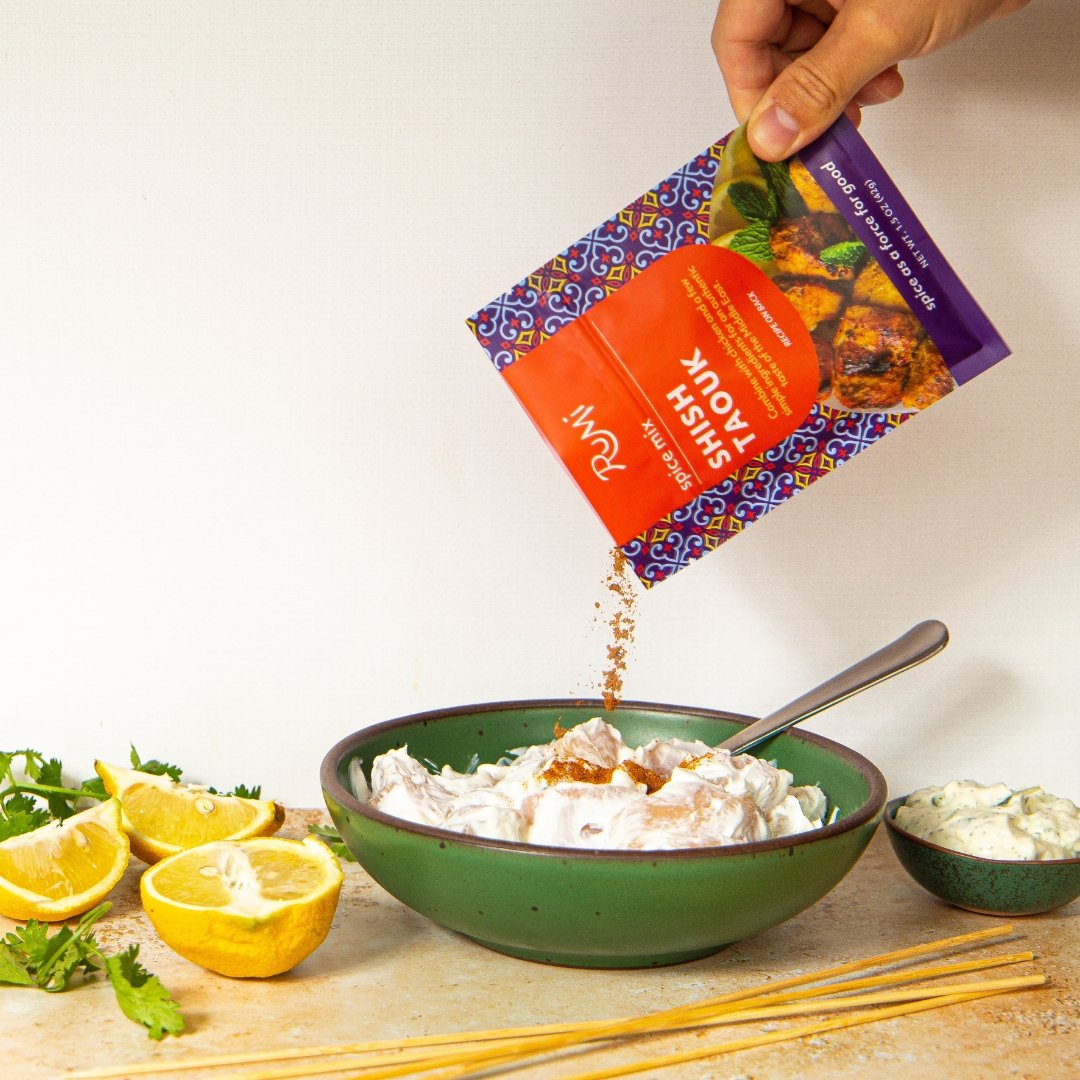 The Story Behind Our Shish Taouk Blend:
Kareem, more commonly known as @thevoicenotechef has created a loyal following on social media by turning his Lebanese Mom's voice notes into beautiful, easy-to-follow, recipes from his homeland. We are huge fans of his mission to share these delicious Lebanese dishes with people all over the world and are so excited to share his Mom's Shish Taouk recipe with our Rumi family.
Thank you, Kareem, for working with us on developing this spice blend for our new line of Middle Eastern meal starters. And thank you for sharing more about your story with us.
Read on to learn more about Kareem and his family's culinary traditions. 
Rumi: Can you tell us a bit more about yourself - Where did you grow up and where is your family from? 
Kareem: Hi there, my name is Kareem and I'm half Lebanese half Kuwaiti. I grew up between Beirut, Lebanon and Kuwait, enjoying the best of both cultures and rich culinary traditions. 
Rumi: Who did you learn to cook from?
Kareem: I learned to cook from my mom, only 2 years ago during the pandemic. I was homesick in the UK and missing my Mom's food, so she sent me a voice note recipe over WhatsApp, to attempt to cook one of her dishes. It was such a comforting and therapeutic experience, that I was hooked. 200+ recipes later, and I've turned my mom's voice note recipes from home into a loyal Instagram following of 50,000 people, from all over the world.
Rumi: What does food mean to you and your family? What does a typical family dinner look like? Are you usually the one preparing the food?
Kareem:
"In the Arab world, a dinner isn't just food you have at a table, it's the glue that holds a family together and a way for us to share our love in unspoken ways."
Arab families may not be the best at communicating how they feel to each other, so food really is the messenger. Dinners in my family are made with lots of aromas, colors and flavors. It's the whole family sitting around the kitchen table, to the sounds of pots and pans clamoring in the distance and the evening news in Arabic loudly playing from the living room.
It's us enjoying Mom's lemony lentil soup with swiss chard, fresh Taboulleh with extra lemon, and Shish Tawouk chicken fresh out of the oven with garlic sauce and hummus. All served in our cozy kitchen with 70's-style orange and blue tiles and floral plates my Mom is still attached to.
Rumi: What does Shish Taouk mean to you and your family - Is this something you ate frequently growing up, or was this more of a special occasion meal? Who taught you how to make Shish Taouk?
Kareem: Shish Taouk is a staple in the Arab world and my family. You'll find it on every Lebanese restaurant menu and in every home. I grew up eating it every week, it's definitely not a special occasion meal, but an everyday grill chicken dish. My mom taught me how to make it, and it starts with a special marinade, where it sits overnight in the fridge before being grilled or baked the next day with vegetables.
Rumi: What is your favorite way to prepare this dish? What do you like to eat it with?
Kareem: My favorite way to prepare this dish is on a BBQ. Back in Lebanon they traditionally grill it on an open charcoal flame, which gives the chicken its beautiful grill marks and flavor. The key is to keep turning the skewers over the fire, so they cook evenly. As do many Lebanese, I love eating Shish Tawouk with homemade fries, grilled red and green peppers, garlic sauce known as 'Toum', and hummus. So good! 
Rumi: How do you fuse your heritage with your upbringing in the United States? Do you struggle to find cuisine like you grew up eating, or do you feel like it is more readily available?
Kareem: I think we're living in a day and age where the world is more connected than ever before. Homesickness is easily remedied by a phone call home, a recipe your family sends you, and a trip to a local Arabic restaurant or supermarket. Middle Eastern restaurants and grocery stores have become ubiquitous in major American cities, along with lots of Arabic communities, especially in places like Washington D.C. and Virginia, where I was born.
Rumi: What is your favorite dish to cook at home? 
Kareem: It would have to be my mom's Warak Enab, which are stuffed grape leaves with ground beef, rice, and lots of other delicious spices and herbs. And it's slow cooked in a pot of chicken stock, with fried lamb cutlets at the bottom of the pot.
Rumi: Where is your favorite place to shop for ingredients?
Kareem: It would have to be Whole Foods. It's like Disney Land for me, especially the produce section with all the herbs and vegetables, glistening in a fresh water mist.
Rumi: What is your favorite spice?
Kareem: Cumin. You could say I'm obsessed with it. But so are Arabs, it's prevalent in a lot of our dishes, from Shish Tawouk to Lentil Soup and Kibbeh.