Rumi's Auction for Earthquake Relief
Join us in this meaningful auction from Tuesday, November 21, to Tuesday, November 28 (Giving Tuesday). Place your bid and be a part of a movement that crafts hope through art. All the pieces in the auction are unique, beautiful pieces made by Afghan refugees.
This is truly the gift that keeps on giving!
You get the beautiful artisan piece
You are supporting Afghan artisan refugees
You are supporting earthquake relief efforts in Afghanistan
Thank you for being a part of this meaningful auction.
This hand-embroidered Christmas stocking, crafted from high-quality linen and cotton, is a unique addition to any holiday decor.
Measuring 7.5 inches in width and 16.5 inches in height, it perfectly blends traditional Afghan embroidery with classic holiday charm.
Yes, that's John Legend modeling the stocking behind him. And yes, that's how cool you will look if you get this stocking!
Each stocking is hand-constructed and cut, ensuring that every piece is one-of-a-kind. The embroidery, hand-drawn and carefully stitched, may vary slightly from piece to piece, adding to its uniqueness and charm.
This stocking is a beautiful and meaningful gift that carries the story and heritage of its creator. Ideal for those who appreciate artisanal craftsmanship and cultural richness, these stockings make a thoughtful and unique present for the holiday season. Whether hanging on your own mantel or gifted to a loved one, they are sure to add warmth and character to any holiday setting.
View full details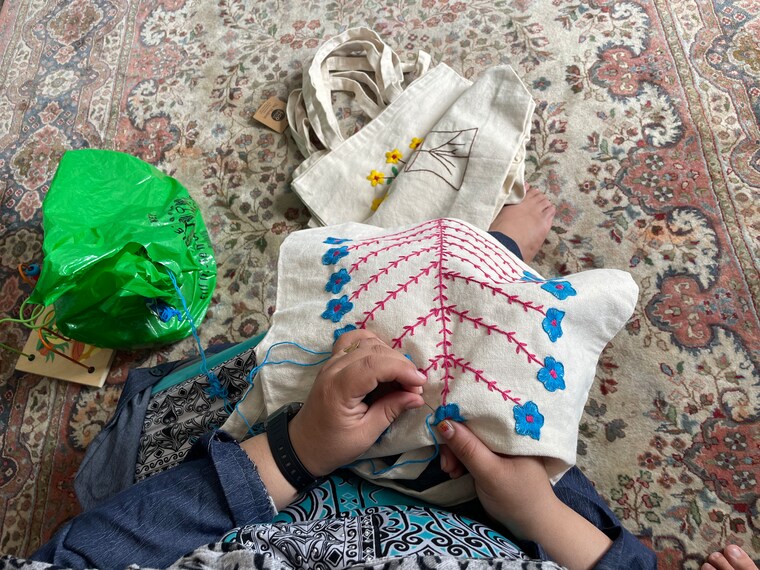 Meet Bibi: The Artisan Behind the Stocking
Bibi is the talented artisan behind this embroidered stocking. She is an Afghan refugee currently living in New Jersey with her husband and young son.
Bibi's sister-in-law, also a skilled embroiderer, collaborates with her on designs.
Bibi's work is deeply rooted in traditional Afghan embroidery techniques, passed down through generations. Her craft is not only a means of artistic expression but also a path to financial independence and security.
Each piece she creates is a reflection of her journey, her heritage, and her resilience as she builds a new life far from home.
Rumi Spice is proud to support Bibi's work, showcasing the rich cultural heritage of Afghanistan through contemporary fashion.
Crafts for a Cause: Rumi's Earthquake Relief Auction
All proceeds from the auction will go directly towards aiding the earthquake relief efforts in Herat. This includes providing essential aid and support to the families affected by the earthquake.
By participating in the auction, every bid or purchase you make contributes directly to the relief efforts. This is more than just financial support; it's a crucial lifeline for the women and families grappling with the aftermath of the earthquake in Afghanistan.