Rumi's Auction for Earthquake Relief
Join us in this meaningful auction from Tuesday, November 21, to Tuesday, November 28 (Giving Tuesday). Place your bid and be a part of a movement that crafts hope through art. All the pieces in the auction are unique, beautiful pieces made by Afghan refugees.
This is truly the gift that keeps on giving!
You get the beautiful artisan piece
You are supporting Afghan artisan refugees
You are supporting earthquake relief efforts in Afghanistan
Thank you for being a part of this meaningful auction.
Matin Malikzada is a seventh-generation master of traditional Afghan pottery from Istalif, Afghanistan. This 12" etched plate, glazed in Istalif's signature turquoise, is a work of art and a versatile piece for everyday use or special occasions. Its robust construction and size make it ideal for serving appetizers, main courses, or as a decorative fruit platter, adding a touch of elegance to your dining experience.
Each plate is a collaborative creation between Matin and his wife Najila. After Matin shapes the clay, Najila meticulously draws the symmetrical designs, making each plate a unique testament to their joint artistic vision. 
View full details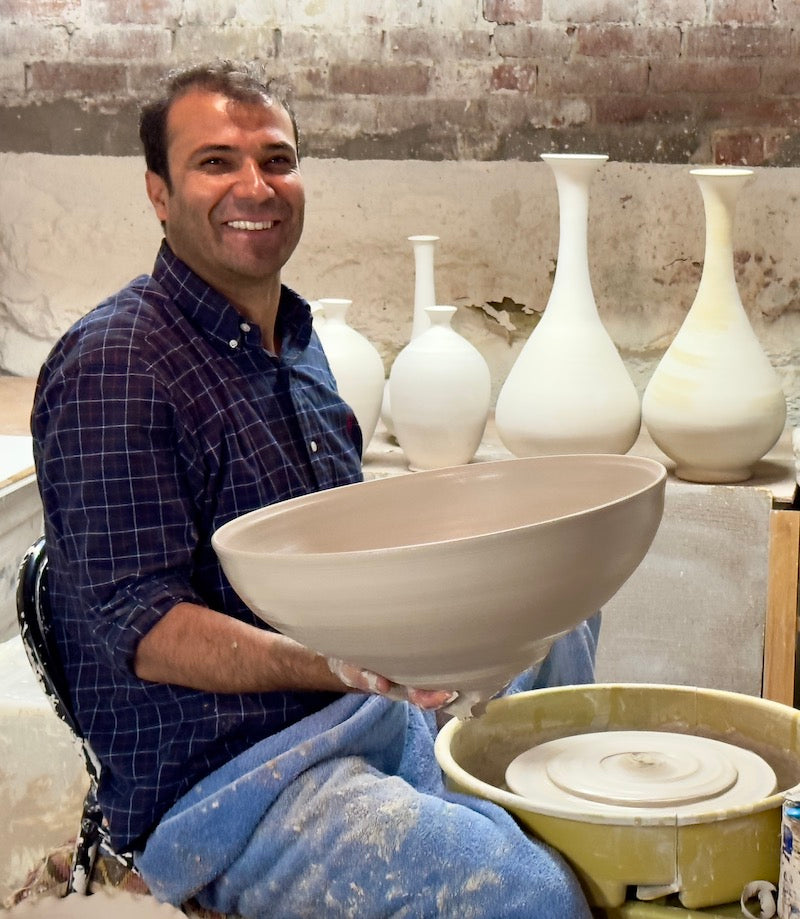 Meet Matlin: The Artisan Behind the Plate
Matin Malikzada, a seventh-generation master potter from Istalif, Afghanistan, embodies the rich tradition of Afghan ceramic art. Born into a family with a deep-rooted legacy in pottery, Matin's journey as an artist is interwoven with the history and culture of his native village, renowned for centuries as a hub of ceramic art and commerce.
Matin's early inspiration came from his father and grandfather, who were both prominent figures in the local artisans' guild. His dedication to the craft led him to become a beacon of artistic excellence, revitalizing the nearly lost art of symmetrical design and the unique turquoise glaze characteristic of Istalifi pottery.
Matin's journey has been one of both artistic triumph and personal resilience. The Taliban takeover forced him to flee his homeland, leaving behind a rich heritage but carrying his invaluable skills and traditions with him.
Resettled in Connecticut, Matin continues to practice and evolve his art, creating pieces that are not only aesthetically stunning but also tell a story of survival and hope.
Despite the challenges of his refugee status, Matin remains dedicated to his craft, teaching and inspiring others, and ensuring that the legacy of Istalif pottery lives on through his creations and the generations of artisans he has trained.
His work has been recognized internationally, showcased in prestigious exhibitions, and continues to captivate audiences with its beauty and the poignant story it represents.
Crafts for a Cause: Rumi's Earthquake Relief Auction
All proceeds from the auction will go directly towards aiding the earthquake relief efforts in Herat. This includes providing essential aid and support to the families affected by the earthquake.
By participating in the auction, every bid or purchase you make contributes directly to the relief efforts. This is more than just financial support; it's a crucial lifeline for the women and families grappling with the aftermath of the earthquake in Afghanistan.