Rumi's Auction for Earthquake Relief
Join us in this meaningful auction from Tuesday, November 21, to Tuesday, November 28 (Giving Tuesday). Place your bid and be a part of a movement that crafts hope through art. All the pieces in the auction are unique, beautiful pieces made by Afghan refugees.
This is truly the gift that keeps on giving!
You get the beautiful artisan piece
You are supporting Afghan artisan refugees
You are supporting earthquake relief efforts in Afghanistan
Thank you for being a part of this meaningful auction.
This Hand Embroidered Bird Ornament is a unique piece of Afghan artistry, ideal for adding a touch of cultural elegance to any home.
Each ornament, measuring 5" long by 4 1/2" high, is handcrafted with care and precision, involving about 2 hours of detailed work.
The ornament is made using felt, beads, embroidery floss, and decorative bells. It reflects the traditional Afghan symbolism where birds represent peace and freedom. This ornament is not only a beautiful decorative item but also a piece of art that carries deep cultural significance.
The Hand Embroidered Bird Ornament is a versatile gift option, suitable for various occasions like housewarmings, holidays, or as a special token for hosts. Its detailed embroidery and cultural relevance make it a thoughtful present for those who appreciate artisanal crafts with a story.
To maintain its beauty, the ornament should be kept in dry areas away from direct sunlight and can be cleaned with a soft, damp cloth or a vacuum attachment.
Made by Palwasha, an Afghan artisan now based in Buffalo, NY.
View full details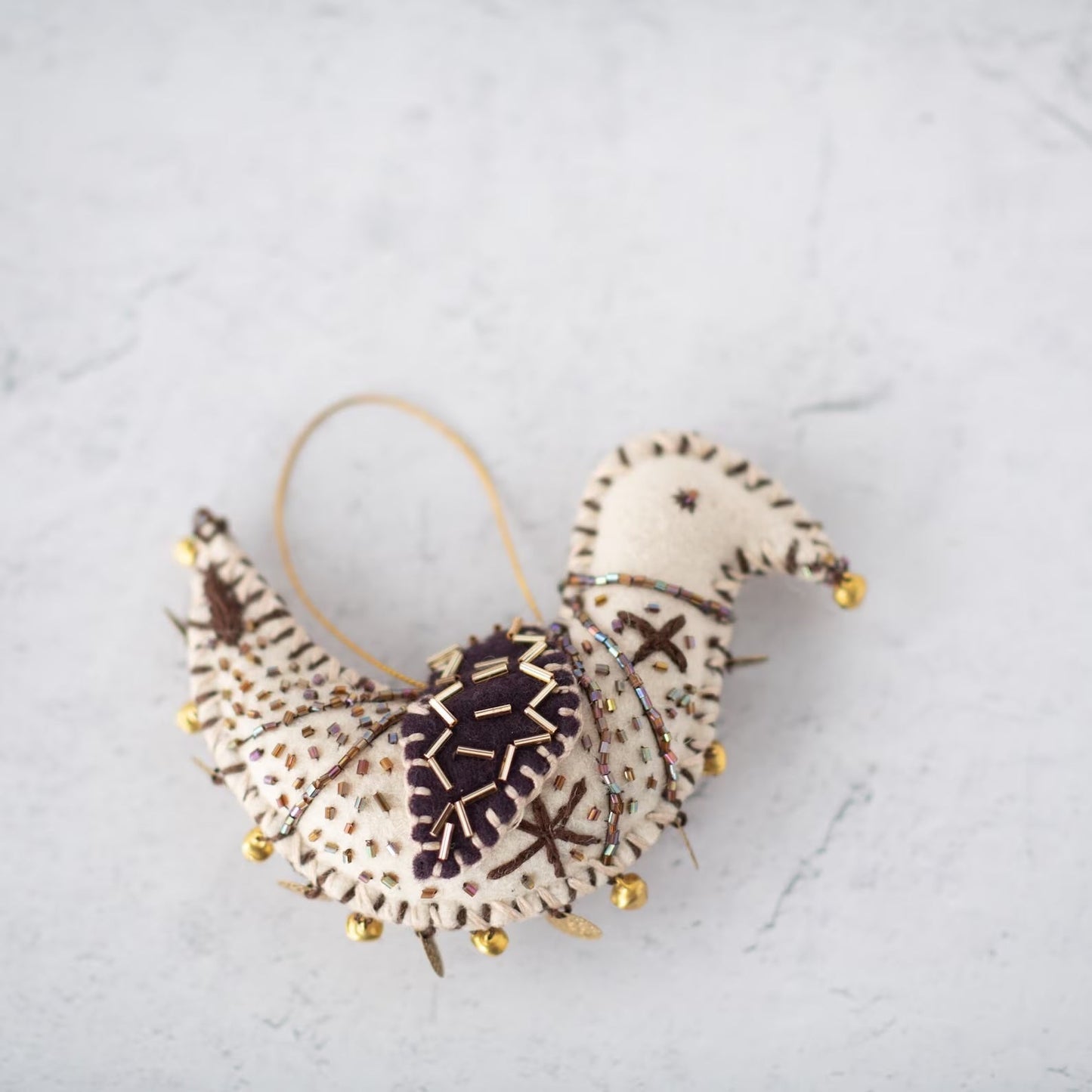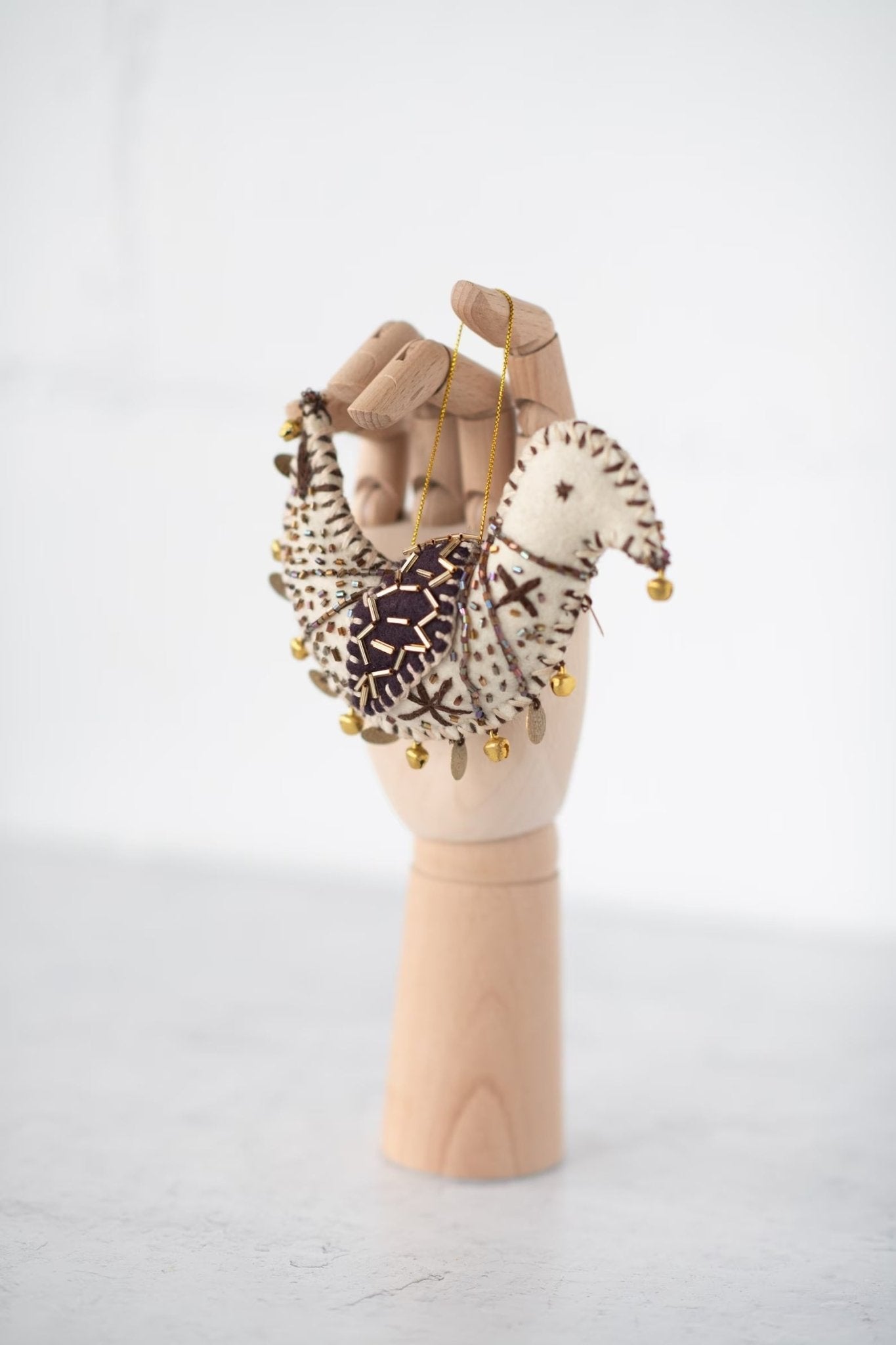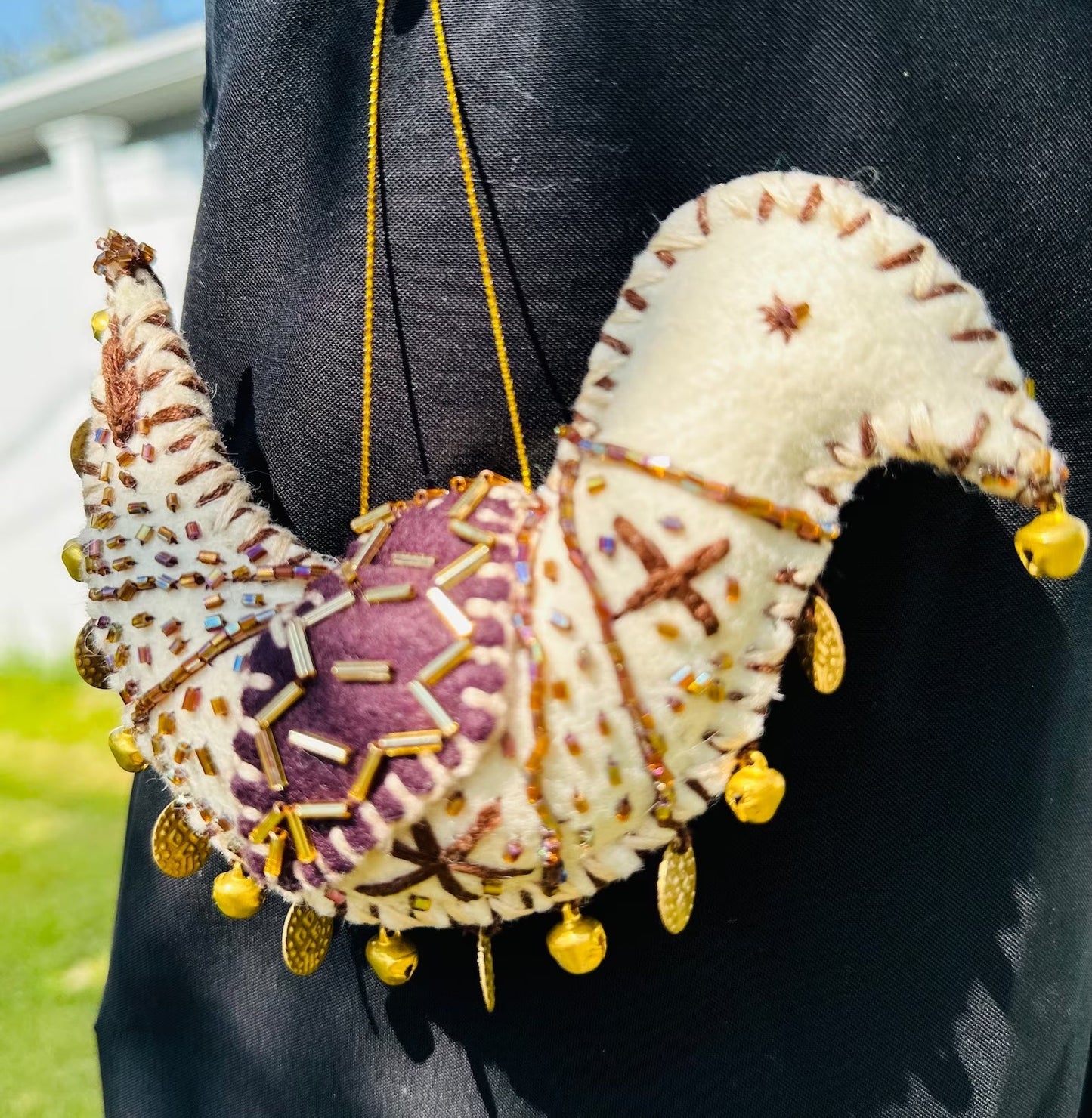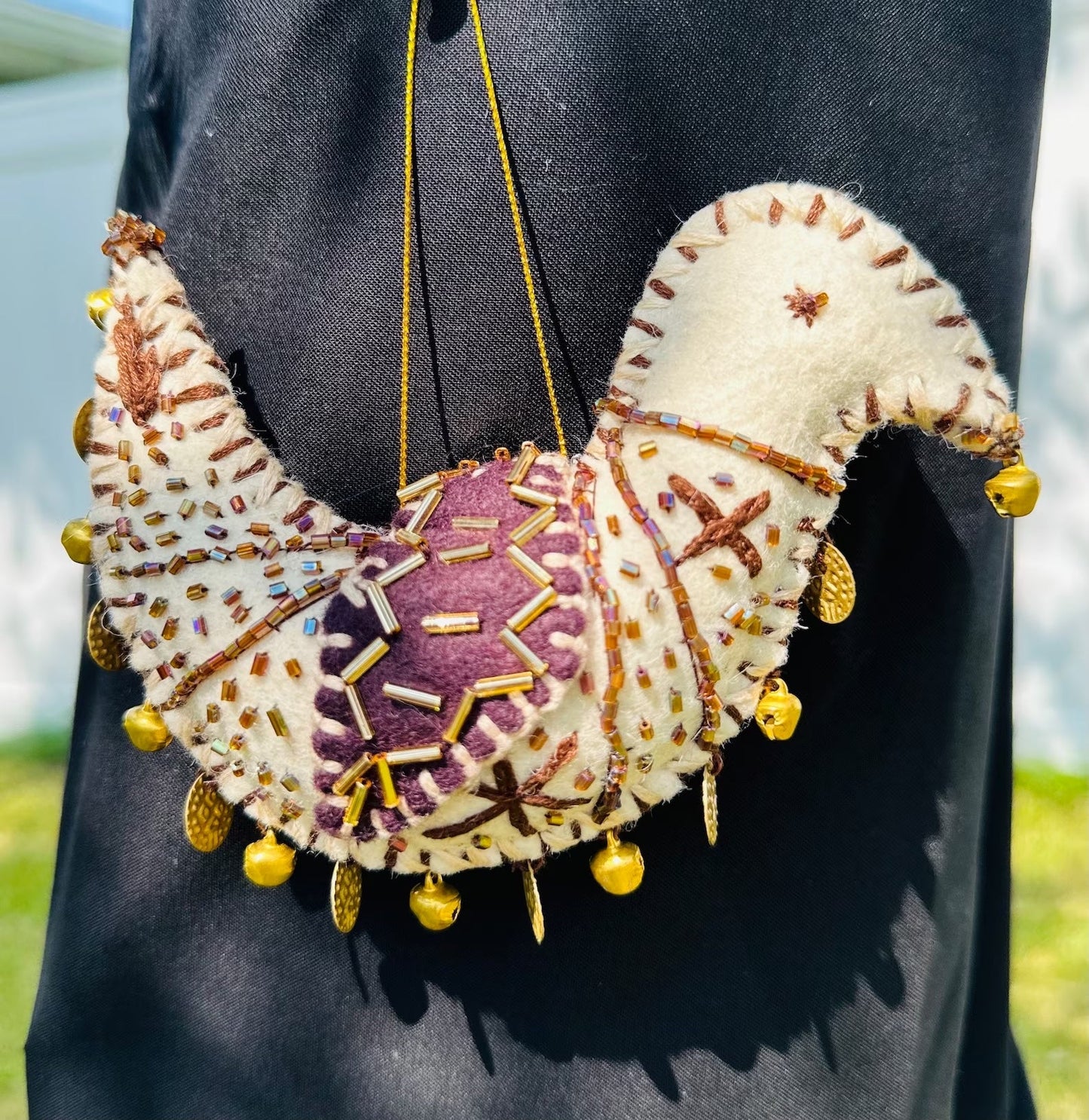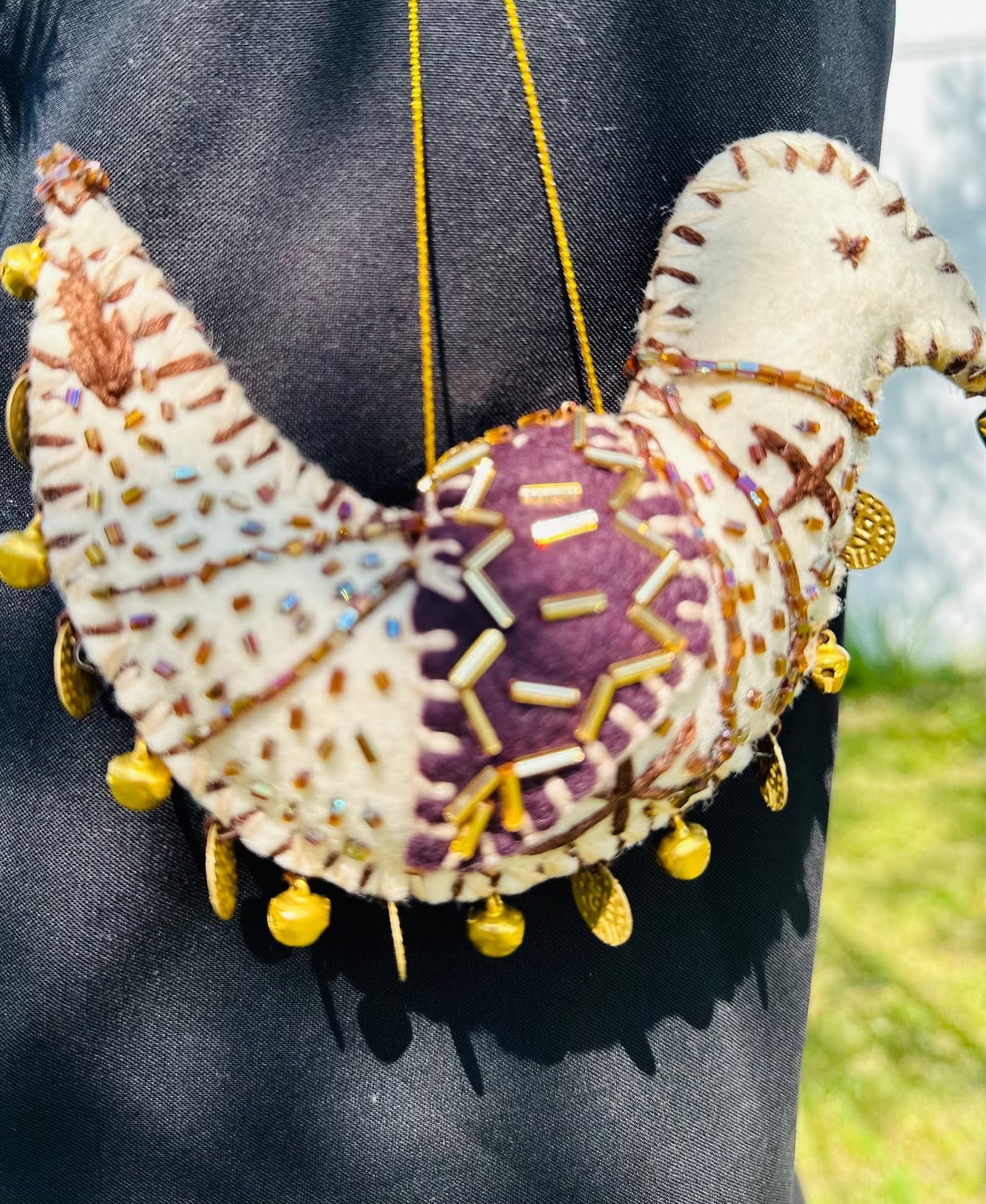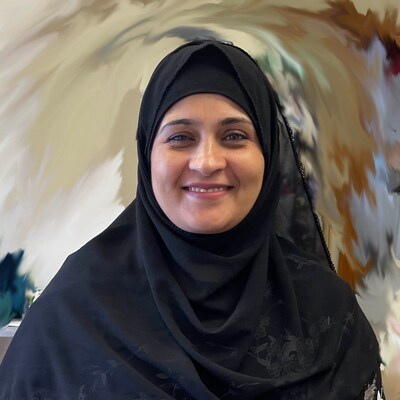 Meet Palwasha: The Artisan Behind the Ornament
Palwasha, an Afghan artisan now residing in Buffalo, NY, is the talented creator of this ornament.
Palwasha learned sewing at fifteen from her mother, a skilled tailor. Her expertise includes making custom garments and unique gifts, each reflecting the individuality of the recipient.
In her work, Palwasha combines traditional Afghan techniques with an understanding of contemporary preferences, showcasing her adaptability and growth as a designer.
Her creations are a testament to her dedication to her craft and her commitment to supporting her family and empowering other refugee women in her community.
Rumi Spice is proud to feature Palwasha's work, which not only represents her talent but also her journey and resilience.
Crafts for a Cause: Rumi's Earthquake Relief Auction
All proceeds from the auction will go directly towards aiding the earthquake relief efforts in Herat. This includes providing essential aid and support to the families affected by the earthquake.
By participating in the auction, every bid or purchase you make contributes directly to the relief efforts. This is more than just financial support; it's a crucial lifeline for the women and families grappling with the aftermath of the earthquake in Afghanistan.