Rumi's Auction for Earthquake Relief
Join us in this meaningful auction from Tuesday, November 21, to Tuesday, November 28 (Giving Tuesday). Place your bid and be a part of a movement that crafts hope through art. All the pieces in the auction are unique, beautiful pieces made by Afghan refugees.
This is truly the gift that keeps on giving!
You get the beautiful artisan piece
You are supporting Afghan artisan refugees
You are supporting earthquake relief efforts in Afghanistan
Thank you for being a part of this meaningful auction.
This upcycled boyfriend Oxford button-down shirt is a medium/large size and designed for an oversized fit. This shirt is a unique piece of wearable art with Bibi's free-spirited hand embroidery. The shirt features a variety of designs including a tree, rose, eyes, fern, cherries, and a sun, making each shirt distinct. This shirt is not just clothing; it's a statement piece that's sure to draw attention and admiration.
The Embroidered Oxford Shirt is an excellent gift for those who appreciate unique, artisanal fashion. Its blend of traditional embroidery with a modern, casual style makes it a versatile and thoughtful present. Whether for a birthday, holiday, or just as a special surprise, this shirt is perfect for someone who values both style and the story behind their clothing.
View full details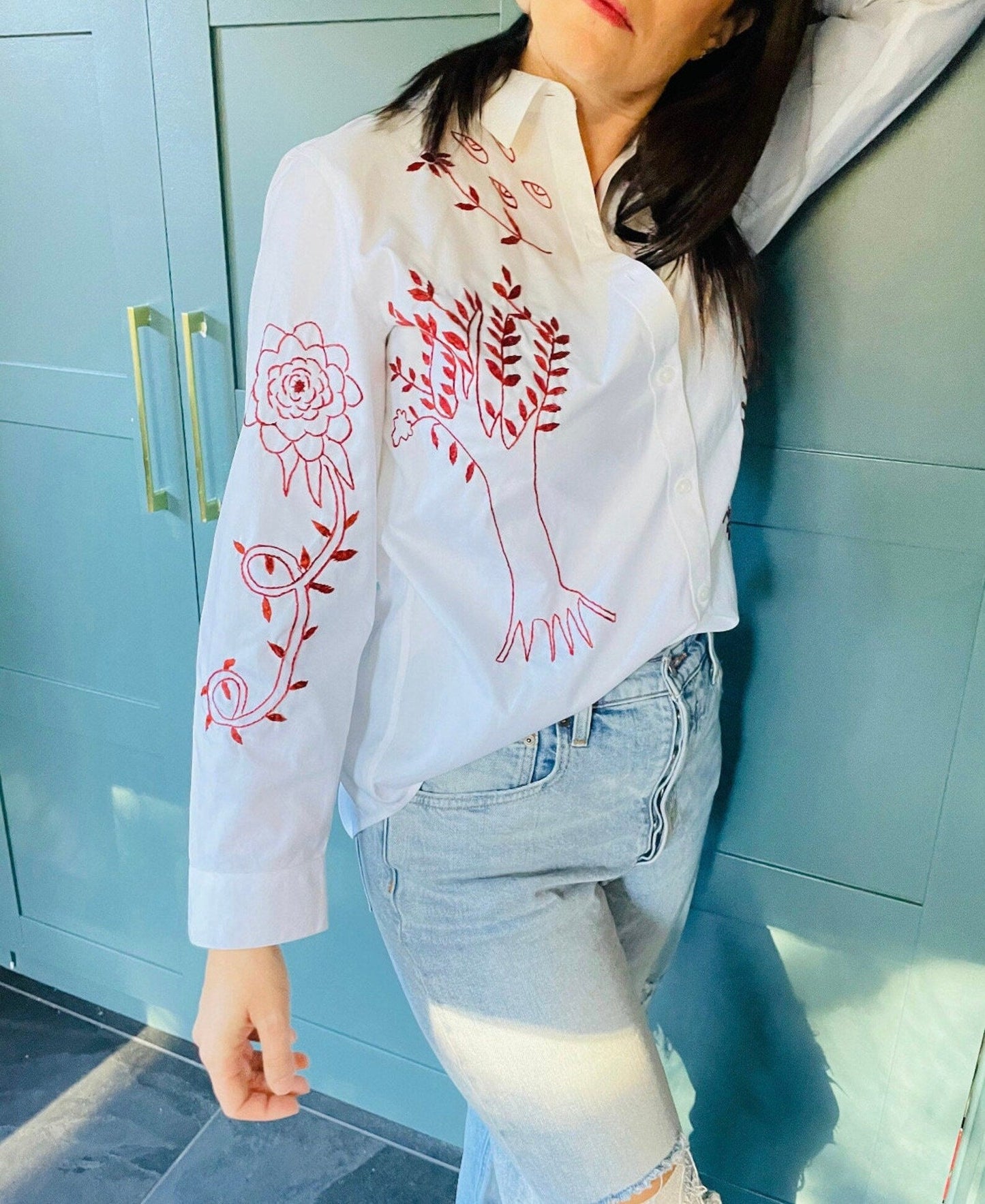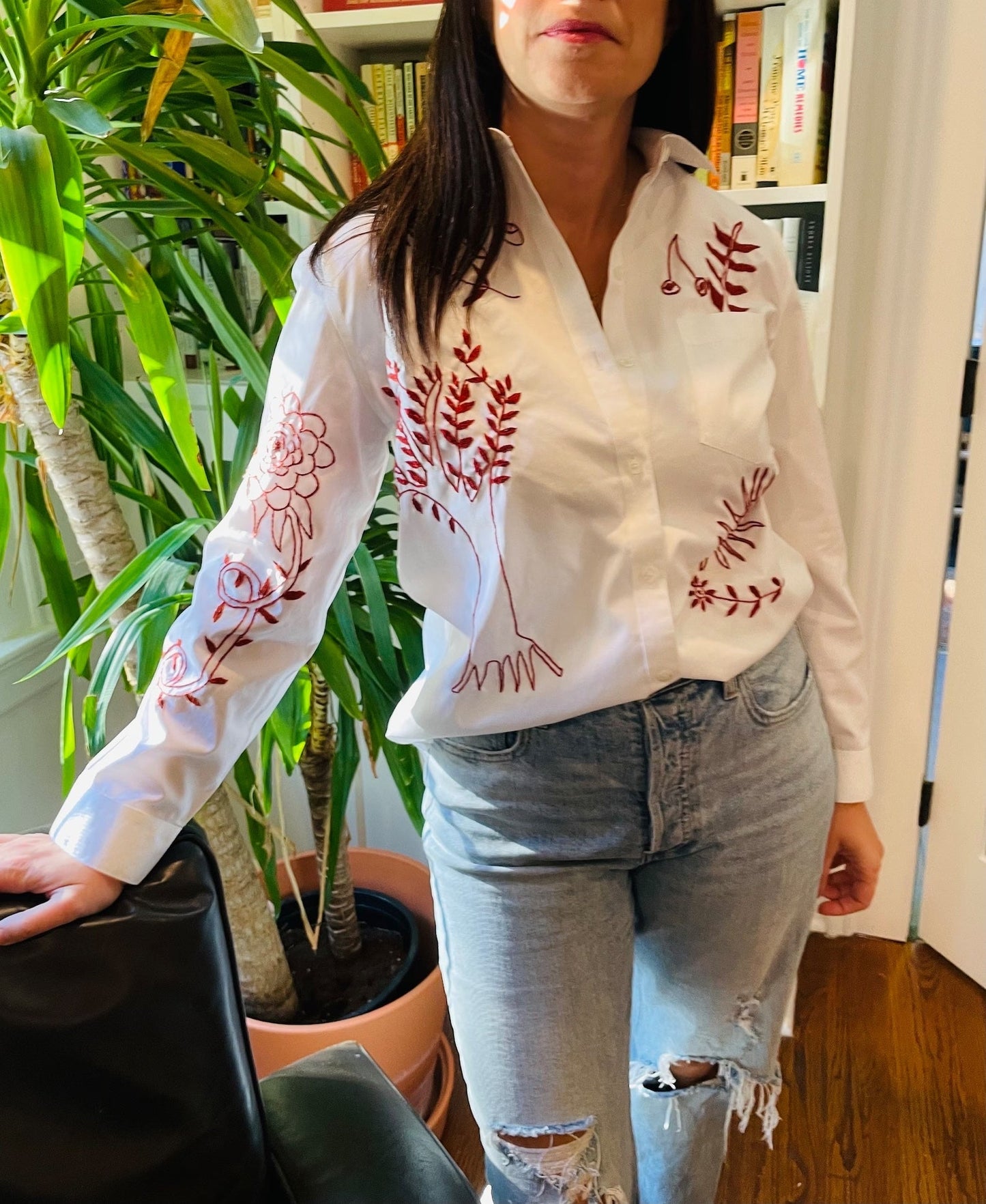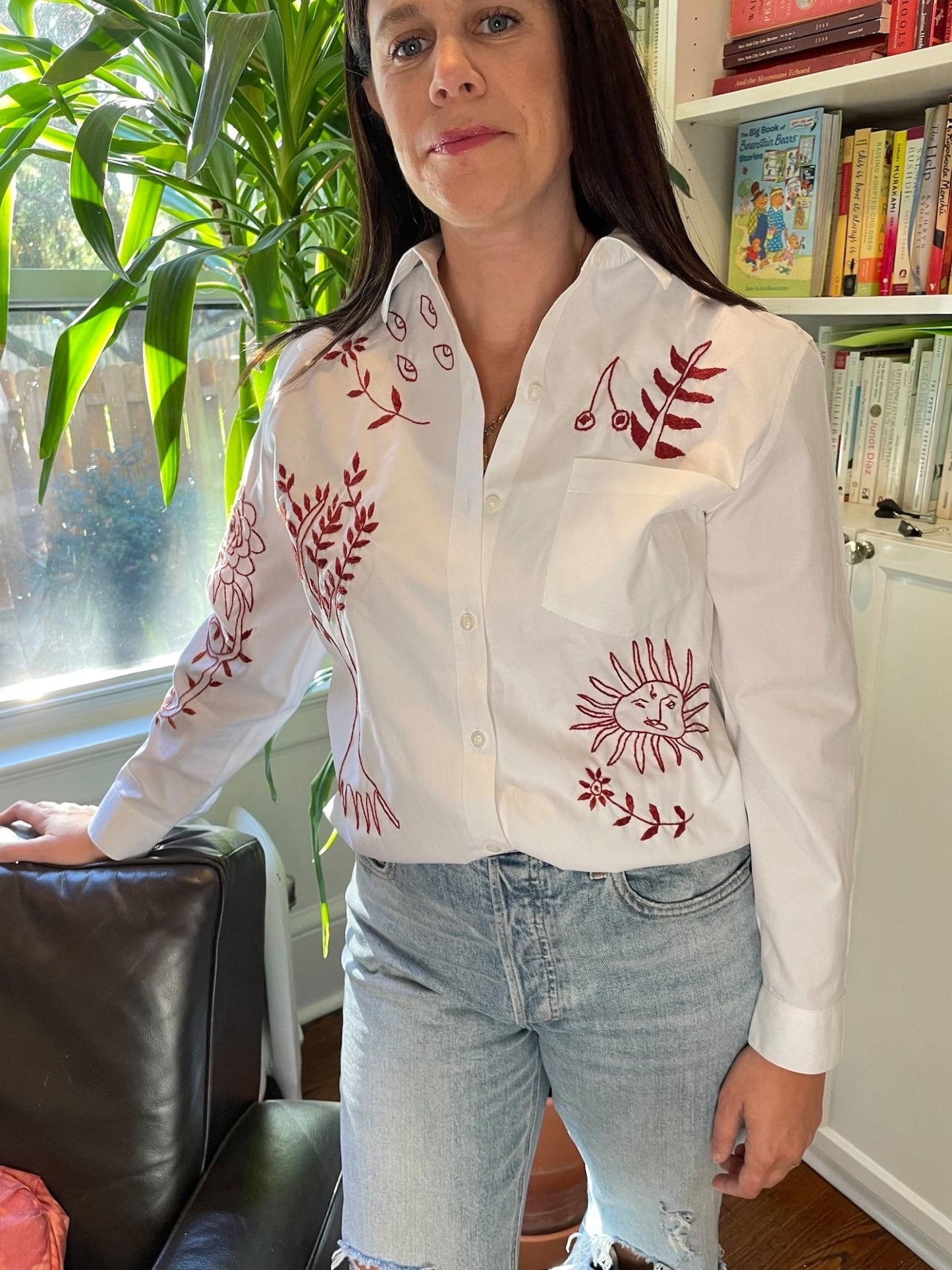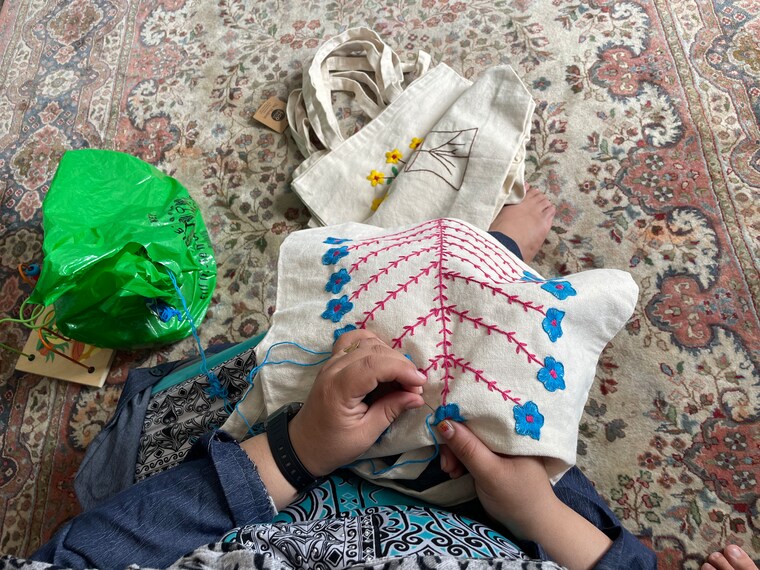 Meet Bibi Sofia: The Artisan Behind the Shirt
This gorgeous hand embroidery shirt was designed and hand embroidered by the incredibly talented Bibi Sofia. She is a master embroiderer and loves experimenting with new designs.
Her youngest child (3 years old) is quite the adorable co-worker, sitting with her while she sews and creates. Sofia embroiders florals, constellations, evil eye designs and more.
Sofia fled Afghanistan in 2021 with her husband and 4 children. Sofia is learning English to help her build her business and her new life here.
Bibi's work is deeply rooted in traditional Afghan embroidery techniques, passed down through generations. Her craft is not only a means of artistic expression but also a path to financial independence and security.
Each piece she creates is a reflection of her journey, her heritage, and her resilience as she builds a new life far from home.
Rumi Spice is proud to support Bibi's work, showcasing the rich cultural heritage of Afghanistan through contemporary fashion.
Crafts for a Cause: Rumi's Earthquake Relief Auction
All proceeds from the auction will go directly towards aiding the earthquake relief efforts in Herat. This includes providing essential aid and support to the families affected by the earthquake.
By participating in the auction, every bid or purchase you make contributes directly to the relief efforts. This is more than just financial support; it's a crucial lifeline for the women and families grappling with the aftermath of the earthquake in Afghanistan.