Rumi's Auction for Earthquake Relief
Join us in this meaningful auction from Tuesday, November 21, to Tuesday, November 28 (Giving Tuesday). Place your bid and be a part of a movement that crafts hope through art. All the pieces in the auction are unique, beautiful pieces made by Afghan refugees.
This is truly the gift that keeps on giving!
You get the beautiful artisan piece
You are supporting Afghan artisan refugees
You are supporting earthquake relief efforts in Afghanistan
Thank you for being a part of this meaningful auction.
Embrace sustainability and style with the Recycled Cotton 'Mountain' Design Tote Bag. This eco-friendly tote is crafted from high-quality recycled cotton, ensuring both durability and a soft touch. Its spacious design makes it an ideal companion for a variety of needs, whether you're carrying books, groceries, or daily essentials. The bag's versatility makes it suitable for various occasions - from a stylish accessory for a casual outing to a reliable bag for shopping trips. 
The bag's standout feature is its unique 'Mountain' design, inspired by the picturesque landscapes of Afghanistan. This artistic pattern, meticulously sewn, adds a touch of elegance and cultural richness, making the tote not just a practical item but also a statement piece.
Lovingly made by JB, an Afghan refugee mother of seven who has been doing embroidery work since age 9.

View full details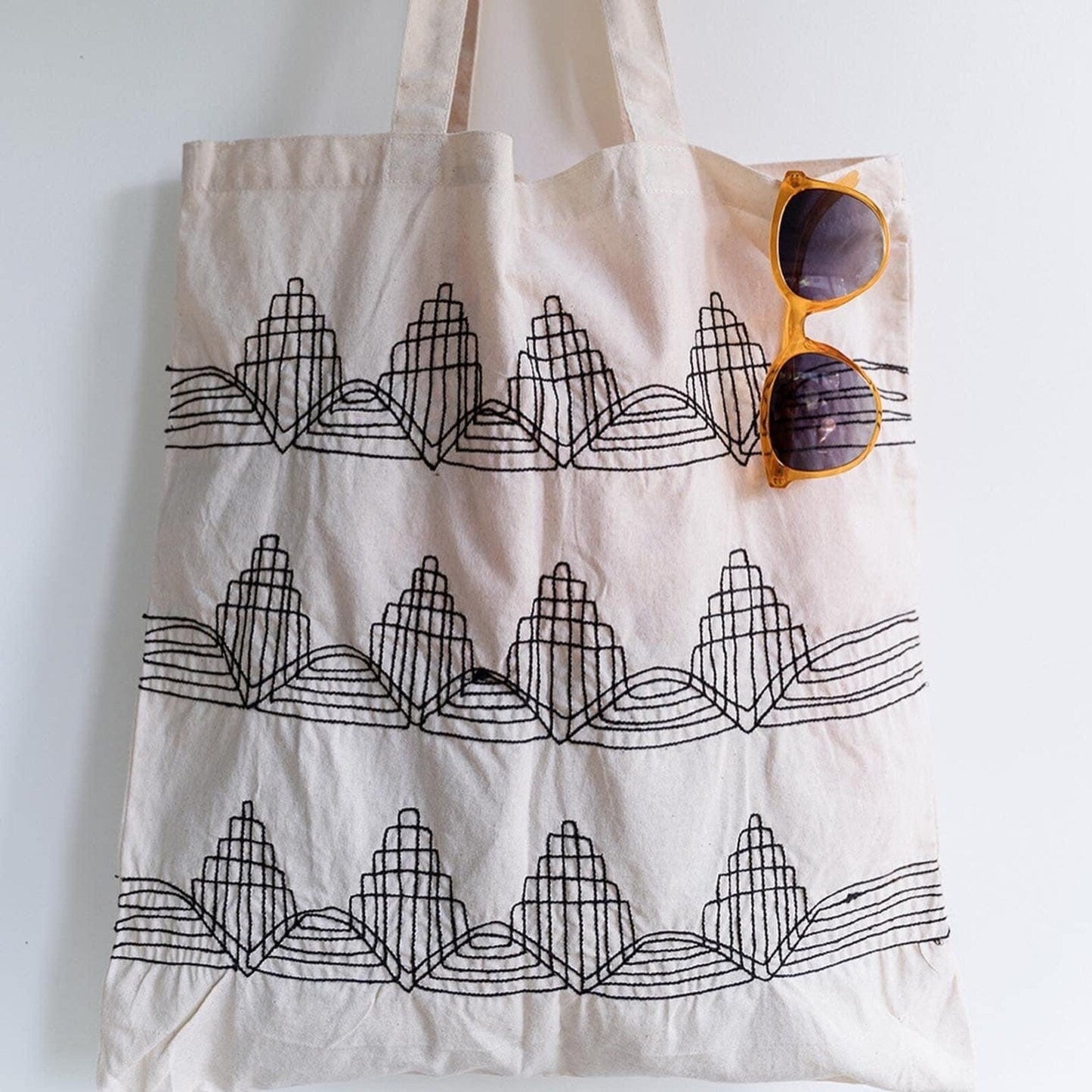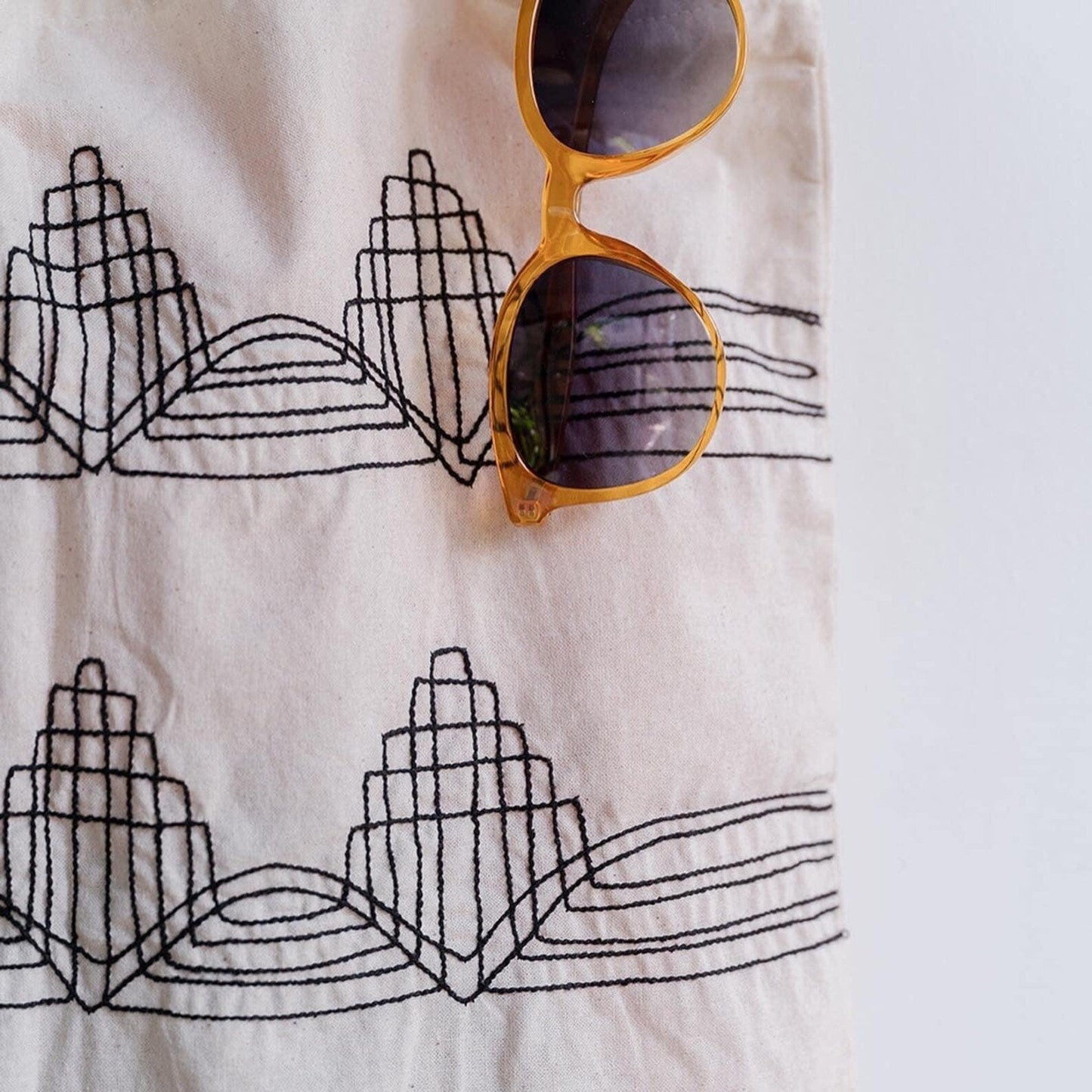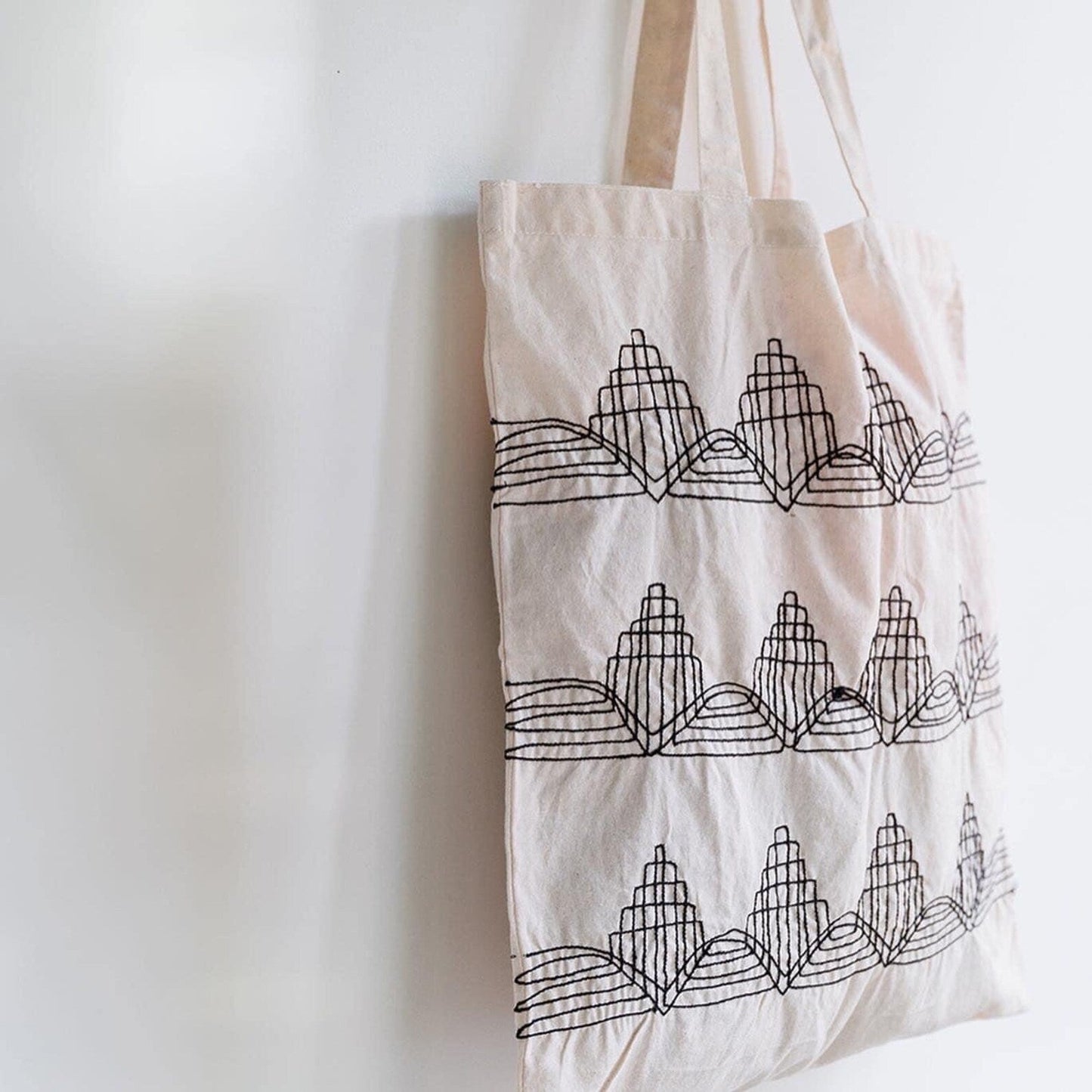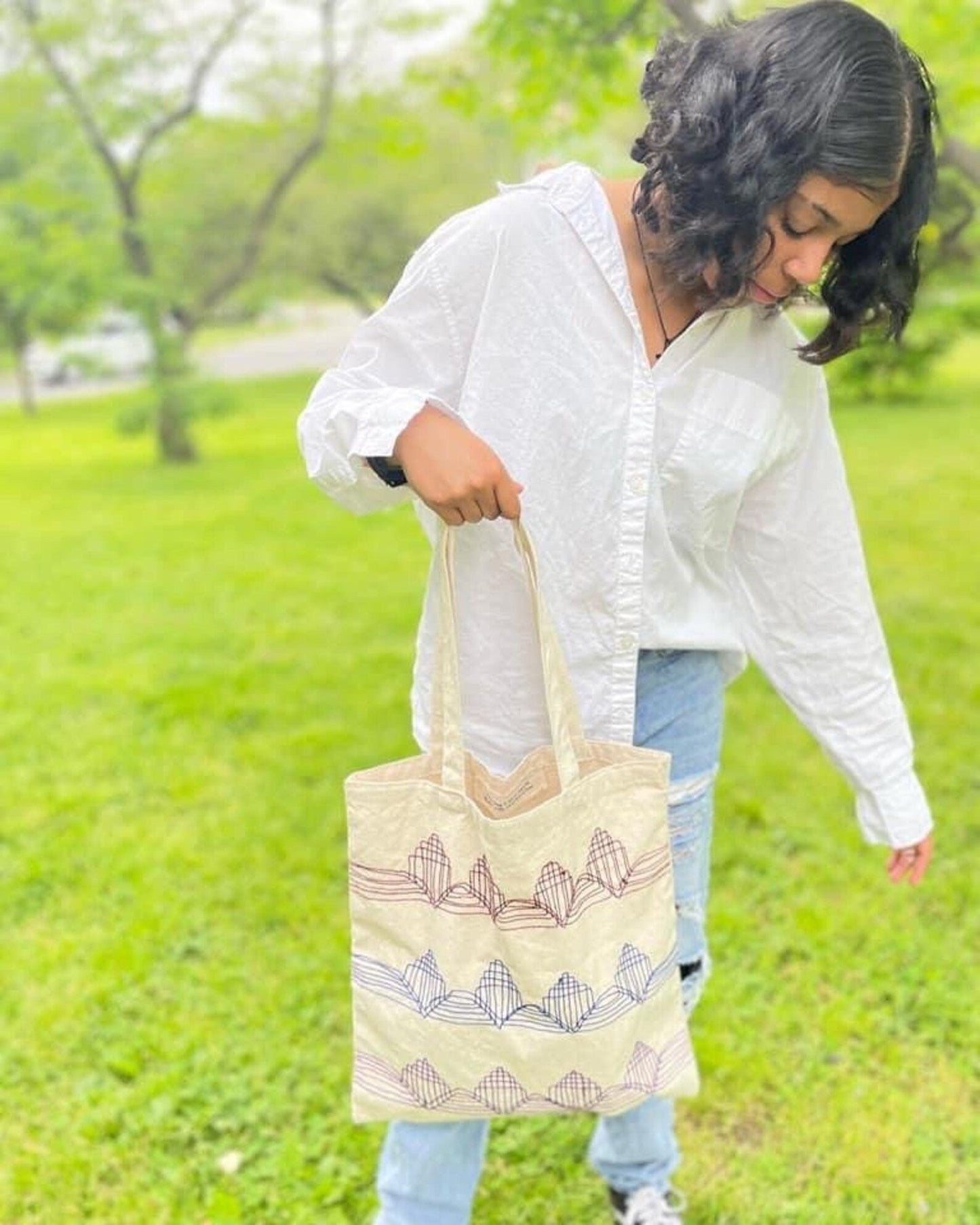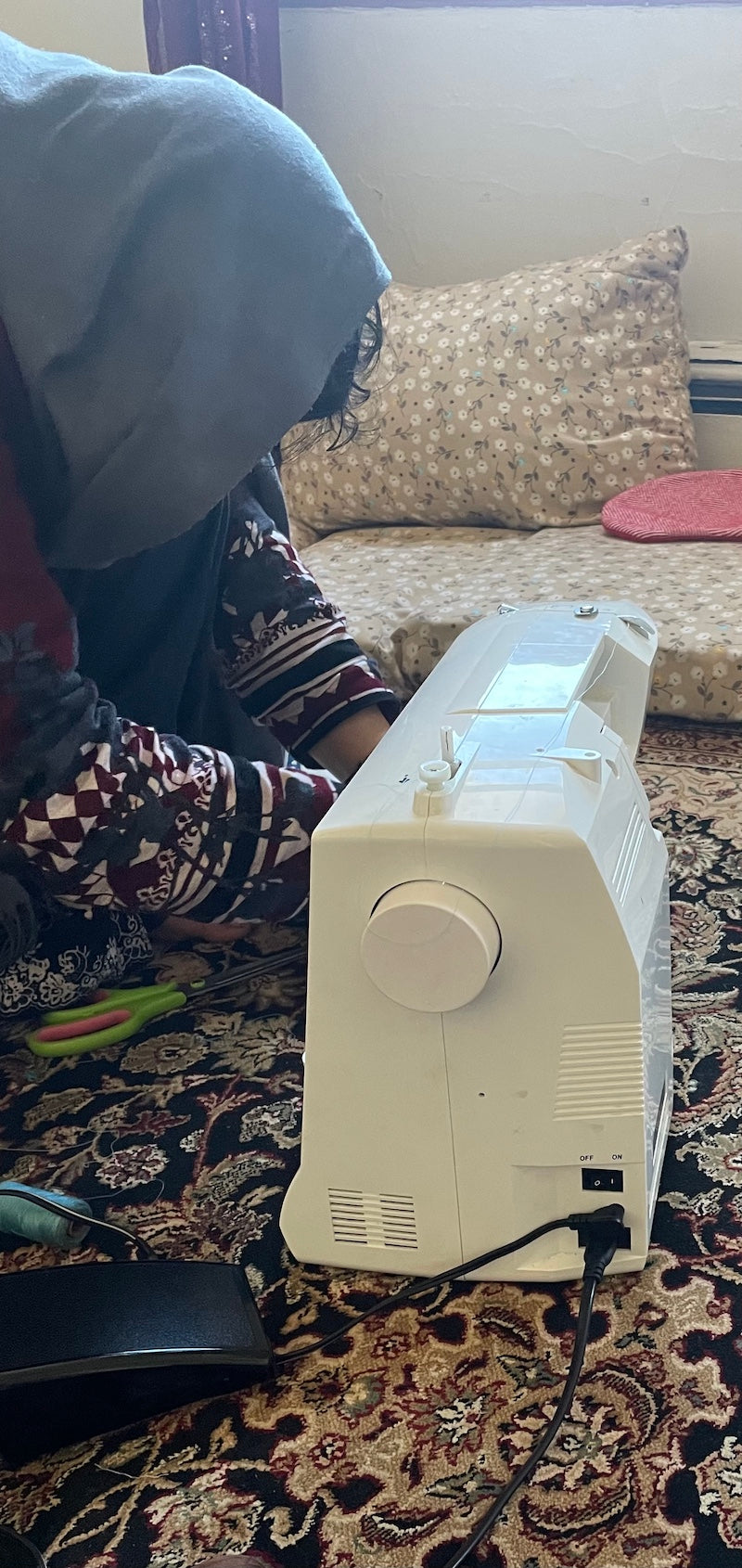 Meet JB: The Artisan Behind the Bag
JB is a mother of seven and the cornerstone of her family. Her journey from Afghanistan to New Jersey is a tale of courage and resilience. JB and her family left Afghanistan in September 2021, enduring months in refugee camps and hotels before finally settling into their new life in New Jersey.
From a young age, JB was drawn to the arts of embroidery and crochet, learning these skills from her friends at the age of nine.
Today, she continues to practice and evolve these crafts, drawing inspiration from the natural beauty of her homeland, particularly its mountains, flowers, and trees.
JB's favorite aspect of her work is the joy of creating something beautiful with her own hands, a sentiment that is palpably felt in each piece she makes. When she's not busy with her needlework, JB loves to cook, especially Afghan bread, which is renowned among her family, friends, and neighbors. Her passion for cooking and her love for the outdoors, particularly enjoying time in the park, are integral parts of her life in New Jersey.
JB's story is one of hope, talent, and the enduring power of creativity, making each of her creations a narrative woven with the beautiful embroidery threads of her life's journey.
Crafts for a Cause: Rumi's Earthquake Relief Auction
All proceeds from the auction will go directly towards aiding the earthquake relief efforts in Herat. This includes providing essential aid and support to the families affected by the earthquake.
By participating in the auction, every bid or purchase you make contributes directly to the relief efforts. This is more than just financial support; it's a crucial lifeline for the women and families grappling with the aftermath of the earthquake in Afghanistan.