4 Unique and Delicious Coffee Drinks To Try At Home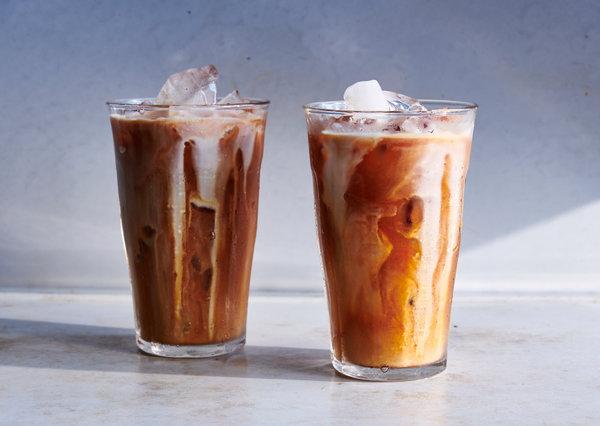 Go beyond your usual cream and sugar coffee routine. Here are four creative (and easy) coffee drink recipes that you won't be able to resist trying. Some even double as desserts!
---
#1 Cinnamon Saffron Coffee
Inspired by the flavors of the Middle East and the North African region, a cup of cinnamon saffron coffee will transport you to another world. The warm spice of the cinnamon compliments the floral notes and inherent sweetness of the saffron threads to make both an indulgent and sweet start to your morning. Pair it with a simple pastry and you've got a breakfast that will satisfy into the afternoon.
Try It At Home
For 4 servings, simply combine 1 ounce of your favorite ground coffee,  2 teaspoons of ground cinnamon, and 1 large pinch of Afghan saffron into your coffee filter. Add 4 cups of water to your coffee maker's reservoir. Brew as usual. Once done, pour into your mug and sweeten as desired. We love sweetening with a drizzle of raw organic honey.
(Photo by Just A Pinch)
#2 Thai Iced Coffee
We've found an easy and authentic recipe for a Thai iced coffee drink that delivers a jolt of energy to get you through your busy work day. The taste of this iced coffee drink is both strong, very sweet, and rich in flavor. What we love about this drink is not only how deliciously creamy and refreshing it is, but the fact that you can make a large pitcher of this and keep it on hand in the fridge for whenever the mood strikes. 
Try It At Home
For 2 to 4 servings, pour 2 large cups of hot, freshly brewed coffee into a pitcher. Add 4 to 6 tablespoons of sweetened condensed milk to the pitcher and stir well until well combined. Add a handful of ice cubes and refrigerate pitcher for at least one hour. To serve, add a few ice cubes to the bottom of each glass cup and pour in the iced coffee. Top each drink with a tablespoon or two of evaporated milk or heavy cream.
Tip: Add a bit of your favorite liqueur to turn this into a tasty after-dinner dessert drink.
(Photo by NYT Cooking)
#3 Frothy Saffron Milk for a Homemade Latte
Elevate your homemade latte with a little red gold. Saffron and milk is a staple food combination in Indian and Middle Eastern cultures. The two ingredients are used together in a host of desserts and beverage recipes. The milk acts as a great carrier for the saffron threads to help disperse its delicate flavor and aroma. Poured atop a cup of coffee or espresso, it forms the most sophisticated latte.
Try It At Home
In a saucepan, combine 2 cups of milk and a pinch of Afghan saffron and heat until warm (about 140 degrees Fahrenheit). Be careful not to scorch the milk. Pour the warm saffron milk into a blender and blend on medium until frothy and bubbly. This method creates small and uniform bubbles without the need of an espresso machine.
Slowly pour frothy saffron milk over freshly brewed coffee or espresso.
(Photo by My Food Tapestry)
#4 Mexican Spiced Coffee (Cafe de la Olla)
Mexican spiced coffee, called "cafe de la olla", is a coffee drink that has been enjoyed for generations in Mexico. We've found that this coffee is an excellent way to keep cozy all winter long. The dark brown sugar lends a warm richness to this cup of joe and the orange peel adds a layer of subtle citrus notes you didn't know you needed! 
Try It At Home
For 4 servings, add ⅔ cup of ground dark roasted coffee, 1 quart of water, 1 cup packed dark brown sugar, 1 cinnamon stick, and a 3 inch piece of orange peel to a medium saucepan over medium heat. Bring to a slow boil and stir often to dissolve sugar. Once boiling, remove the saucepan from heat and let the coffee steep covered for about 5 minutes. Strain coffee through a fine mesh strainer before serving.
Tip: Traditionally, this coffee is made in an earthen clay pot that gives a distinct earthy flavor to the brew that you can't get with a saucepan. You can pick up a traditional Mexican earthen clay pot at your local Mexican grocery store or online.
(Photo via Pinterest)
Try these four drink recipes the next time you need a caffeine pick-me-up. Coffee provides a complex blend of different tastes and aromas ranging from chocolatey to fruity to winey, but still acts as a great base to add further flavor to. 
---
Have any helpful coffee or drink tips you've learned along the way? Share them in the comments below!