Learning to Make Chicken Pulao with Rumi CEO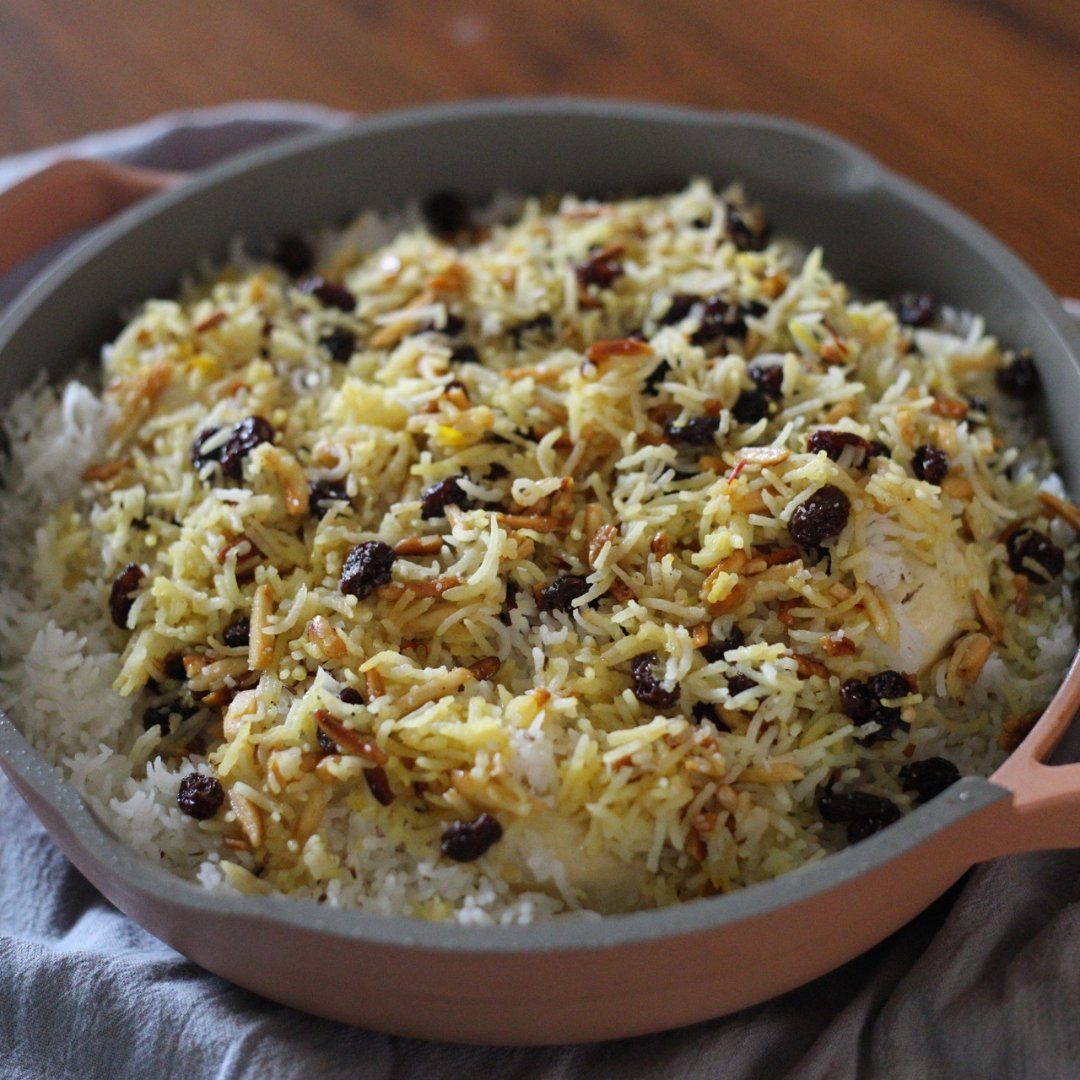 Want to go right to the recipe? Click here.
I grew up in a family that loved to cook. My grandma, my mother, and definitely all my cousins. So, being a part of a spice company, I love experimenting with all the flavors and varieties of our spices and spice blends. 
I was not too familiar with traditional Afghan dishes and flavors before joining Rumi Spice, so discovering and learning about the region's flavors and traditions has led to some fun excursions in my kitchen. 
Recently, I decided to tackle Kabuli Pulao. A traditional Afghan dish that combines rice, chicken, dried fruits and nuts with saffron. I did some reading on different versions and approaches in two of my favorite cookbooks Bavel and Parwana.  
Generally, when I am trying something new, I try to be pretty faithful to the recipe. Then I'm usually comfortable experimenting and adapting the recipe. So, let me start with one of my key learnings. Use the correct rice. No exceptions, substitutions or other ideas like I had.  I happen to have some short grain white rice and thought I could make a go of that. Just don't do it. Get some nice, high-quality basmati rice. And treat it with care. You can thank me later for not having a giant sticky mass of rice to clean up. 
But back to my experience making Kabuli Pulao. When I rebooted and used some good basmati rice, I first gave it a hearty rinse. And I mean a good two to three minutes in a colander under the water ran clear.  Then I put all the rice in a large bowl, completely covered it with water, and just let it soak away for the next 30 minutes.   
Next, I got to cooking the chicken (for a vegetarian version you can easily omit this step). I heated up a little oil in one of my bigger skillets. I then did a quick season with salt and pepper on both sides of the chicken. Then, into the pot the pieces went. I cooked them for about four minutes on either side until they were lightly browned. After that, I added my stock to the pot with the chicken. I brought it up to a boil and then turned it down to simmer and let it do its thing for about 20 minutes. 
In the meantime, I started to tackle the rice. I got out my biggest pot, filled it about two-thirds of the way with water and brought it up to a boil. I took my soaked rice, drained it and added it to the pot with some salt. (My tip: if you have a colander about the same size as your soaking bowl, put that in the bowl before you start the soaking process and then you can lift it right out.)
I let the rice cook for ten minutes. When I wrote up this recipe, I took the time down a little because I felt like even that was too soft. When the rice is about doubled in size, take it off the heat and drain it again. 
At this point, the chicken should be ready to remove from the skillet. Pull them out and set on a plate, but leave the stock in the skillet. Take your newly cooked and drained rice and add about two thirds of it to the chicken stock. Mix it with the stock and spread it out evenly and then add the chicken pieces in. I found you can push them into the rice a little bit, but not so much that they touch the bottom of the pain. 
Next I topped this chicken and rice concoction with both cumin seeds and cardamom seeds. Then, top the chicken with the rest of the rice, put the lid on, and let it cook for another fifteen minutes on low heat. 
While that was cooking, I worked on the topping. In a small skillet, I toasted some raisins and almonds in a bit of ghee. (I think you could be creative here and try other dried fruits and nuts, or even a combination of several different kinds.) 
Then, I bloomed some saffron threads in warm water.  Once the deep golden saffron color had emerged, I took a heaping spoonful of rice from the pot and added that to the saffron threads. I also mixed in the almonds and raisins.  At this point - you're ready to go. You can transfer the chicken and rice to a large platter and then sprinkle with the rice-almond-raisin topping. 
I chose to leave mine in the skillet, so I just sprinkled it on top of the chicken and rice and served it from there.   
After that, it was on to my taste-tester. AKA my dad.  So, I brought it over to his house for dinner.  His verdict - success!  It is a milder dish, but full of different layers of flavors. I loved the way the cumin and cardamom infused the rice, but then you could taste the grains that had been mixed with the saffron. The chicken also had a great combination of flavors in it from the multiple steps in cooking it. 
While a totally different type of dish, it reminded me about a dish that is more familiar to me - risotto. Lots of steps, interesting flavors and textures all forming the perfect, tender and flavor-packed rice dish. I think my grandma would be proud. 
This recipe was a success and I am excited to try other versions and combinations of this delicious rice dish. There are so many other things you can do with saffron rice recipes and we can't wait to see what you create. Don't forget to share your creations with us
@rumi_spice
. Happy cooking!