Add The Flavors Of The Middle East To Your Brunch Spread With Rumi Spice Blends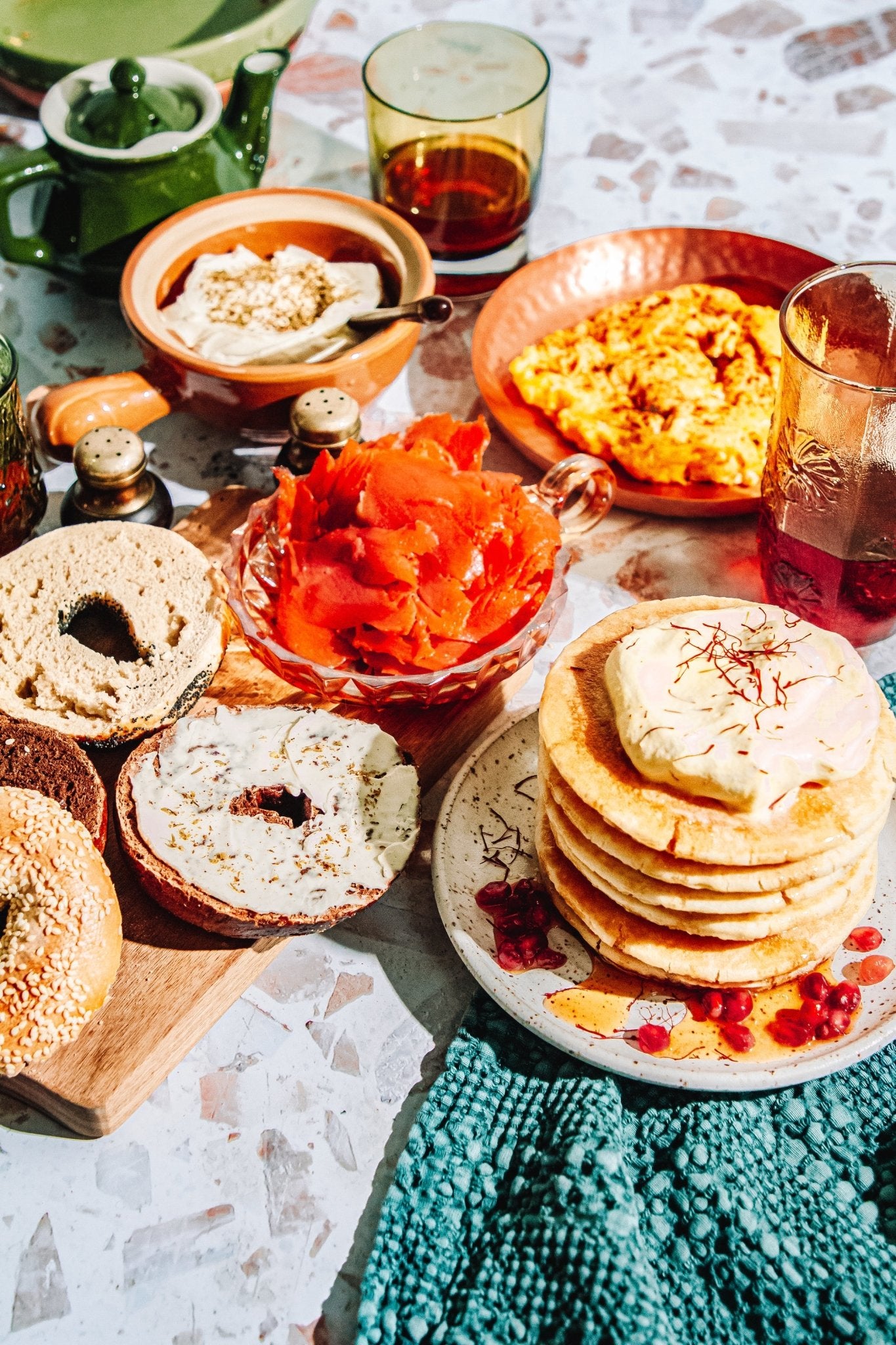 Brunch should be anything but boring. Bring your favorite Rumi Spice blends and whole spices to the breakfast table with these Afghan-inspired recipes that are sure to add some much-needed zest to your morning.
Whether you're a savory or sweet person, spice blends are a great addition to amp up the flavor in traditional brunch items like yogurt, pancakes, and eggs. Traditional Middle Eastern recipes like Labneh and Shakshuka incorporate some of these classic brunch items, making it easy to add a taste of The Middle East to your morning routine. Check out five of our favorite (and easy!) Afghan-inspired brunch recipes and get inspired with Rumi spices.
If you love yogurt, try Labneh
Labneh is a traditional Middle Eastern preparation that results in a rich and creamy yogurt base for any of your favorite brunch dishes. While you may be able to find pre-prepared labneh at your grocery store, it's very easy to prepare at home with just a few simple ingredients. 
You can make your own labneh using high-quality store-bought yogurt (we prefer Greek yogurt), along with some salt, lemon juice, and olive oil. Many recipes also incorporate grated garlic for enhanced flavor. 
Place your yogurt, lemon and salt onto a few layers of cheesecloth and place over a fine mesh strainer set on top of a bowl. Leave to strain for 12 to 24 hours, depending on how firm you want the end result. You'll notice that the residual moisture has strained off, leaving the yogurt delightfully thick and creamy. Serve simply with a drizzle of olive oil and sprinkle of Rumi za'atar spice blend, or experiment with some of your other favorite spice blends!
Original recipe credit: Food52 
You'll find labneh in a number of recipes, often served in the Turkish recipe Cilbir with poached eggs and a drizzle of spicy sauce on top. Try mixing your favorite spicy Rumi Spice blend, like Harissa, Cajun, or Southwest Chili, blend with olive oil for a vibrant and flavorful sauce. 
If you love eggs, try Shakshuka
For those of us that love a runny yolk, shakshuka is a great way to incorporate additional flavor, texture, and some bright Middle Eastern flair. This dish of poached eggs in a spicy, robust tomato sauce, packs a complex heat thanks to our Harissa spice blend. This unique blend of paprika, chili, and garlic is a one-step enhancer for building a truly flavorful base for this simple, show-stopping dish.
Our recipe begins by adding red pepper, onion, and garlic to a saute pan. Add in some paprika,  Rumi harissa, and cumin to toast the spices, adding an added depth of flavor and delightful aromas. Stir in the tomatoes and simmer before cracking in your eggs. The eggs will poach in the sauce after about 5-8 minutes.
Discover the full recipe here
Serve with crusty toasted bread for dipping into that yolk and sopping up the delicious sauce. Bonus points: if you're serving a crowd, this recipe is easily multiplied. Just count out how many eggs you need per person!
…or Turkish Poached Eggs
The Turkish dish known as çilbir will put your labneh to good use! The addition of creamy poached eggs and spicy sauce rounds out the garlicky tang of the yogurt. 
To assemble your çilbir, prepare your labneh with the addition of one to two cloves of grated garlic. Prepare your poached eggs by gently dropping them into boiling water for approximately 2-3 minutes, draining, and setting aside. Perhaps the star of the show: a warm, spicy olive oil drizzle, is easier than ever to prepare thanks to our zesty Harissa spice blend. This recipe calls for 3 tablespoons of good olive oil gently heated on the stove, along with 2 teaspoons of Aleppo pepper. We've adapted the recipe to sub in 2 teaspoons of Rumi Spice Harissa blend, which adds a bit of extra heat and subtle smokiness. Assemble by adding a dollop of labneh to a serving dish, top with poached eggs, and a drizzle of your warm olive oil. Serve with warm crusty bread, toast, or pita bread for dipping. 
Original Recipe credit: The Mediterranean Dish 
If you love pancakes, try adding Saffron
The smell of pancakes wafting from the kitchen is a telltale sign of brunch. Why not add an elegant touch with this saffron-based recipe for an elevated, sweet treat. Both saffron and rosewater are found in many traditional Middle Eastern recipes. Saffron has a floral and earthy flavor that complements sweet flavors, while rosewater enhances the floral notes for an added aromatic experience. 
Our base pancake mix gives a buttermilk effect, thanks to the addition of vinegar to the wet ingredients. We've also added ground cardamom and rosewater to the batter for a delicate flavor in the pancakes themselves. Spoon your batter onto your heated griddle, using your discretion for the size! Saffron comes into play with an easy saffron syrup. We recommend blooming your saffron over ice before adding to your simple syrup base. 
Discover the full recipe here
These pancakes work just as well with regular maple syrup, a bit of warmed-up honey, or a dollop of whipped cream on top.
If you love bagels, toast, and all things bread, try Spice Blend Cream Cheese 
For a quick and delicious addition to your brunch spread, why not spice up your cream cheese with your favorite Rumi spice blends? Popularized with flavors like scallion and everything bagel, flavored cream cheeses bring some imagination to your plain toasted bagel.
Add a few tablespoons of your favorite spice blend to softened cream cheese and mix well before refrigerating. Some of our favorites include Za'atar for a nutty, herbal note, or Ras el Hanout for a sweet and savory option (you'll notice a vibrant yellow hue to this one, thanks to the saffron!). 
Whether you're serving brunch for a crowd, or breakfast for one, these Afghan-inspired brunch recipes will infuse your home with the flavors of the Middle East.
Shop Rumi Spices For Your Next Brunch Spread: