Fall Saffron Harvest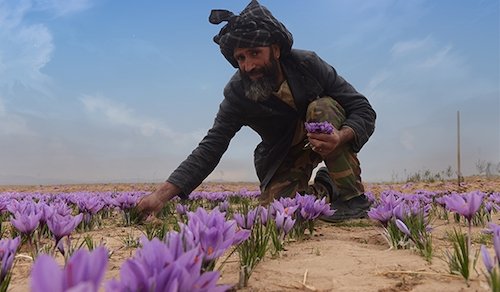 It's a thrilling time of year - the fall
saffron
harvest! Similar to the annual fall harvest here in the United States, the saffron harvest only comes around once a year and is a momentous occasion for our entire team at home and abroad. A lot of work (and people) go into making the saffron harvest happen. From the
Afghan farmers
in the crocus covered fields of Afghanistan to our team here in the states, our team is always excited to begin yet another fall saffron harvest.
---
How Saffron is Harvested
Saffron is the harvested stigma of the autumn crocus flower, more commonly referred to as saffron crocus. It is believed saffron originated in ancient Greece, but today it is grown in countries with arid climates like Afghanistan, India, Iran, Greece, and Morocco. In fact, with hot, dry winds over semi-arid lands, Afghanistan's growing region is ideal for growing saffron. 
Each autumn, crocus flowers produce three stigma, that's right only three. This means it takes about 80,000 flowers to produce just one pound of saffron. A labor of love, all of these stigmas are picked, processed, and cleaned by hand.

Fact: Rumi Spice proudly employs hundreds of Afghan women who work in our processing plants in Herat. There, they remove the stigma from each saffron flower to create the saffron spice we all enjoy and love.
Afghan Saffron
Although our team will not be able to make the trip to Afghanistan this fall, we have made multiple trips in the past. In November 2017, our team traveled to Kabul and eventually onwards to Herat where our saffron is grown and harvested. Our team had many stops along the way and a few of our favorites from that year included: meeting with the Danish Committee for Aid to Afghanistan Refugees (DACAAR) to discuss technical assistance for future saffron projects. During our trip, we also took some time to gather together with friends and colleagues to enjoy dinner while discussing topics ranging from poetry to politics.

Last year, in November 2018, our team returned back to Afghanistan with much anticipation and excitement. Just like in years past, our team traveled back to the saffron fields of Afghanistan for about two weeks where we met up with farmers, friends and colleagues all while meeting new faces and forming brand new friendships along the way.

When we first started working with Afghan farmers, our priorities were and still are to find the best saffron, while creating a positive impact on the communities we work with in Herat and we are happy to say our efforts are beginning to take effect. Recently, saffron has replaced the growing of many narcotics in Afghanistan. It's actually less work to grow and farmers can earn more money from it, so in a sense, saffron has become the new opium in the Afghan culture, in the best way possible!


The Fall Saffron Harvest
Fall is the peak of the saffron harvest season and although our team is not physically making the trip to Afghanistan this month, we are still thrilled to be able to witness this special event that only comes around once a year through photos and videos shared by our team members stationed abroad in Afghanistan.
As we prepare for the fall saffron harvest, we want to send out a very special thank you to all of our Rumi Spice farmers for all that they do. We cannot wait to see you soon and look forward to this year's fall harvest crop!
We also want to thank YOU, our Rumi Spice community. Without you, we would not be able to lay the foundation for peace on saffron flower at a time.
Help us empower women, families and farmers in Afghanistan by supporting our mission here.