Nowruz Celebration with Chef Josh Lewin and Rumi Spice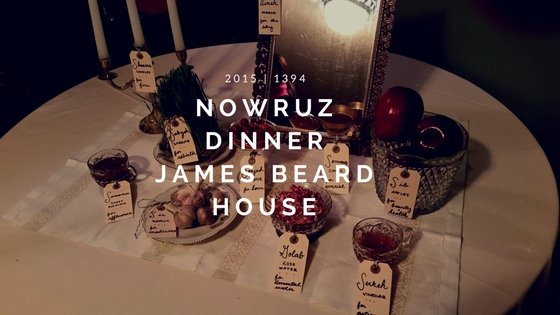 Happy 1398! Celebrate Nowruz 2019 with Rumi!
We can't believe we've been at it for four years. So much has changed, from being a ground breaking company connecting rural Afghan farmers with the US for the first time to launching nationwide in Whole Foods. We are so thankful for all your support along this journey. Take a moment to reminisce four short years ago as we celebrated Nowruz with Chef Josh Lewin at the James Beard House.
---
What is Nowruz?
Nowruz celebrates the Persian New Year on the first day of Spring. Our friends at Tolo TV have produced this great segment explaining the holiday.
---
"Tonight we're going to party like it's 1394!" 
Happy Nowruz to all our supporters and friends! 1393 (of the Afghan calendar) has been an eventful year for us. We'll remember this year as the year we started this project to connect Afghan farmers with the international market. But 1393 is also the year Afghanistan held its first free elections in its long and storied history. I was there to witness first-hand the bravery, hopefulness, and determination of the Afghan people, men and women, young and old, as they braved Taliban threats to cast their vote and have their voice heard. 
Needless to say, Nowruz, the Afghan new year is a special day for us. It is the beginning of spring, a new season of hope that we can continue making transformational impacts on rural Afghans.
Chef Josh Lewin, of Juliet, graciously invited us to attend his Nowruz dinner at the James Beard Foundation House in New York City. Chef Josh served in the Marines in a former life and is now a world-class chef out of Boston. He was given a gift of our saffron and reached out to provide our high quality Afghan saffron as a featured ingredient in his Nowruz dinner. Josh beautifully weaved Persian influences with modern flair to create a great culinary story. His Ash-e-Reshteh (herb soup) literally tasted like spring. The Persian Rice with Rumi Saffron perfectly complimented the striped bass in the Sabzi Polo Mahi dish.  I've had my share of tea in Afghanistan and I've never had a more perfectly brewed cup than the saffron chai seya (saffron black tea) prepared by the Juliet team. A tea aficianado would hold the sugar between their teeth and drink the tea through the sugar. The evening ended with a beautiful Zereshk Polo (Saffron-orange ice cream) and lemon saffron gelatin dessert.
Nowruz celebrations hold a special place in our heart, but what was really amazing was knowing the story of how these tiny threads of saffron traveled from the plains of Herat Province, Afghanistan to the James Beard House in New York City and what that means for our farmers.
The best food is that which tells a story, and we hope ours is only starting. Happy New Year to you all. Nowruz Mubarak friends