Join Us For a Glimpse into The 2021 Afghan Cultural Fair with The Afghan Embassy in Washington DC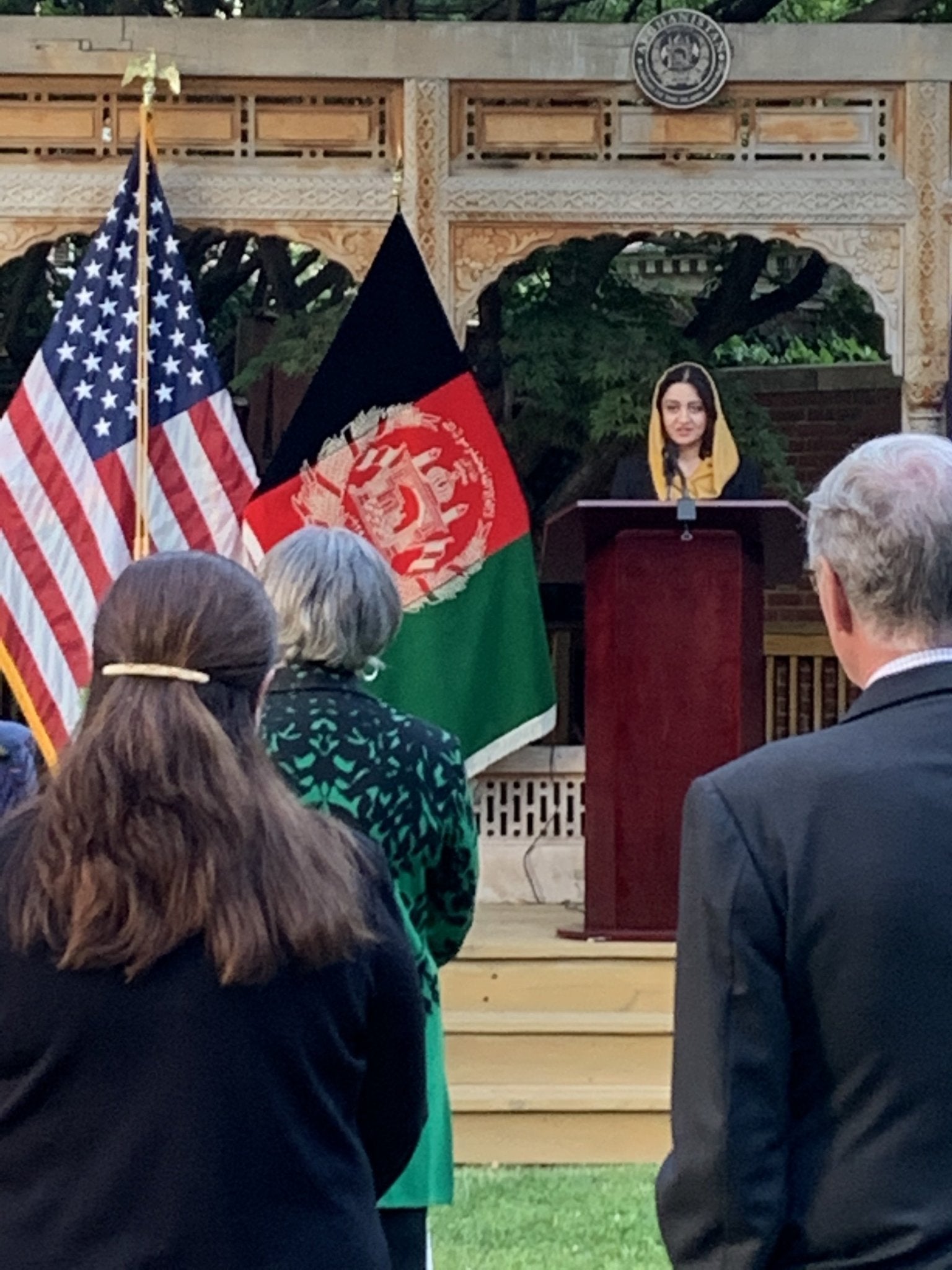 This week, Rumi Spice CEO Patti Doyle joined fellow vendors and brands to attend the 2021 Afghan Cultural Fair in Washington DC, hosted by the Afghan Embassy in collaboration with Turquoise Mountain. This two day event celebrates the philanthropic endeavors of these brands to support commerce and cultural survival in Afghanistan. 
Turquoise Mountain, founded by HRH The Prince of Wales, works to "revive historic areas and traditional crafts, to provide jobs, skills and a renewed sense of pride." Their mission in Afghanistan is to support local communities and preserve Afghan heritage by reviving artisans and their crafts. In the last 15 years, this organization has worked to restore neighborhoods in Kabul, build and maintain primary schools and clinics, and create job opportunities for artisans completing their training. This year alone, Turquoise Mountain has helped bring 50 million dollars worth of Afghan products to market in America and around the world. 
As a certified B Corporation, we are constantly considering the social impact of our business. Founded by a team of military veterans in Afghanistan, Rumi maintains strong ties with our Afghan network with the goal of strengthening these ties and supporting Afghan communities. We work with saffron farmers to create new jobs and help support local economies, as well as create alternative sources of income to move farmers away from engaging in the opium industry and inspire women through direct wages. 
Rumi was joined by vendors, artisans and educators that support this mission through commerce and education. 
Combat Flip Flops
So much more than footwear, Combat Flip Flops walk with a purpose. Stepping beyond the boundaries of ecommerce, they dedicate their mission to working with charities with the goal of funding women's education, eradicating violence, and creating better lives for people in Afghanistan and beyond.
Dose Saffron Water
A military family travels the world, settles down in the States, and shares their journeys with the world through flavor! Dose Saffron Water is inspired by those travels, and infused with the benefits and flavor of Saffron. 
Other Vendors & Activities
In addition to these mission-based brands, the event also featured representatives for other Afghan goods and traditional art. Demonstrations of miniature painting and calligraphy and presentation of textiles enrich the event with a taste of Afghan culture. Among these presenters was Kandahar Treasures, "a social enterprise dedicated to providing employment opportunities for women in Kandahar, Afghanistan." Kandahar aims to provide economic independence for Afghan women, as well as raise awareness about the important contributions that these women can make to their households. They take this mission to a global scale by sharing the intricate and beautiful embroidery work of these artisan women with the world. 
Vendors and visitors engaged in interactive displays and roundtables, including a discussion on carpet history and design, a presentation by Turquoise Mountain, a mini Afghan library, a jewelry display and carpet display, and a virtual "visit" to the Institute for Afghan Arts and Architecture.
Ambassadors and dignitaries were in attendance in addition to the vendors, with remarks from the ambassador to Afghanistan, Roya Rahamani, as well as from Congresswoman and new chairwoman of the House Appropriations Committee Rose DeLauro, Turquoise Mountain CEO Shoshana Stewart, and Ambassador Paula Dobriansky. These women shared their love for Afghan culture and their imperative call to preserve its rich history and empower their workers, especially other women. Together, these partner organizations have worked to restore historic neighborhoods and empower artisans in Afghanistan to bring Afghan goods to market in America and around the world. Their work is not finished, as each noted the cycle of terrorism and defeat that so many individuals in Afghanistan have seen firsthand. As Ambassador Rahamani noted, "It is easy to get caught in the vortex of politics, but the power to shape a better future ultimately lies with each individual person as they become the keepers of our history, creators of our culture and champions of our future."  Watch the full presentation from the ambassadors and speakers here. 
We're so excited to share Rumi's mission alongside these impactful brands and thought leaders as we share a common goal to support the communities and economy of Afghanistan. With the help of these brands and organizations, we can continue to empower Afghanistan and support their resilience. Want to learn more about Rumi's social impact in Afghanistan? Check out our Social Impact report here. 
And check out some of our event highlights below!