Rumi Spice Attends Expo West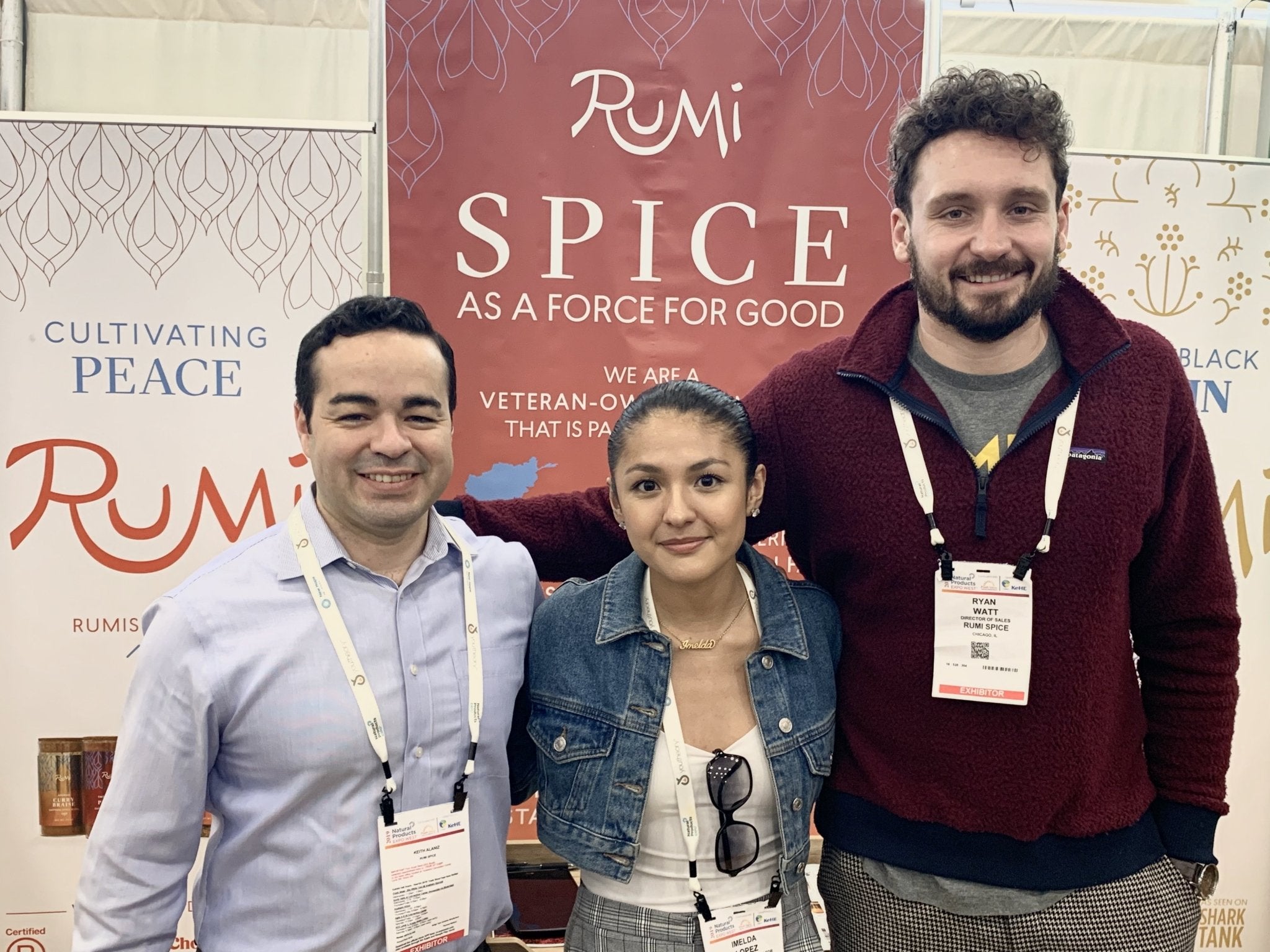 Last week, our team had the pleasure and privilege of attending and exhibiting at this year's Expo West out in Anaheim, California. For three days, our team was posted up in the Anaheim Convention Center where our entire team met and mingled with distributors, retailers, and general health and wellness enthusiasts at the country's largest natural products convention.
---
Expo West 2019

This year, we were part of the Hot Products Pavillon located in the North Hall. From Wednesday-Friday our team was surrounded by other wonderful companies who were also showcasing and debuting their newest products at the expo. We met a lot of the faces behind companies doing great work in the natural foods space, like Jennifer Garner, Co-Founder of Once Upon a Farm.


Pictured: Imelda, Marketing Coordinator of Rumi Spice, with Jennifer Garner, Co-Founder of Once Upon a Farm
As for us, we were super excited to be featuring our entire collection of spices and seasonings including our
Afghan Saffron,
Afghan Curry Braise,
Kabul Spice Blend,
Paella Spice Blend
and our
Mulling Spice Blend.
However, this year we also rolled out some of our latest additions which will soon be joining our Rumi Spice collection including Afghan Black Cumin, which will be available for purchase later this year. 

---
Afghan Black Cumin

After black pepper, cumin is the most-used spice on Earth. Crazy, right? With such popularity in the kitchen, it only made sense to add cumin to our family of Rumi Spice products. A staple ingredient in most curry powders and other spice blends, cumin is best used in savory dishes and recipes like chilis, fish recipes, meat, stews and vegetables and embodies a distinct flavor that is earthy, nutty and slightly spicy.

Our Afghan Black Cumin (set to launch soon), is grown along the foothills of the Hindu Kush Mountains in the Badakhshan province of Afghanistan. Like our saffron, our Afghan Black Cumin is directly sourced from farmers and sustainably grown. We're especially excited to be furthering our social impact in Afghanistan and growing our Afghan women workforce through this cumin.

Afghan Black Cumin line to launch soon!
---
Cooking with Saffron + Cumin
We even had some extra fun last week by channeling our inner culinary side (for better or for worse). Our entire team cooked, prepared, and served batches of homemade mushroom carnitas seasoned with a new cumin spice blend. Yum!

We also added a touch of red gold to Kitchfix's Grain-Free Waffles with a saffron-infused honey. Hungry passerby's couldn't help but stop as they walked the convention floor exploring and tasting the latest food trends including one of our very own!


---
See you at Expo West 2020
Our entire team would like to thank each and everyone who stopped by our booth to learn more about our line of products and how we are using Afghan saffron as a force for good. Through the kindness, generosity and support from foodies and those looking to make a difference in this world, we are able to make a change in the lives of Afghan farmers and women, one saffron flower at a time.
We look forward to seeing you all again next year at Expo West 2020 and if you missed us at Expo West 2019, please stop by the Good Food Expo later this month in Chicago. We hope to see you all there!
---
Get Rumi Spice updates straight to your inbox
We'll send you recipes, discount codes, news about Team Rumi's efforts in Afghanistan, Rumi Spice product news, and more!