Introducing Rumi's Black Cumin Product Line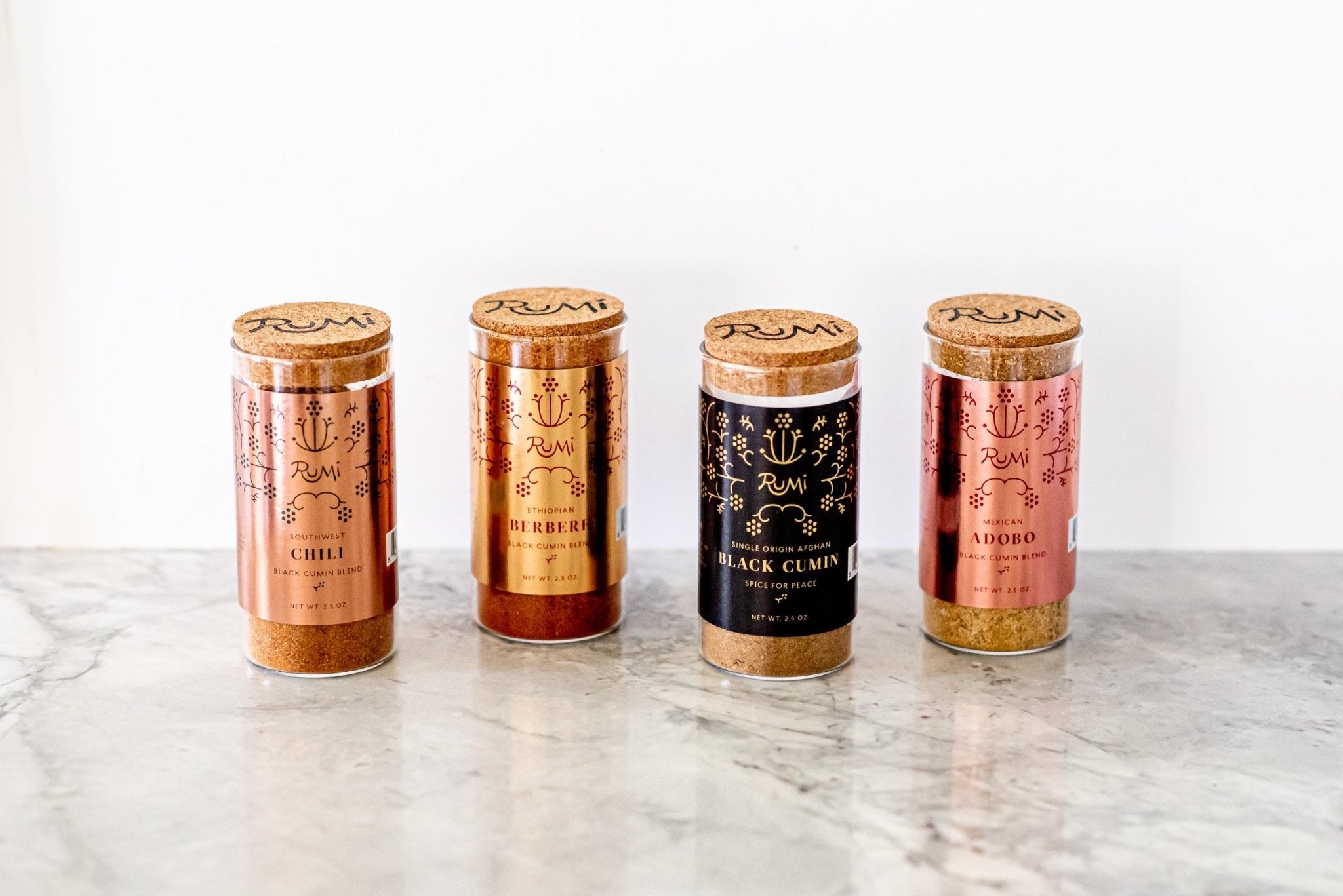 It's here! It has been over a year in the making, but we are excited to announce our black cumin spice collection has finally been released! We have been hinting about this new product for quite some time now and we are absolutely thrilled for you to try it. In honor of our latest product launch, we wanted to give you a brief recap of all things cumin so you can be well equipped before you use it in your own kitchen and cooking.

What is Cumin?

After black pepper, cumin is the most-used spice on Earth. Cumin spice is available in whole or ground form and is most commonly used in Indian, Latin American, Mexican, Middle Eastern and North African cuisines.
Cumin is available in a variety of colors including black, green and white, but the most common variety of cumin is brownish-yellow in color. 
Black cumin plants can grow in a variety of soils, but are most commonly found in southwestern Asia and parts of Africa and the Mediterranean where it has a long history of use in both culinary and medicinal traditions. Cumin can be grown domestically or in the wild, but our black cumin grows wild and is hand-picked by foragers in the Hindu Kush mountains of Afghanistan where they are carefully hand harvested by Afghan women and men in the Badakhshan province.

Cumin has an earthy flavor that is nutty, slightly spicy and warming in nature. Our Black Cumin's mountain origin adds an extra layer of earthy and piney flavors to our black cumin spice.
With an aroma that is both sweet and slightly bitter, cumin spice can be used in a variety of dishes like baked beans, BBQ sauces, chilis, fish recipes, marinades, meat, rubs, sauces, soups, stews and seasoned on vegetables.

Tip: Looking for some black cumin inspired dishes and recipes? Check out our arsenal of black cumin recipes here.
Cumin Blends

Alongside our black cumin spice, you can get creative in your culinary endeavors with our black cumin spice blends:
SOUTHWEST CHILI SPICE BLEND: is earthy and peppery, with mild-heat.
Ingredients: Rumi Spice Black Cumin, Garlic, Black Pepper, Mexican Oregano, Ancho, Smoked Paprika, Cayenne, Onion, Guajillo Chile.
MEXICAN ADOBO SPICE BLEND: is zesty, aromatic, and is perfect for marinating meat, seafood, and poultry.
Ingredients: Onion powder, Garlic powder, Rumi Spice Black Cumin, Black Pepper, Mexican Oregano, Cayenne.
ETHIOPIAN BERBERE SPICE BLEND: is spicy, peppery, and mildly sweet.
Ingredients: Rumi Spice Black Cumin, Smoked Paprika, Cayenne, Urfa Chile, Coriander, Cardamom, Mace, Fenugreek, Cassia, Ginger.
PERSIAN GULF BAHARAT SPICE BLEND: is warm, fragrant, and peppery.
Ingredients: Black Pepper, Rumi Spice Black Cumin, Cassia, Nutmeg, Paprika, Coriander, Cardamom, Clove.
Looking for ways to incorporate these unique blends? Check out our black cumin spice blends recipes here.
---
Shop our new Black Cumin Products
here
.
---
Join Team Rumi by following us @rumi_spice and help support our mission here.