Rumi Interviews @feastwithsafiya About her Mother's Signature Tandoori Masala Spice Blend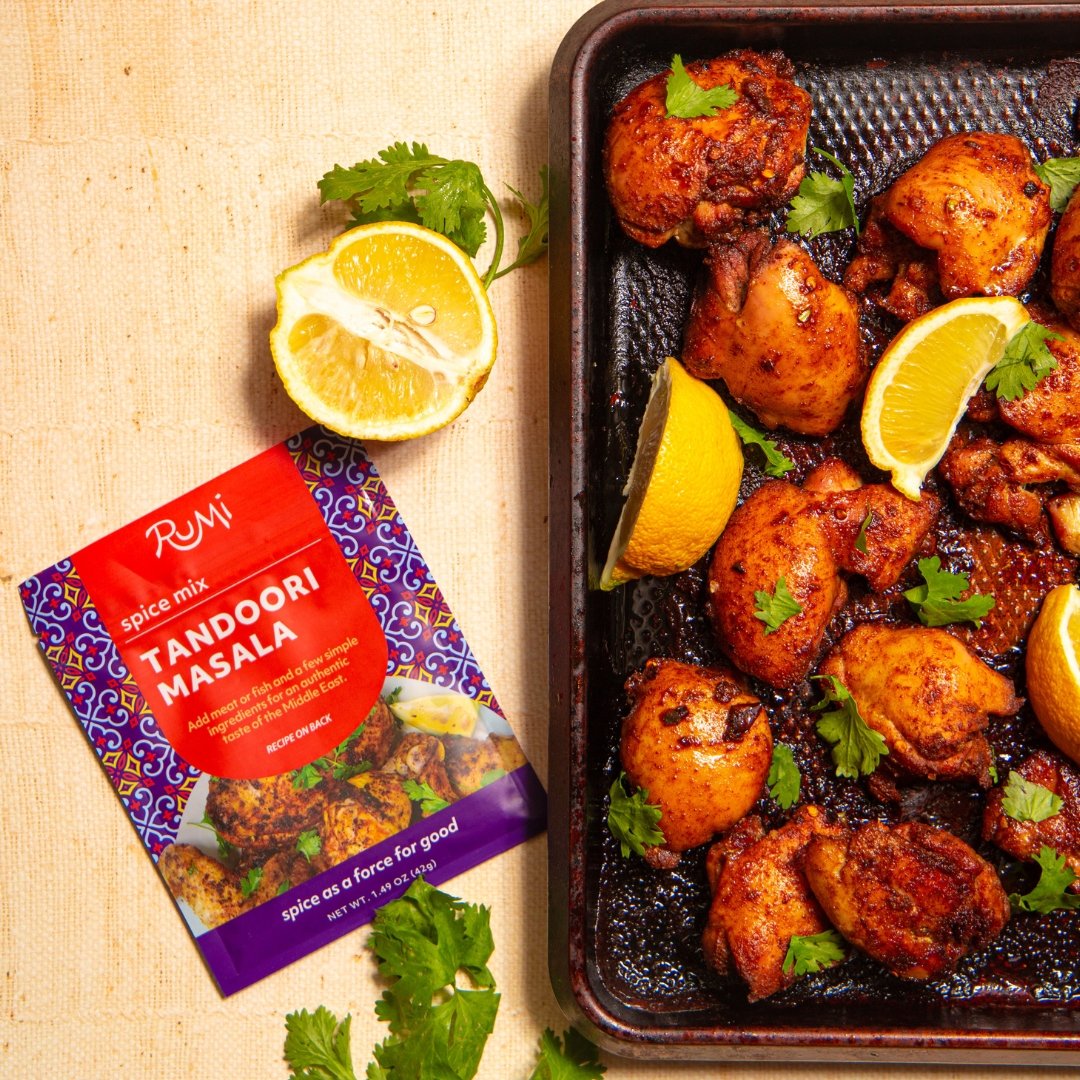 Behind Our Tandoori Masala Blend...
Chef Safiya Simpson of @feastwithsafiya developed an early love for cooking from her mom and her aunts, as they spent days cooking and laughing in the kitchen.
Since moving to the US, she uses food as a way to connect with her Indian roots and share these rich flavors and deep culinary traditions with her family and friends. We are thrilled to collaborate with chef Safiya on the recipe for our Tandoori Masala spice blend, which is inspired by one of her mother's signature recipes.
Read on to learn more about Safiya's culinary inspiration, her favorite dishes to make at home and, most importantly, her favorite spices to cook with:
Hear from Chef Safiya Simpson:
Rumi: Can you tell us a bit more about yourself - Where did you grow up and where is your family from? 
Safiya: Hi there, I'm an Indian-American born and raised in a small town in Gujarat, India. I moved to beautiful Salt Lake, Utah a little over 10 years ago and fell in love with it. I am a wife and a mother of 3 boys. 
Rumi: Who did you learn to cook from?
Safiya: You can say I grew up in the kitchen. Every year during summer break my mother would invite her sisters to visit us, or we would visit them. My mother and her sisters would go to the market every day, bring home the groceries and prepare every meal together. They would have the best time laughing, praising, and criticizing each other's cooking styles. I wasn't big on cooking but I loved enjoying their company and watching them cook together, not realizing they were instilling a love of cooking in me from young age ;). 
I cooked my first meal with my older brother in 4th grade and never looked back. Therefore, cooking is beyond a hobby for me. It's a part of life and culture. 
Food media and Food TV shows have been a huge influence on me as well. I spent most of my teenage years watching Indian cooking shows. Later when I moved to the US, my husband and my In-laws hooked me up to "Food Network." I was introduced to many different cuisines and food I had never tried and that inspired me to try new dishes in the kitchen. 
Rumi: What does food mean to you and your family? What does a typical family dinner look like? Are you usually the one preparing the food?
Safiya: My Nana (grandfather) used to say,
"I don't eat food just to live (survive), I live for food."
Here we are following in his footsteps.
"My family and I are big on food. It's the way of sharing, creating memories, supporting, and loving one another in all sadness and happiness."
I love preparing meals for my family every day (yes, including weekends). Having a home-cooked meal prepared with generous Indian spices and lots of love is my daily goal for a family dinner. I like to see my kids giggle and laugh while having their meals. 
Rumi: What does Tandoori Masala mean to you and your family - Is this something you ate frequently growing up, or was this more of a special occasion meal? Who taught you how to make Tandoori?
Safiya: Tandoori Masala is close to my heart. Every good occasion in my family called for Tandoori spiced meat. Tandoori Masala became a regular part of my meal prepping as I took over the kitchen to prepare meals. I have always seen my mother prepare all types of spice blends from scratch and Tandoori Masala is one of them. I like to use my mother's Tandoori Masala recipe with slight modifications. 
Rumi: What is your favorite way to prepare this dish? What do you like to eat it with?
Safiya: Tandoori Masala blend can be used to marinate meat, seafood, or vegetables. I love marinating chicken, fish, and shrimp with tandoori masala and have tandoori meat with Naan, onion yogurt raita, and salad. 
Rumi: How do you fuse your heritage with your upbringing in the United States? Do you struggle to find cuisine like you grew up eating, or do you feel like it is more readily available?
Safiya: I struggled to find whole and ground spices I needed to create meals that tasted as good as back home. Within these 10 years, I have seen so much diversity in businesses across the United States. I am able to easily purchase all the ingredients I need to cook authentic Indian food. 
Rumi: What is your favorite dish to cook at home? 
Safiya: I love Tandoori spiced meat or vegetables and Biryani. My kids know I will be preparing these dishes on weekends or on special occasions. :) 
Rumi: Where is your favorite place to shop for ingredients?
Safiya: My current favorites are Rumi Spices and our local South Asian grocery store. 
Rumi: What is your favorite spice?
Safiya: A spice shop is like a candy shop for me. I can go on learning and discussing spices for hours. It would be hard to pick one spice but to name a few, I love saffron, cumin, coriander, turmeric, and cardamom. 
Rumi: Anything else you would like to share?
Safiya: Don't be afraid to use spices in your cooking! :)