The Rumi Guide to Baharat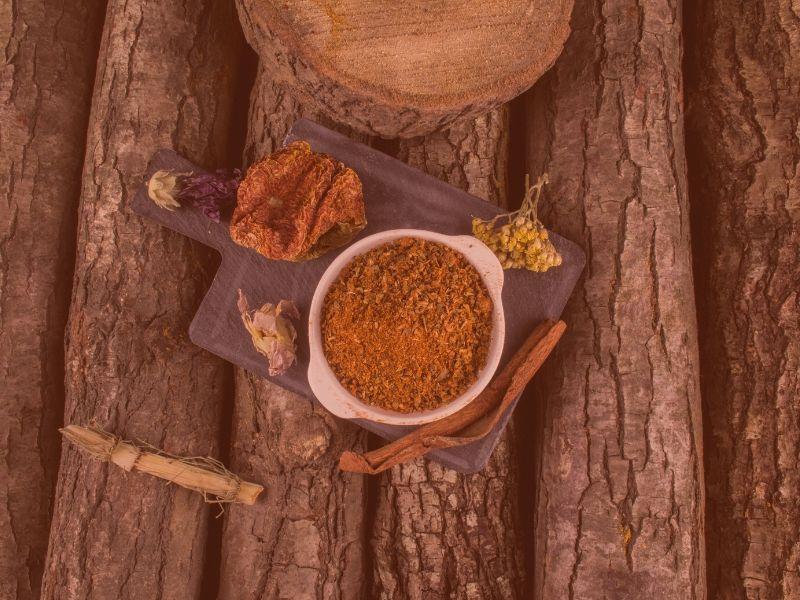 What is Baharat?
What do naan, chai, & baharat have in common? All three names simply translate to what they are: naan means bread in Persian, chai is tea in Hindi, & baharat is spices in Arabic.
Popular in Middle Eastern cooking, there is no one recipe or standard blend of baharat. It is a blend of eight or more spices, typically with pepper, cumin, and paprika at the core.
Foodies and chefs describe baharat as: "Peppery, sweet-spiced, and earthy," "Aromatic with a bit of zest," and "Distinctly exotic."  Like wines (think "oaken with a hint of apricot"), the flavor profile and taste of Baharat is highly subjective.  
Rumi's Baharat blends black pepper, cardamom, cloves, Rumi Black Cumin, cinnamon (cassia), nutmeg, coriander and paprika. We aimed for the right amount of warmth plus heat - let us know your take!

The History of Baharat Spice
While it is difficult to pinpoint when and exactly where baharat started, it is assumed it developed out of the important role Arabian spice traders played in the ancient world. Baharat is the plural of the Arabic word for 'spice' (bahar).
Baharat spread widely across the Mediterranean region and has different variations across the nations and cultures who slightly adapted it to their local cuisines. In Turkey, baharat may have an addition of fennel and in North Africa they like their baharat with a touch of rose petals.
In fact, this spread of baharat into new regions still occurs to this day. One example are the coney dogs of Detroit and the world famous Cincinnati chili - both started by Greek & Macedonian immigrants using a variation of spices similar to baharat. And even more recently, Federal Donuts uses baharat as an ingredient in their Master Recipe donut.
How to Use Baharat

While used frequently in stew-like dishes, baharat as a rub or in a marinade provides a mild spiciness to lamb, fish or chicken. Like any spice blend or seasoning, you can shape the flavor to your own taste. A dash of paprika raises the heat level nicely. 
Kneaded into ground hamburger meat (we recommend one teaspoon per pound of meat), hamburgers take on a slightly exotic flavor.  A cheese lover?  Add a slice of sharp white cheddar for a creamy balance. 
On lamb chops, combine two tablespoons of olive oil and one tablespoon  of Rumi Baharat Seasoning.  Brush lovingly over the chops and chill 30 minutes before heading to the grill. 
Because it is a blend, the flavors can change by adding or subtracting ingredients. Some blends have as few as four or five ingredients, perhaps a bit on the frugal side.  Greek versions add mint, often as the dominant spice.  North African versions may use dried rose petals or ginger, or both. The point is, after all the wonderful ways you discover to use baharat seasoning, allow yourself to be creative.  The rest of the world did.
Check out Rumi's collection of baharat recipes here:
featured recipe - Baharat Country Style Ribs
Comparison to other spice blends
Baharat is often compared to other spice blends from the Middle East, India, & Northern Africa like garam masala, ras el hanout, za'atar, & advieh.
While there are some similarities in ingredients, it would be a disservice to each distinct blend's cultural and culinary legacies to lump them together.
Read on to learn and understand the differences between Baharat and these other popular and flavorful spice blends and seasonings.
Baharat vs. Garam Masala
pictured: garam marsala spice blend

Garam masala is famous in the cuisine of the Indian subcontinent. Similar to baharat, there is no one standard recipe for this blend, and it varies widely by region and nation. Typical ingredients for garam masala include black peppercorns, mace, cinnamon, cloves, cardamom, nutmeg, and coriander. In Hindi, garam means 'hot,' and masala stands for 'a mixture of spices.'
Although the name indicates spiciness, in actuality, it is a low heat seasoning. Garam masala has a warm, strong aromatic flavor that features well in internationally popular Indian dishes like butter chicken and chicken tikka masala.
Baharat vs. Ras El Hanout

pictured: ras el hanout spice blend
Ras el hanout is a trending blend from Northern Africa, and it often has 12 or more ingredients, including allspice, ginger, turmeric, and chili peppers, among other spices. The name translates to 'head of the shop", 'signifying that this blend is made of the highest quality spices by the spice seller. Ras el hanout is a complex mixture of sweet and fragrant and used in soups, rice, and meats.

Baharat vs. Za'atar
pictured: za'atar spice blend
Also among Middle Eastern blends is za'atar, a mixture with a very different base than baharat. It consists of a mix of herbs (basil, thyme, oregano, or hyssop), toasted sesame seeds, sumac, and salt. As in many Middle Eastern blends, other spices like cumin and coriander can be added.
Za'atar is an ancient blend that existed during Ancient Egypt. Since there is so much diversity in recipes, it is hard to have one definition of its flavor profile. However, it is known to be nutty and tangy with some herbal flavors. Za'atar can be used in dipping sauces or as a spread on flatbreads.
Baharat vs. Advieh

pictured: advieh spice blend
Advieh is a Persian blend that simply translates to 'spices,' and it is used predominantly in Iranian cuisine. Common ingredients include turmeric, cinnamon, cardamom, cloves, rose petals or rose buds, cumin, and ginger. This mix imbues a floral and fruity fragrance to recipes like lamb meatballs and Persian rice.
Now that you are aware of what makes each blend distinct - make sure to plan to try all of them this year.
How to make your own Baharat spice

With a well-stocked spice cabinet, you can develop your own Baharat recipe. A good base to start from is:
 4 parts black pepper

3 parts ground coriander seed

3 parts cinnamon

3 parts ground cloves

4 parts ground cumin

1 part cardamom pods

3 parts nutmeg

6 parts paprika

If your cabinet has whole spice seeds rather than powders, grind seeds before blending the mixture.
On the internet, you will find many variations on this typical recipe.
Allrecipes adds star anise to the blend and different portions for the basic ingredients. 
Daringgourmet.com and food.com stick to the eight basics, but each with different proportions of the ingredients. 
The ratio in Rumi Baharat Seasoning?  That's our secret - but our ingredients consist of: Black Pepper, Rumi Spice Black Cumin, Cassia, Nutmeg, Paprika, Coriander, Cardamom, Clove.

Our flavorful Baharat mirrors traditional flavors and adds a sweet and savory touch to any dish. The warm spice profile of our Baharat means it can go from chicken kabobs to desserts like Texas sheet cake.