The Ultimate Paella Guide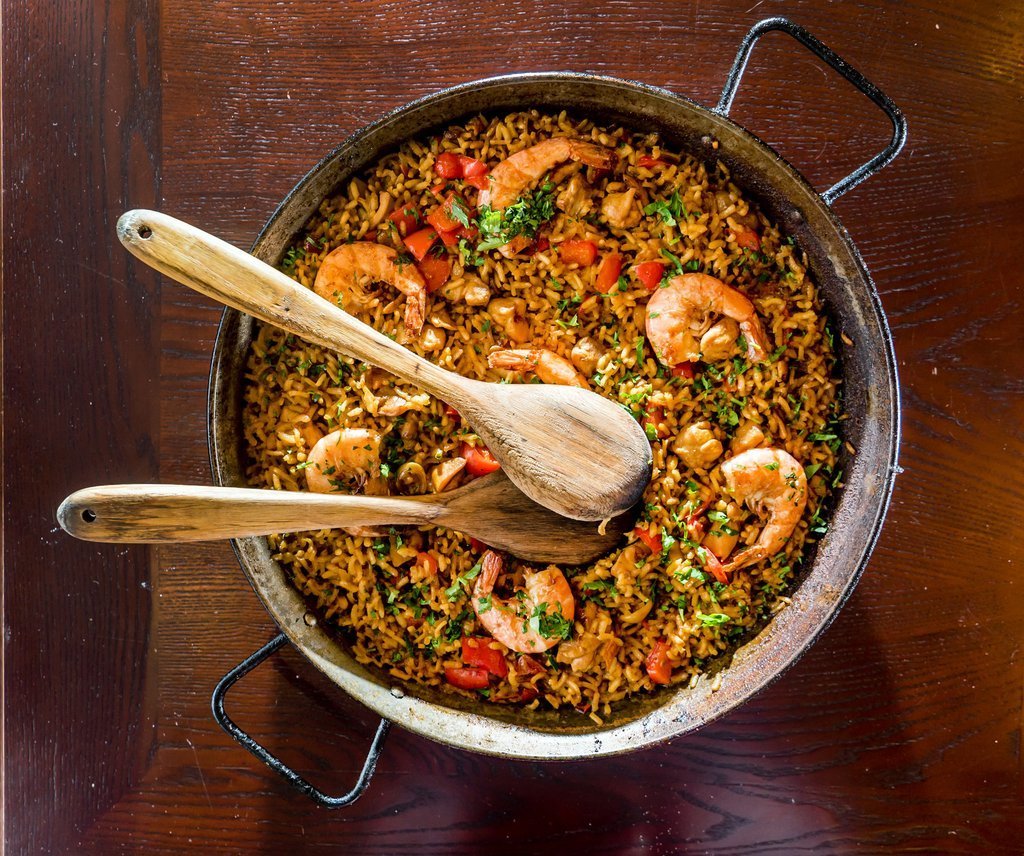 The spring season is here and besides the warmer weather and budding blooms, we love making new delectable dishes in the kitchen. One of our favorite dishes for springtime, or any time, is paella. Paella is a Spanish dish with origins rooted back in Valencia tradition. Original paella recipes consisted of saffron-scented rice, rabbit or chicken, fresh snails, string beans, white beans and lima-like beans served in a large shallow dish. However, over the years paella has evolved into a variety of delicious options that satisfy virtually anyone.


What types of paella are there?
Although traditional paella recipes mirror that of Valencian Paella, there are an array of paellas for all types of taste buds:
Chicken Paella
Most typically made with chicken, peas, black pepper and paprika, chicken paella pairs perfectly with a side of olives and makes for the perfect Sunday dinner meal.

Try the recipe here
Seafood Paella
Also known as paella marinera, seafood paella is a staple in Mediterranean cuisine. Usually prepared with squid, prawns, mussels and clams, seafood paella is popular in coastal regions, but is our personal favorite on a warm spring day or cool summer night.
Try the recipe here
Paella Mixta or "Mixed Paella"
Can't decide between meat paella or seafood paella? Paella mixta is the perfect choice then! Combining chicken with your favorite seafood selections, mixed paella is the best of both worlds.
Try the recipe here
Paella Negra or "Black Paella"
Paella Negra gets its name from the octopus or squid ink used to dye the rice. Although the ingredients are the same as seafood paella, the black ink not only changes the appearance, but also the taste of this paella giving it a more distinct flavor and ultimately adding depth to your dish.

Try the recipe here
Vegetarian Paella
Basic ingredients for vegetarian paella include artichokes, asparagus, and potatoes. Another light option perfect for lunch on a warm spring day or weekend picnic in the park!

Try the recipe here
Create Your Own
The base of paella is rice and since there are so many different ways to cook rice, there are also a variety of ways to cook paella. Although there are some set recipes for paella, you can definitely create a paella dish that is all your own.
If you're wondering what type of rice to use for paella, use the traditional Spanish choice. Bomba rice will absorb the flavors of all the seasonings and ingredients you add, giving you the ability to make a pan of paella as unique as you. If bomba rice isn't available, use a white, short grain rice like arborio.


Tips for Cooking the Perfect Paella
#1 Use a Real Paella Pan
To develop maximum flavor, paella needs to be cooked in a thin layer, which is why you should use a traditional paella pan. If you don't have a paella pan, then opt for your largest skillet pan. Anything that is wide and deep will work best!
#2 Oil Up
Don't be shy when it comes to coating your paella pan with oil. The oil will keep the rice grains from sticking to the bottom of the pan, so be generous with your pour.
#3 Stir Before It Boils
As paella cooks, the rice grains begin to form a loose connection. If you stir the paella during this time, the connection is lost, which results in an undesirable texture. To keep the perfect paella consistency, avoid stirring the paella once the liquid begins to boil.
#4 Use a Paella Seasoning
If you don't want to bother getting the ratios of seasonings and spices right, use a paella spice blend instead!
#5 Use a High Quality Saffron
Saffron is the most precious spice in the world and also a star ingredient in most paella dishes. Make the most of your paella night by using a high quality saffron. High quality saffron is more flavorful by the thread so you won't have to use as much in your paella dish-- just a pinch will do.

Check out our quality, premier Afghan saffron here.
#6 Eat from the Pan
Traditional paella is taken from the stovetop and placed directly on the table. No separate plates required, just pass out some forks and dig right in to create a delicious family-style meal.
Before eating, make sure to mix up your paella to marry all of the ingredients and flavors together.
Chef Eric Jorgensen of Cafe Ba-Ba-Reeba! in Chicago shows you exactly how to mix up your paella:

Delicious and easier to make than you once thought, paella is the perfect springtime dish to enjoy with family, friends, and neighbors.
Now it's your turn! Show us your paella dishes by tagging us on social media @Rumi_Spice.