The Rumi Spice Coriander Feature: How To Add Citrusy Coriander To Your Favorite Recipes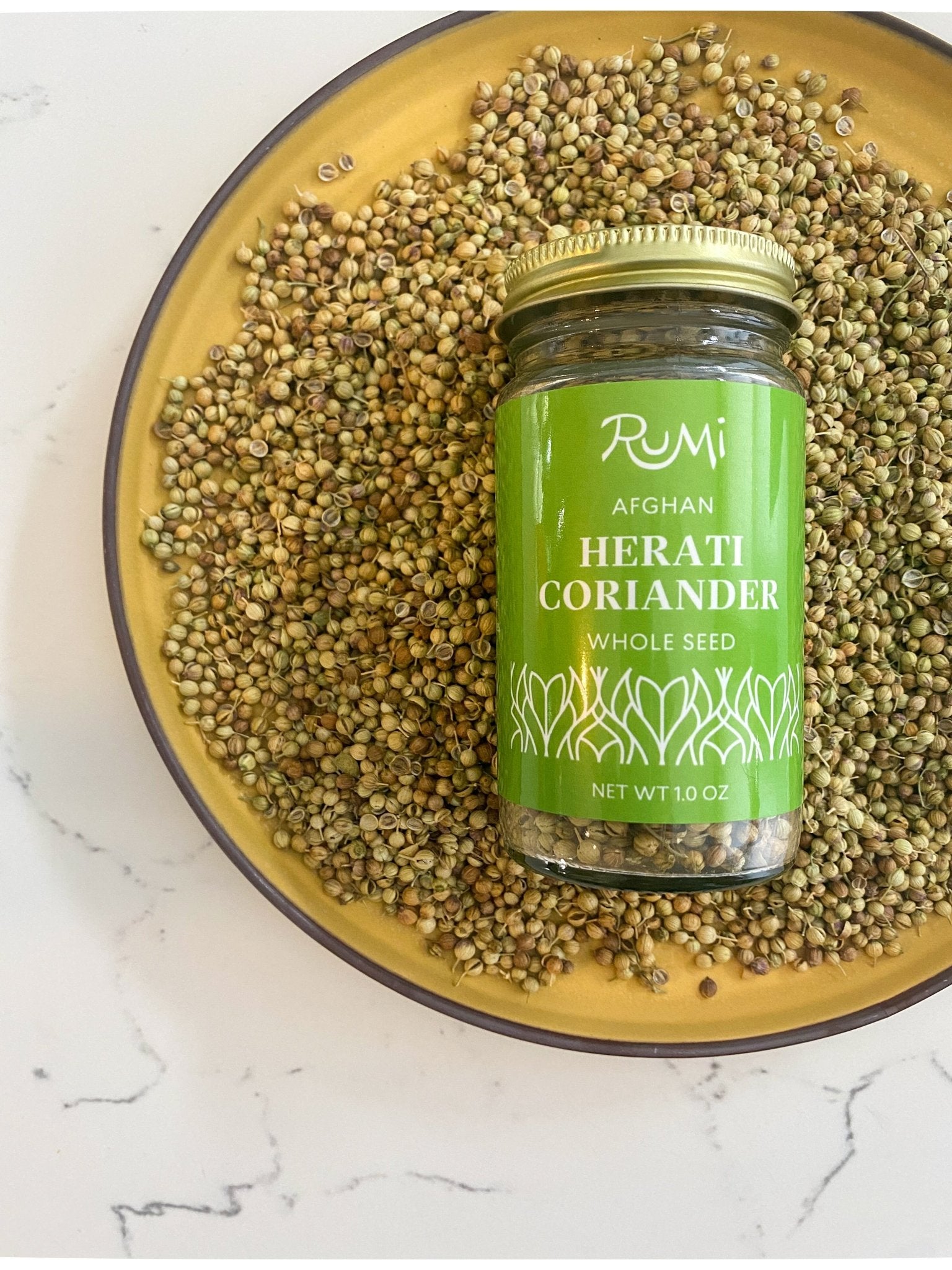 Like little bulbs of flavor, coriander seeds are a mainstay in many cuisines across India, the Middle East, and parts of Africa. Whether it is the featured flavor or married together in one of our signature spice blends, coriander adds a warming, citrus-like quality to any dish. Welcome to our official roundup on coriander - we're breaking down the flavor profile, how and when to use, plus a few of our favorite recipes for adding Rumi Spice Herati Coriander to your next meal.
Introducing Coriander
Coriander seeds are actually the dried fruit of another favorite ingredient - cilantro. They boast a warm, bittersweet flavor similar to orange peel. You will see coriander show up in some of your favorite spice blends like garam masala and even our own Persian Baharat Blend. It's also a staple in Ayurvedic medicine, considered effective in soothing digestive issues. 
How to use Whole Coriander Seeds
 When using coriander, we recommend toasting and grinding your own whole spices, which imparts fresh, bold flavor. This is thanks to your coriander's natural essential oils, which are released in the grinding process. These essential oils lose their potency over time, which is why it's beneficial to grind your spices when and as you need them for maximum freshness and flavor.
We recommend using a mortar and pestle, or a clean electric grinder you've dedicated to spices (no coffee beans in sight!). Simply toast your seeds in a dry pan until fragrant and grind to the consistency of choice. For our full guide on cooking with whole seeds and spices like coriander, check out our blog post here. 
You can also add whole coriander seeds directly to some recipes. You'll find the whole seeds in brining projects like pickles, as well as creating a crackly crust atop freshly baked bread.
Rumi Spice Recipes with Herati Coriander
Pork tenderloin makes a quick and easy meal to serve a group or meal prep for a week of delicious leftovers. Coriander, cracked pepper and Italian seasoning come together for a flavorful crust. 
Herati Coriander and tomato paste add an extra level of richness to this easy Tomato Bisque. Sprinkle a little extra cracked coriander on top and let the heat from the soup warm up the spice for a boost of flavor. 
Coriander and cumin are a perfect match for these seasoned potato wedges. These comforting potatoes make a side dish or a snack all on their own, crisp yet fluffy without the fry oil. 
Fluffy, flavorful, and versatile, falafel is a vegetarian crowd-pleaser. Traditional falafel calls for ground coriander and cumin, lending their aromatic qualities to the chickpea mixture. Serve in a salad, a pita sandwich, or on their own with a tahini dipping sauce. 
Discover all of the flavorful opportunities of Rumi Spice Herati Coriander. Shop Rumi Coriander on its own, or in our Spice Blends and Gift Sets below!