Rumi Spice Introduces New Meal Starters in Collaboration with Afghan & Middle Eastern Chefs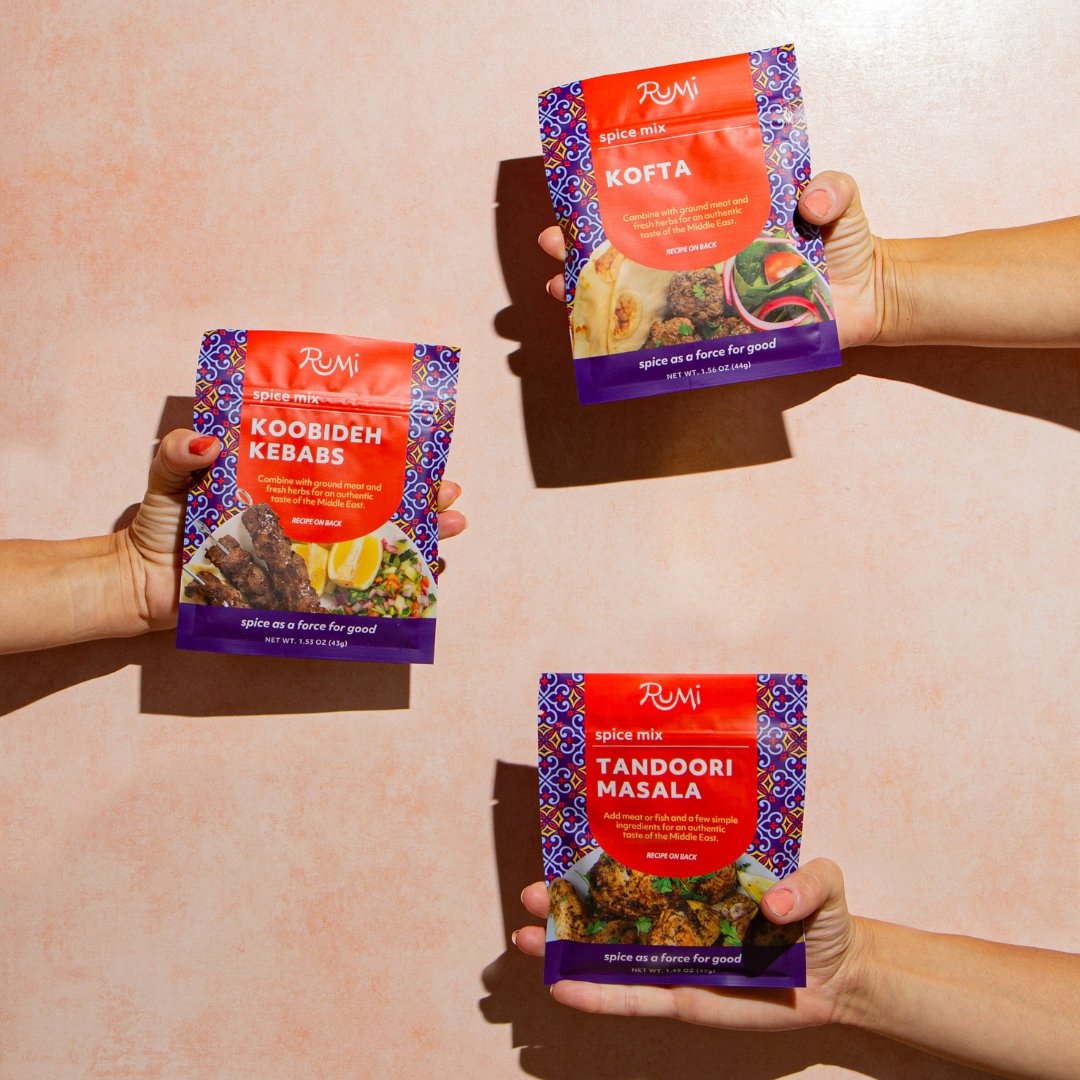 Introducing... Middle Eastern Meal Starters!
[Chicago, September 28, 2022] Rumi Spice, best known for their high-quality Afghan saffron, spices and blends, introduces a new line of Afghan and Middle Eastern inspired meal starter spice packets.
With the help of Afghan and Middle Eastern chefs who shared their family recipes with Rumi, together they are bringing consumers a culturally connected flavor experience. These seasoning packets capture the deep culinary traditions of this vibrant region and make trying new dishes convenient. 
Rumi Spice's meal starter spice packets are each portioned to make one family meal. By combining the spice packet, recommended protein and a few simple ingredients, consumers can learn new dishes from the region including Kofta, Koobideh Kebabs, Shish Taouk, and Tandoori Masala. Cooking instructions are on the back of each packet: simply marinate, cook, and serve.  
Rumi Spice's meal starters celebrate Afghan and Middle Eastern culture and come in an array of bright flavors including: 
Use this spice mix to create flavorful ground meat, usually lamb or beef, which is typically formed into patties or kebabs, then grilled or pan-fried.  The spice mix combines Rumi wild black cumin and coriander with sumac and garlic to create an earthy and warm seasoning blend. Rumi recommends adding cilantro or chopped onion for added freshness. Serve the kofta with tzatziki sauce, yogurt, or chopped veggies for a simple, healthy meal. Spice blend formula created by Chef Habiba Syed, @cheftaloo. 
Koobideh kebabs are a traditional Middle Eastern ground beef and lamb dish. The spice mix features earthy Rumi wild black cumin and turmeric with Rumi coriander, sumac, and a touch of heat from Kashmiri chili powder. Koobideh Spice Mix can be mixed with ground meat (or ground turkey or chicken for a lighter option) and finely-chopped onion and cilantro to create juicy, flavor-packed kebabs. Spice blends formula created by Chef Madina Amin, @tundandtayz.
In Turkish, Shish Taouk translates to "skewered chicken," and this zesty spice mix combines bright, herbaceous flavors like tomato and oregano with Rumi coriander to create that iconic dish. Rumi recommends combining the spice mix with Greek yogurt and fresh lemon juice to create a marinade for tender, melt-in-your-mouth chicken kebabs loaded with flavor. Spice blend formula created by Chef Kareem Shuhaibar, @thevoicenotechef
Tandoori chicken is a South Asian dish of chicken marinated in yogurt and spices and roasted in a clay oven. The dish's popularity has spread and is now popular across the Middle East.  Rumi's Tandoori Masala spice mix is herbaceous and earthy with a subtle touch of heat. It features Rumi's fennel, coriander and cumin; the deep golden hue from the turmeric and Kashmiri chili powder brings brightness to chicken, fish, meat or tofu. Spice blend formula created by Chef Safiya, @feastwithsafiya. 
This pickle spice mix makes one quart of bright, acidic refrigerator pickles. Rumi's coriander and dill seed help create pickles that are a step above the store bought variety with just a touch of sweetness. The perfect way to bring acidic brightness to grilled meat, sandwiches, or hearty grain salads. 
The spices mix packets are available as 3-packs ($10.00) or 5-packs ($15.00). There is also a Meal Kit Sampler Pack with one of each flavor (5 total) for $15.00. There will also be two Dinner Party Packs available with either eight or 16 spice mix packets. 
"There are so many incredible dishes and food traditions in Afghanistan and the Middle East region, that we want to make it easier for home chefs to experience them. Our meal starters are just one more way we can share the vibrant culture of this region with consumers while supporting farmers and women in Afghanistan who are hand-harvesting the beautiful spices that make up these dishes," Patti Doyle, CEO of Rumi Spice
The spice mix packets are available online at www.rumispice.com and at Amazon. 
​​What began as a small network of 35 farmers helping export saffron to the U.S in 2015 has now flourished into a farmer network of around 350 and an array of direct-sourced spices, blends, seasoned salts and now meal starters. These flavors are the soul of Afghanistan's lively cuisine and create an opportunity to unlock connections to the people, flavors and culture of this dynamic region.  Direct-sourcing these premium spices and connecting Afghan farmers with the global economy not only ensures maximum quality and freshness, but also helps to unlock the economic potential of this vibrant region. Rumi Spice pays Afghan women up to 50% more than they otherwise would working in other roles.
About Rumi Spice: 
Since 2015, Rumi Spice has been on a mission to use spice as a force for good. Rumi Spice was born out of its founders' desire to cultivate peace in Afghanistan by creating demand for the country's agricultural products. The company started by exporting and selling high-quality, sustainably sourced saffron to the US market in order to connect Afghan farmers with the global market and unlock economic potential for them.

Committed to empowering Afghan women and reinvesting back into the country's agricultural and manufacturing infrastructure, Rumi Spice has contracted with thousands of women in Herat, Afghanistan to support the hand-harvested production process.
Today, Rumi Spice exports whole spices from Afghanistan that it sells via retail, food service, wholesale, and direct-to-consumer. What began as a single product, has now expanded into an array of different spices, spice blends, salts and meal starters that bring flavor to the dishes of both home and professional chefs. Rumi Spice is also proud to be a certified B Corporation.