Cocktail and Mocktail Guide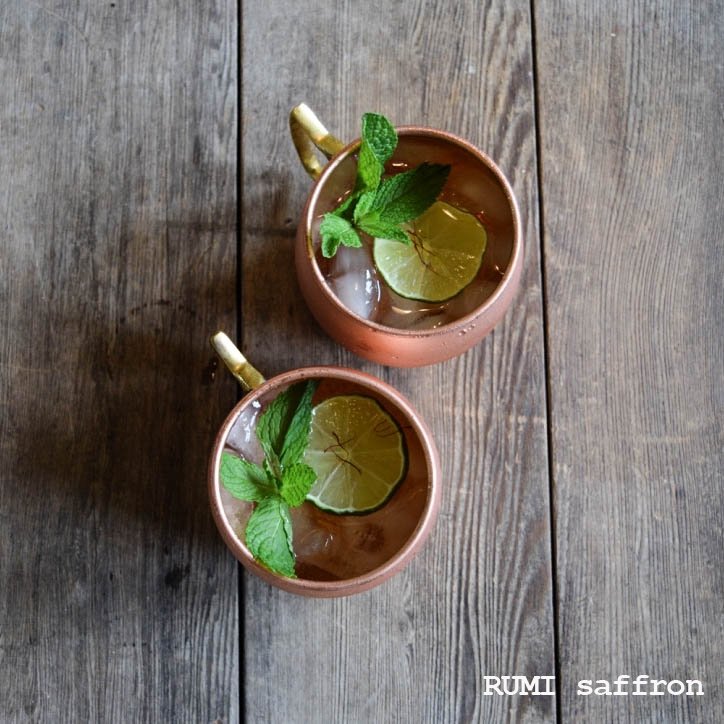 Cheers! Whether you are having a quiet night in or a holiday-inspired event, cocktails and mocktails are the perfect addition to your evening festivities. Instead of purchasing pre-made cocktails and mocktail mixes, make your own culinary creations with these original
Rumi Spice
beverage recipes.
---
Saffron Moscow Mule
A Moscow Mule is a popular cocktail made with ginger beer, mint and vodka then garnished with a slice or wedge of fresh lime. A Moscow Mule is a type of buck and is sometimes called a vodka buck. Most often served in a copper mug, the copper helps keep the cocktail ice cold so you can savor and enjoy each and every sip.

Check out our very own recipe for our Saffron Moscow Mule


Mulled Wine with Rumi Mulling Spice Blend
Mulled wine, also known as spiced wine, is a warm beverage usually made with red wine and various mulling spices like cardamom, cinnamon and cloves. Mulled wine is most often served with an alcoholic red wine, but you can also make a non-alcoholic version by simply using grape juice instead of wine. Traditionally enjoyed around the holiday season, mulled wine can be enjoyed all winter long and is the perfect beverage to warm up with on a cold night.

Check out our recipe for Mulled Wine


Saffron Lemonade
Lemonade is classic summertime staple, but can be enjoyed all year long. Give your pitcher of homemade lemonade a mocktail-inspired twist by adding a splash of sparkling water. You can also add your favorite fruit or herb for a savory twist. Some delicious options include blueberry, basil, cucumber, lime, mint, or saffron.
Check out our recipe for Saffron Lemonade

Saffron Simple Syrup
Simple syrup is found in most cocktail recipes and adds a subtly sweet taste to your favorite beverage of choice. Also known as sugar syrup, simple syrup is most often used as a substitute for granulated sugar and is extremely versatile. Simple syrup can be used in cocktails, coffee, teas, lemonades and sodas. You can also enjoy our Saffron Simple Syrup drizzled over crackers and cheese, which pair perfectly with a fun cocktail party.
Check out our recipe for Saffron Simple Syrup

Saffron Vodka
It sounds simple, but this recipe for saffron vodka is an instant classic. Just use 4 dashes of Triple Sec, 1-2 parts vodka, 2 small splashes of orange juice, 1 part fresh lemon juice and ⅔
Saffron Simple Syrup.
Add to a shaker with a scoop of ice cubes, give it a solid shake then strain in a classy cocktail glass and enjoy.

Spiced Apple Juice
Apple juice can be a refreshing juice drink, but why not spice it up with a dash of mulling spice and a splash of sparkling water. If you prefer a cocktail instead of a mocktail, grab some hard apple cider from your favorite local brewery and sprinkle in some mulling spices for a modern twist on a spiked apple cider. You can also serve this beverage hot if you want to warm up with a savory beverage.
Check out our recipe for Spiced Apple Juice
---
No matter what the season, grab a homemade cocktail or mocktail and cheers to the week with these simple and refreshing saffron-inspired cocktail and mocktail recipes.
Help us empower women, families and farmers in Afghanistan by supporting our mission
here
.