Rumi Spice After Shark Tank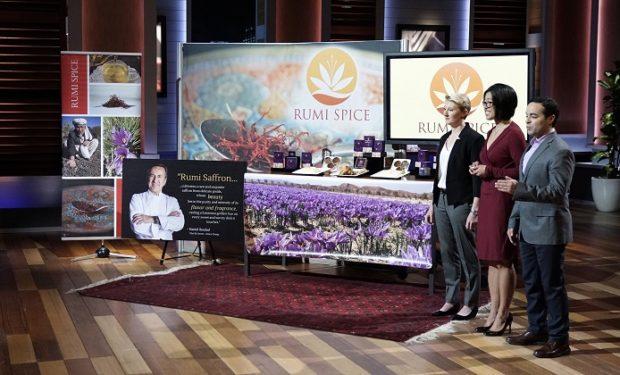 May 5th marks a very important day in our company's history. No, not Cinco de Mayo.. (Although that is a fun holiday to celebrate with good food and drink). May 5th marks the anniversary of when our team appeared on ABC's Shark Tank. In honor of our Shark Tank anniversary, read on for a recap of our episode, to learn what the Rumi Spice team has been up to since our appearance on Shark Tank, and to find out about our newest investment!
---
Rumi Spice Appears on ABC Shark Tank
On May 5, 2017, Rumi Spice appeared on ABC's Shark Tank (season 8, episode 23). At the time, our team was seeking a $250,000 investment for 5% equity in the company. We explained our mission - to bring more business to the farmers of Afghanistan, ultimately providing them with a better way of life while simultaneously creating a stronger infrastructure for the country as a whole. After that, it was time to talk numbers. We covered all things saffron (our core product at the time) -- including the $60 million saffron market, the exceptionally high quality of Afghan saffron, our current pricing, projected sales, and gross margin numbers. After answering questions from all of the sharks, it was Mark Cuban who offered our team $250,000 for 15% equity in the company.
Cuban gave two reasons for making the deal:
#1 He respected our work to empower the Afghan farmers.
#2 He likes to work with veterans.
As CNBC reported, "Striking a deal with Mark Cuban is a game changer, for the women in Afghanistan who work for us, for the farmers in Afghanistan," Emily Miller, co-founder of Rumi Spice, said. "Now we are going to have the ability to scale and bring our brand to all the consumers in America. This is huge! This is huge for us."
Rumi Spice After Shark Tank
Since our appearance on Shark Tank over 5 years ago, our team has accomplished so much and are most proud of our ability to hold true to our founding mission - to grow demand for Afghan agricultural products and create direct trade, to help build livelihoods and foster economic stability for the women and farmers of Afghanistan. See for yourself: 
And read more about our mission here. 
However, one of the most exciting announcements of all was our most recent $2.5 Million Series A Investment.
Rumi Spice Announces $2.5 Million Series A Investment
In December 2018, our team announced we would be receiving a $2.5 million Series A Investment from InFrontier. With this investment, team Rumi will be able to grow our business even more. For example, later this year, our team will be launching a brand new cumin spice, which we will add to our family of products. This addition will ultimately diversify how our team is acting as a force for good as we continue to cultivate peace in Afghanistan.
We are incredibly grateful for the opportunity to appear on ABC's Shark Tank and cannot wait to see what's in store for our team this year and beyond.
Join Team Rumi by following us @rumi_spice and help support our mission here.
Hear more from our founders, here, as they reflected on 5 years since appearing on Shark Tank in May 2022.