Thanksgiving Dishes with a Modern Twist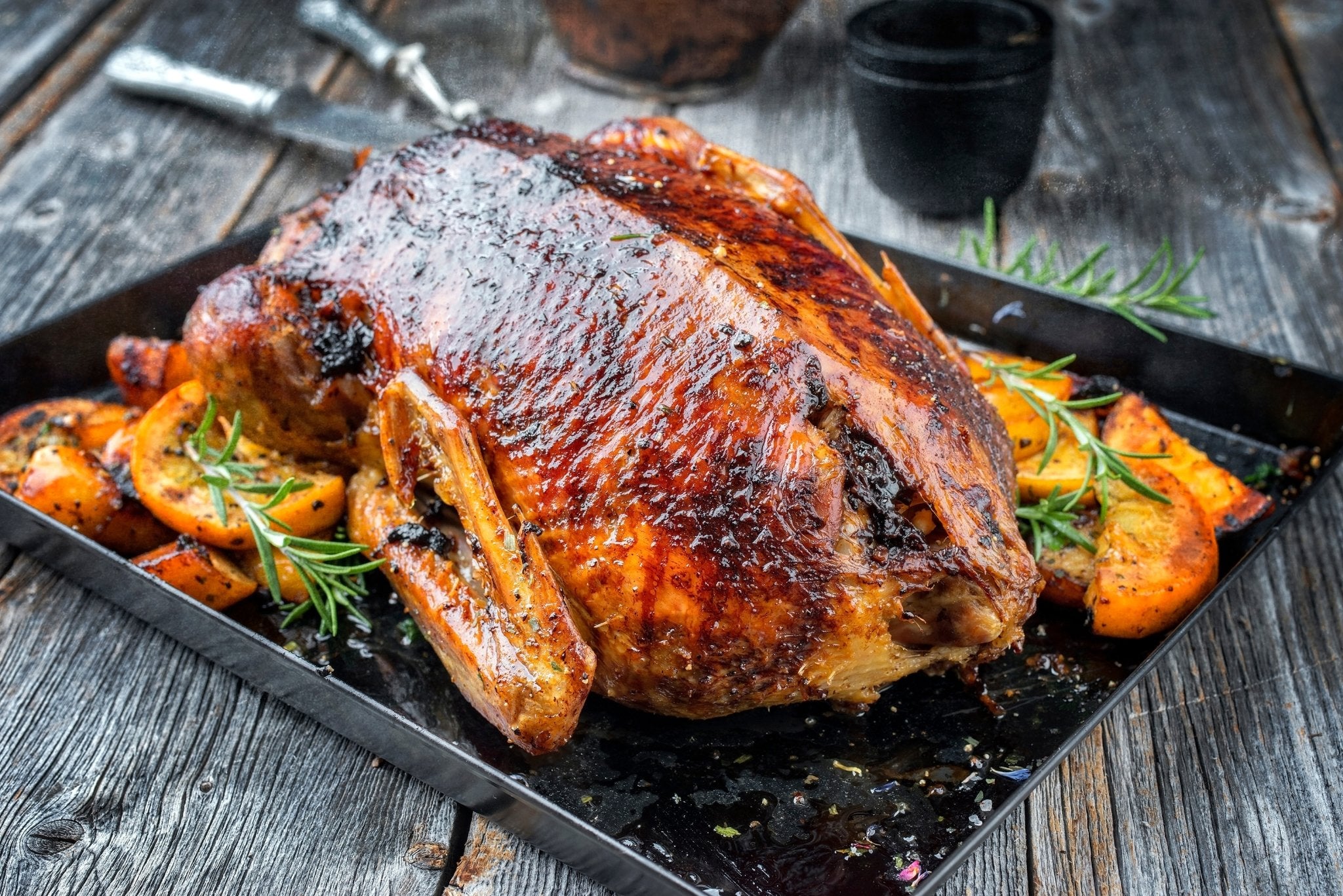 Scrambling to think of ways to make this Thanksgiving stand out from the rest? Spice things up by adding Rumi's premium saffron, spices and blends to the traditional dishes on this year's table. From zesty appetizers to show-stopping sides, even down to the turkey and dessert. We have plenty of fresh ideas to make this year's feast the best one yet. 
Starters
Baharat Pumpkin Hummus
This rich and warming take on traditional hummus, made with our Baharat spice blend, is sure to become a fall staple. It's the perfect shareable appetizer that will keep your guests satisfied before the meal is served.
Get the recipe here. 
Ras el Hanout Sweet Potato Salad
Whether you serve it as an appetizer or alongside your dinner spread, this roasted sweet potato salad with Ras el Hanout vinaigrette definitely belongs on your Thanksgiving table. Pro tip: whip up a double batch of the dressing and pour it over your leftovers the next day. It adds the perfect floral, warm and savory notes to just about anything.
Get the recipe here. 
Sides 
Spicy Berbere Green Beans
Swap out that dated green bean casserole for freshly steamed green beans sautéed in our peppery and bold Berbere spice blend with fresh lemon zest, golden shallots and crispy almonds. Made from a complex blend of wild black cumin, coriander, paprika, cardamom, ginger, cinnamon, and fenugreek, this seasoning blend will give your Thanksgiving green beans a rich complex flavor that will have you guests reaching for the greens.
Find Rumi Spice Berbere Spice Blend here.
Saffron Stuffing
This year, let the Queen of Spices (saffron!) elevate your Thanksgiving stuffing. Simply sauté carrots, celery, and onions in 1-2 tablespoons of olive oil. Steep a healthy pinch of Rumi Spice saffron in chicken stock (for about 10 minutes) and combine cubes of your favorite crusty bread. Add your favorite herbs and spices like black pepper, fresh sage or thyme then bake at 350 degrees for about 45 minutes - 1 hour, or until your stuffing is golden brown in color. 
Shop Rumi Spice saffron threads here. 
Candied Yams

Nothing says Thanksgiving like a bowl of candied yams, but many store-bought cans of candied yams are laden with artificial ingredients, preservatives and processed sugars. This year, make your own instead! Here's an easy recipe starring our Traditional Mulling Spice Blend:
Preheat the oven to 400 degrees. Slice the yams into 1-inch cubes then throw in a pot of boiling water for 5-7 minutes, until the yams are just fork tender.

Place yams on a greased baking sheet then coat in a homemade candied yam mix of: ¼ cup fresh orange juice, 2 Tbsp of maple syrup, 1 tsp Rumi Mulling Spice and 1/2 tsp kosher salt. 

Bake in oven for 25-30 minutes, until crisped up and golden brown. Let cool before serving. 
This blend of coriander, ceylon cinnamon, orange peel, allspice, ginger, cardamom, black pepper, clove, mace, Rumi Spice saffron will add a complexity to this simple dish.
Find Rumi Spice Traditional Mulling Spice Blend here.
Saffron Mashed Potatoes
Make your Thanksgiving mashed potatoes magnificent this year with our favorite recipe for ultra-creamy, floral saffron mashed potatoes. The color alone will have your guests in awe. And just wait until they dig in...
Get the recipe here.
Mains
Thanksgiving Turkey
Each Thanksgiving, top chefs and home cooks across the country attempt to give their classic Thanksgiving bird a new twist. You don't have to create a turducken to make a statement! Instead, simply swap out the simple salt and pepper seasoning and spice up your turkey with our earthy, rustic & bright Afghan Curry Braise. Comprised of a well balanced blend of wild black cumin, coriander, paprika, cardamom, cinnamon, clove, nigella seeds, and of course our premium saffron. This savory blend adds an outstanding flavor to any dish, but is best used to balance out robust flavors of fish, poultry, beans and vegetables.

Shop Afghan Curry Braise here.
Tandoori Cauliflower 
If you have any vegetarians attending your Thanksgiving dinner, don't sleep on this bright, vibrant, flavor-packed Whole Roasted Tandoori Cauliflower. With the help of our Tandoori Masala meal starter, this vegetarian main is so easy to make. Simply rub a whole head of cauliflower with a marinade of Tandoori spice blend, olive oil and lemon juice, and let it slow-roast in the oven until very tender and crispy on the outside. So good even the biggest meat-lovers will be reaching for seconds. 
Dessert
Traditional Thanksgiving desserts usually range from apple pie to pumpkin pie to pecan pie, but why not try something new with Saffron Buttermilk Lemon Pie, flan or Orange Olive Oil Cake with Saffron Whipped Cream. Or, give those traditional flavors an elevated twist with this Garam Masala Apple Cobbler. Prefer to serve something other than pie? Try some of these sweet treats:
---

Don't forget to keep your holiday bar cart fresh with a jar of Mulling Spice for mugs of mulled wine, cider or even mulled lemonade. Or, whip up a batch of our favorite saffron simple syrup for homemade saffron Moscow Mules, Saffron Whiskey Smash, or your other favorite cocktails. 

Remember to tag us @Rumi_Spice so we can see how you give your Thanksgiving dishes a modern twist with Rumi Spice spices and seasonings.
---